The Second Super Mario Bros. Movie Trailer Leaps To New Heights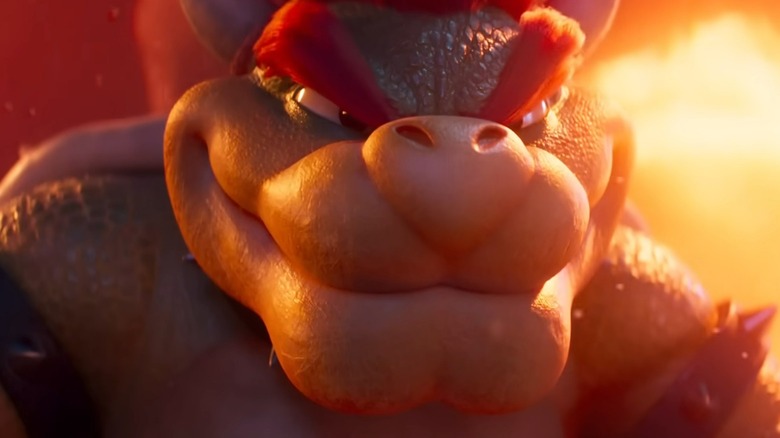 Illumination/Universal Pictures
Looking back on the long and storied history of video games, a few fictional protagonists stand out as the most famous of the bunch. Alongside the likes of Sonic the Hedgehog, Master Chief, and more is Mario, who has stood at the forefront of the "Super Mario" franchise since its creation in 1985. In the decades since, the mustachioed, overall-wearing plumber has squashed countless Goombas and led numerous celebrated video game titles that continue to bring gamers joy year after year. It's also well-documented that he's made his way to other forms of media as well.
Despite being a gaming icon, Mario is also recognized for his work in other mediums. From comics to cartoons, his adventures know no limits. In fact, he and his companions have also made their way to the movies. While the critical and financial bomb-turned-cult classic "Super Mario Bros." from 1993 wasn't the greatest introduction for Mario at the cinema, his next adaptation shows much more promise. "The Super Mario Bros. Movie" puts Mario, Bowser, and more front-and-center for an animated cinematic outing full of Hollywood stars and love for the source material.
Following up the first "Super Mario Bros. Movie" trailer that premiered online in October 2022, Illumination and Universal Pictures have dropped a second that really ups the ante.
The latest Super Mario Bros. Movie trailer takes us deeper into the Mushroom Kingdom
The second "Super Mario Bros. Movie" trailer, which is displayed above for your viewing pleasure, does a great job building on the previous teaser while showing fans how the game's many unique worlds will be incorporated into the movie. From what we can glean from these brief looks, Bowser (voiced by none other than Jack Black) is on a mission to collect Power Stars — likely for some nefarious scheme the promotional material hasn't revealed fully. With his army of Koopa Troopas behind him, it seems like all who oppose him have no hope of winning. Although, they do have the duo of Mario (Chris Pratt) and Toad (Keegan-Michael Key) on their side, who are eager to protect the Mushroom Kingdom and all within it.
Throughout this whirlwind adventure, "The Super Mario Bros. Movie" manages to pack in a host of Nintendo favorites. Luigi (Charlie Day), Donkey Kong (Seth Rogen), Princess Peach (Anya Taylor-Joy), and more will all factor into the story one way or another. While Chris Pratt will (controversially) portray Mario himself, that's not to say that seasoned Mario voice actor Charles Martinet is out of a job for this film. According to producer and "Super Mario" creator Shigeru Miyamoto in 2021, Martinet will feature in a number of surprise cameos throughout, so keep your ears open for his one-of-a-kind voice (via IGN).
At long last, "The Super Mario Bros. Movie" will open on April 7, 2023.