Chicago Med's Norma Kuhling And Colin Donnell Thought The Cast Had The Talent For A Musical Episode
Ah, the special musical episode of a show — hotly anticipated by some and dreaded by others, it's become something of a tradition for many long-running TV series to take a shot at crafting a Broadway-styled variation of their usual format, no matter the genre or premise. "American Horror Story: Asylum" has a musical episode, "The Flash" has a musical crossover with "Supergirl," heck, even "Grey's Anatomy" got in on the fun at one point. However, one holdout on the tradition remains NBC's "One Chicago" franchise. Despite having run for over a decade and spanning four separate shows, none of the entries in the series have ever attempted to pull off a musical episode.
At first glance, it may seem that "Chicago Med" and the other "One Chicago" series are particularly ill-suited for a musical episode. After all, these are shows about the harrowing jobs of first responders and medical professionals as they try to save lives — that doesn't really inspire an urge to belt out showtunes. Nonetheless, former "Chicago Med" cast members Norma Kuhling and Colin Donnell once made their thoughts clear on the matter, standing firm in their belief that "Chicago Med" could pull off a musical episode if the show's cast and crew desired to make one.
Chicago Med's cast could hit all the right notes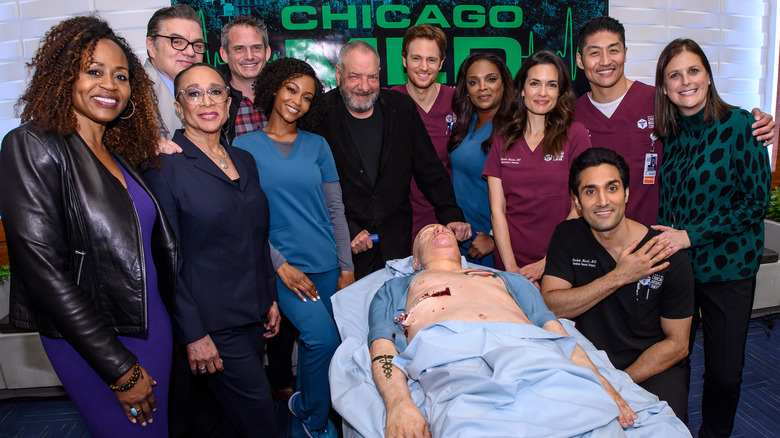 Timothy Hiatt/Getty Images
A musical episode of "Chicago Med" might sound ambitious, but according to Norma Kuhling and Colin Donnell, it wouldn't be the hardest thing to do. In a 2018 interview with 12 News, the duo were asked if it was possible that there could be a "Chicago Med" musical. "Considering the talent that exists on this show and on all the 'Chicago' shows, yes, there could be," Donnell responded.
Kuhling followed up by noting that she's trained in classical piano, evidencing the cast's background experience with music. For his part, Donnell said that he actually played a minor role in live performances of the musical "Mamma Mia!" In fact, the actor's background with musical theater extends beyond that, with him having played parts in "Wicked," "Fiddler on the Roof," and "Jesus Christ Superstar," among others.
A potential "Chicago Med" musical episode wouldn't even be the first time some of the cast has come together to provide some song-and-dance entertainment. Back in 2017, Donnell and fellow cast member Torrey DeVitto, along with "Chicago Fire" star Yuri Sardarov, all sang during the Chicago-based "Concert for America" in order to raise money for charity (via Playbill).
While Donnell has left "Chicago Med" along with Kuhling and several other cast members, perhaps there's a chance some of them could return for a stint if a musical episode ever does become a reality. For now, fans can only imagine what such an episode might look like.