Taylor Sheridan's Imperial Phase Continues With Latest Tulsa King Announcement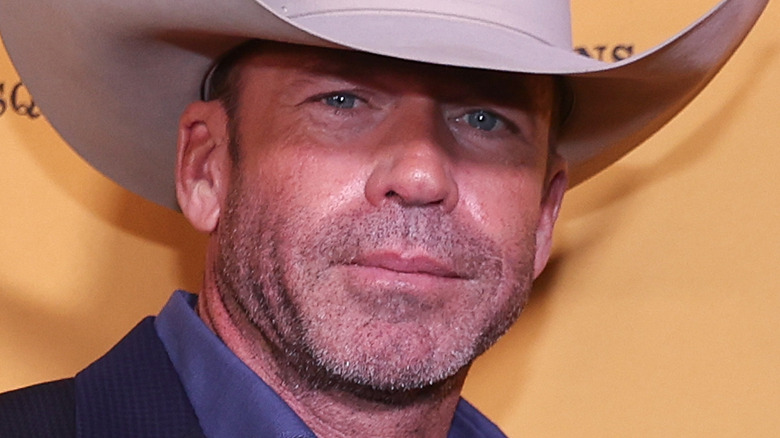 Omar Vega/Getty Images
Over the past few years, it's safe to say that actor and filmmaker Taylor Sheridan has established himself as an incredibly prolific and talented showrunner. Although Sheridan's early prominence came from his recurring role on FX's "Sons of Anarchy," the incredible success of Paramount Network's "Yellowstone" made him one of the most talked-about showrunners in the industry — and he's continued to roll out the hits ever since.
Sheridan strengthened his commitment to the Paramount Network and Paramount+ by creating the Jeremy Renner-helmed "Mayor of Kingstown" and the "Yellowstone" prequel series "1883," the latter of which features stars like Sam Elliott, Tim McGraw, and Faith Hill. The extreme success of these two shows proved that Sheridan's "Yellowstone" was not simply lightning in a bottle. "Mayor of Kingstown" attracted an astounding 2.6 million viewers for its premiere, while "1883" set a Paramount+ record with its premiere and also drew in 4.9 million viewers during its special airing on Paramount Network.
Now, Taylor Sheridan's empire of uber-successful television shows appears to have grown even larger, as a recent announcement from Paramount indicates that Sheridan's "Tulsa King" is the #1 new cable series of 2022.
Tulsa King is the No. 1 new show on cable
According to a recent press release from Paramount obtained by Looper, the Sylvester Stallone-led "Tulsa King" is now not only the No. 1 new series on cable, but also the highest single-day premiere in the history of Paramount+.
The release includes a statement from Chris McCarthy, the president and CEO of Paramount Media Networks and MTV Entertainment Studios, who said, "Tulsa King scored as the #1 new series of the year, topping all others including the Game of Thrones sequel House of the Dragon, with its preview on Paramount Network, and on Paramount+, it shattered records, driving us to our biggest new sign-up day in history – which is why we instantly greenlit season two."
McCarthy went on to assert that the incredible success of "Tulsa King" is an indication of just how vital Taylor Sheridan is to the network as a whole, and emphasized that Sheridan's work is one of the main reasons why Paramount+ has achieved such an impressive amount of growth this year. Indeed, the press release also claims that the premiere of "Tulsa King" sparked a record-setting day of signups on the streaming service, further emphasizing just how captivating Sheridan's work truly is, and how he has managed to establish an empire of programming at Paramount.