Jenna Ortega Prepped For Two Sleepless Nights For Wednesday's Iconic Rave'n Dance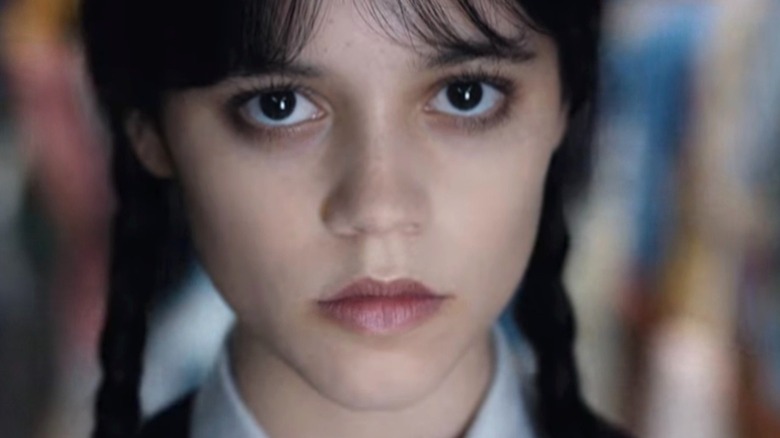 Netflix
Wednesday Addams has always been a dancing phenom; after all, she is the daughter of Gomez and Morticia, two characters who themselves have a passion for a good tango. Her presence in the '60s series became a meme sensation thanks to the talents of a young Lisa Loring. Even today, social media users will probably see the black-and-white GIF of Wednesday teaching Lurch the period's most popular moves.
Netflix's "Wednesday" keeps the character dancing. The series sees her leaving her family behind for Nevermore Academy; its secrets help reveal mysteries — both old and new — that will change how she views everyone in her life. Viewers are already responding with praise for the series, as well as lead actress Jenna Ortega. More than assuming characteristics from previous incarnations, she's also winning over fans with her unique take on the role (via Total Film).
One of the new series' most talked-about moments came about thanks to Ortega. Her work leading up to this scene in addition to her dedication to the project is seemingly paying off. And while it might look easy, Ortega put in some serious work to make it happen.
Wednesday's dance is winning over fans and critics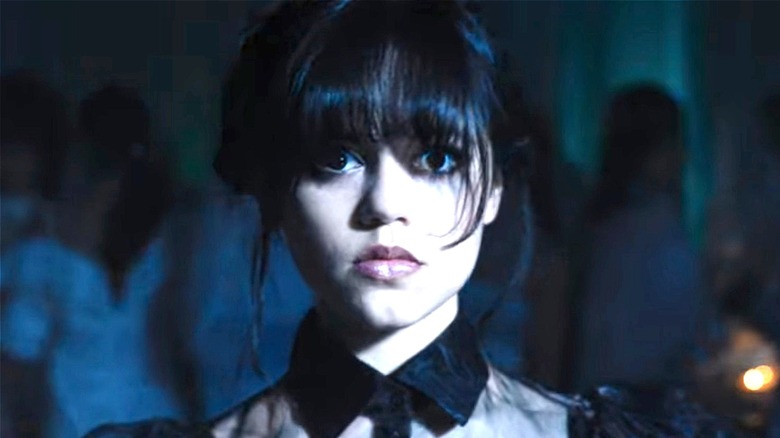 Netflix
Viewers can't stop raving about Wednesday's dance in the Netflix series. From sharing videos to creating fan fiction, fans have already made it a series hallmark. The Nevermore Academy's Rave'N Dance provides the perfect chance for the title character to dance like no one else can. She takes the stage, so to speak, standing out with a dance that brings together a myriad of influences; all to the delight and confusion of her possible love interest, Tyler.
Fans are far from the only people noticing the outstanding dance moves. The Daily Beast's Laura Bradley described it as an "explosion of flailing arms, high kicks, and piercing stares" while citing it as the moment "Wednesday" established itself as a great show. Getting ready for the scene gave its star some sleepless nights. Ortega had to put together something that brought out the spirit of her character while updating it for a new generation; what she came up with borrows from a range of styles.
Wednesday's dance comes from some surprising sources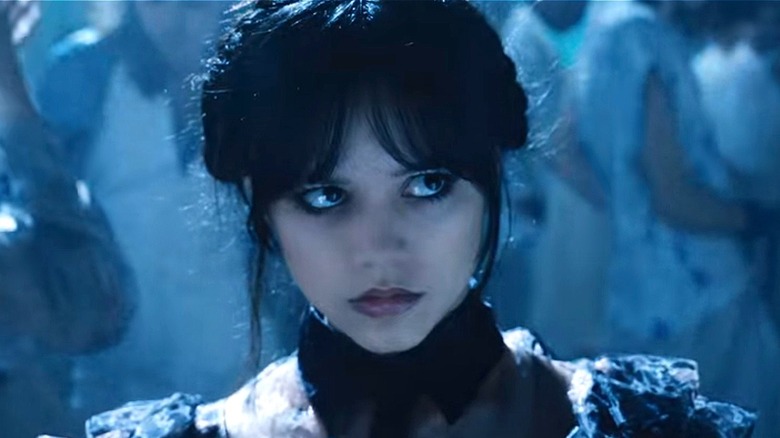 Netflix
"Wednesday" star Jenna Ortega cites an eclectic group that begins with the script's mention of Siouxsie and the Banshees. Next, she looked at the music of Lene Lovich — the singer's discography includes 1978's "Stateless" and 1980s "Flex." Goth kids from the '80s club scene offered a time capsule of dances as well as an attitude perfect for Wednesday's own sensibilities. The most interesting among her influences is that of Bob Fosse. The dancer and director created memorable moments on stage and on the big screen, and his unmistakable moves continue to live on in films like "Cabaret" and "All That Jazz" (via Variety)
Dancing didn't come easy for the actress, something she revealed during an interview with TV Guide. Ortega may not consider herself a dancer but she had the support of the project's director and executive producer Tim Burton. That trust is something she called "nice but also scary."
Ortega had little time to prepare her moves to the soundtrack. The song choice of the Cramps' "Goo Goo Muck" came late into filming. It arrived at a point when the actress was already overwhelmed with other elements as multiple episodes were filmed. The rock band's song seems like a natural fit for the scene. Some are even hoping that the scene helps that song hit the streaming charts, something that Netflix has already seen this year. Kate Bush's 'Running Up That Hill" surprised many when it returned to the charts after being featured in "Stranger Things" (via Stereogum).