Zazie Beetz Opens Up About Deadpool 2 Stuntwoman's Death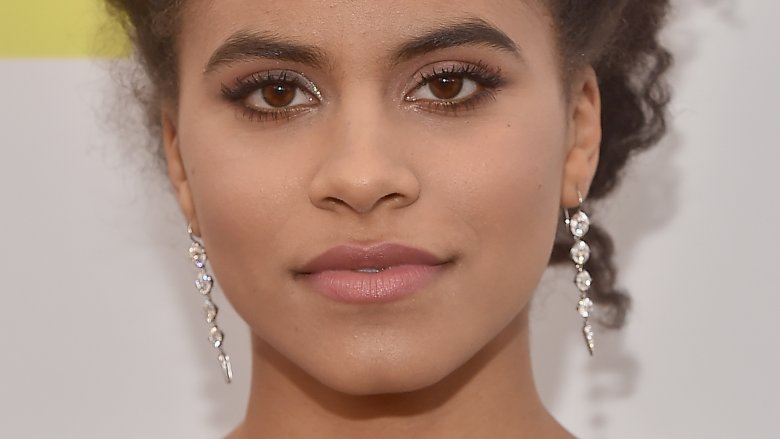 Getty Images
In August of 2017, stuntwoman Joi "SJ" Harris died while attempting to perform a motorcycle stunt on the set of the untitled Deadpool sequel. Harris was doubling for actress Zazie Beetz's character, the mutant mercenary Domino, and it was later discovered that she had never worked as a stuntwoman before signing on for the superhero sequel. 
Now, with the release of the second Deadpool quickly approaching, Beetz has opened up about Harris' shocking death. 
"It was her first day on set and nobody really knows what happened," Beetz told Entertainment Weekly. "People were very, very affected by it — especially the stunt team, whom I'd worked a lot with. They were very upset by it because they want to protect the people that they're working with. And in this case, that didn't happen. It was a really sad time."
Beetz, known for her role as Vanessa in the FX series Atlanta, explained that she hadn't met Harris, but felt a certain connection to her and admired her work as a boundary-breaking road racer. "I felt like she was part of the Domino team and story. I hope people continue to remember her as someone who really pushed a lot of boundaries — being the first black woman to be professionally engaged in motorcycle racing. I hope that's her legacy," the 26-year-old actress said.
Harris was the first African-American female professional road racer, and was killed after she crashed through the glass panels of the ground floor of Shaw Tower in Vancouver, Canada. Those who witnessed the accident indicated that Harris performed the stunt four times without any errors, but on the fifth attempt, she appeared to lose control of the motorcycle, which caused her to hit a post and travel through the window at roughly 60 kilometers per hour. Harris reportedly didn't (or couldn't) use the brakes on the vehicle before the collision occurred. 
At the time of Harris' death, Beetz shared a handwritten note mourning the stuntwoman. "On Monday we tragically lost one of our own: Joi 'SJ' Harris," the actress posted on Instagram. "My heart has been breaking the past two days and I have been searching what to say or do. I know that what I feel is nothing compared to what her loved ones, friends and family, are feeling. My heart and my love goes out to her and them all. The cast and crew send peace, healing, and their deepest condolences." 
Deadpool leading man Ryan Reynolds also remembered Harris: "Today, we tragically lost a member of our crew while filming [the] Deadpool [sequel]. We're heartbroken, shocked, and devastated ... but recognize nothing can come close to the grief and inexplicable pain her family and loved ones must feel in this moment. My heart pours out to them — along with each and every person she touched in this world."
The film's director, David Leitch, expressed his condolences as well, writing in a statement, "I'm deeply saddened by the loss of one of our stunt performers today. No words can express how I and the rest of the Deadpool 2 crew feel about this tragedy. Our thoughts are with her family, friends, and loved ones in this difficult time."
The Deadpool sequel also stars Josh Brolin, T.J. Miller, Morena Baccarin, Brianna Hildebrand, Stefan Kapacic, Leslie Uggams, Jack Kesy, Shioli Kutsuna, Julian Dennison, and Karan Soni. Catch the film in theaters on May 18.