Harry Belafonte Liked Beetlejuice And Loved The Idea Of Hearing His Voice In The Film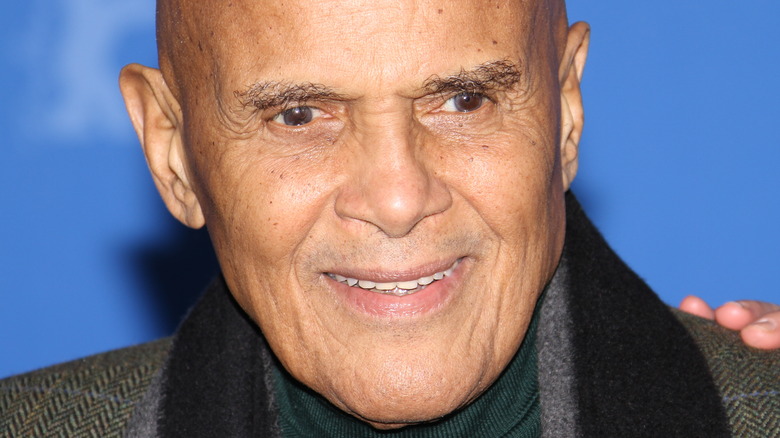 Denis Makarenko/Shutterstock
Harry Belafonte is recognized in the annals of music history as the King of Calypso thanks to the Caribbean folk songs he performed, including "Jamaica Farewell" and "Matilda, Matilda," according to Britannica. However, Belafonte is arguably best known by younger audiences for his memorable musical contributions to Tim Burton's "Beetlejuice." But, long before Belafonte's songs ended up in that classic film about "the ghost with the most," the singer started his career in Hollywood with his first film role as the school principal in 1953's "Bright Road." 
A year later Belafonte headlined alongside Dorothy Dandridge in Otto Preminger's musical, "Carmen Jones," and then the singer even hosted "The Tonight Show" for a week in February of 1968 (via YouTube). Belafonte also forged a strong friendship and affiliation with Dr. Martin Luther King Jr. Dedicated to civil rights, the movement's leader and the vocalist first met and shared their ideas with one another in the basement of the Abyssinian Baptist Church (via PBS NewsHour). And Belafonte remains devout to the cause. However, Belafonte's flair for the arts helped the performer reach beyond both music and politics. 
Among all of Belafonte's accomplishments, "Beetlejuice" remains one of the high points in a career spanning nearly 70 years. Some fans may know that Belafonte actually enjoyed "Beetlejuice," but how many also know that he was thrilled to hear his own vocals throughout the motion picture?
Belafonte enjoyed hearing himself sing in Beetlejuice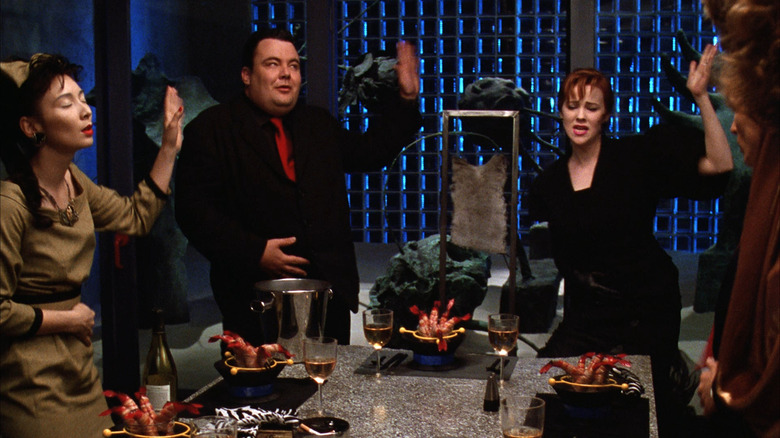 Warner Bros. Pictures
Many other musical artists covered Belafonte's songs over the years, so he was delighted to discover that Tim Burton wanted to use his version of "Day-O (The Banana Boat Song)" when he got the call to get involved in "Beetlejuice." "What was particularly attractive was that he [Burton] wanted to use my voice," Belafonte said during an interview with Pitchfork. "Day-O" rings out as Delia (Catherine O'Hara) and Charles Deetz (Jeffrey Jones) throw a dinner party for their snobbish friends, and the ghostly Maitlands (Geena Davis and Alec Baldwin) possess their bodies and make them do a wicked Calypso dance in the hopes of haunting them right out of their old house.
While "Day-O" might be the most memorable of Belafonte's songs used in "Beetlejuice," the tune Lydia (Winona Ryder) floats up in the air to dance to is Belafonte's "Jump in the Line (Shake, Señora)." And a couple of his other hits are peppered throughout the picture, including "Sweetheart from Venezuela" and "Man Smart (Woman Smarter)."
While Belafonte was ecstatic to have his music in the movie, he admits the pitch he received was a novel idea. "I never had a request like that before," Belafonte discussed his conversation with Burton in the same interview. "We talked briefly. I liked the idea of 'Beetlejuice.' I liked him, and I agreed to do it."