This Stunning Image Shows What Keanu Reeves Would Look Like As Guardians Of The Galaxy's Adam Warlock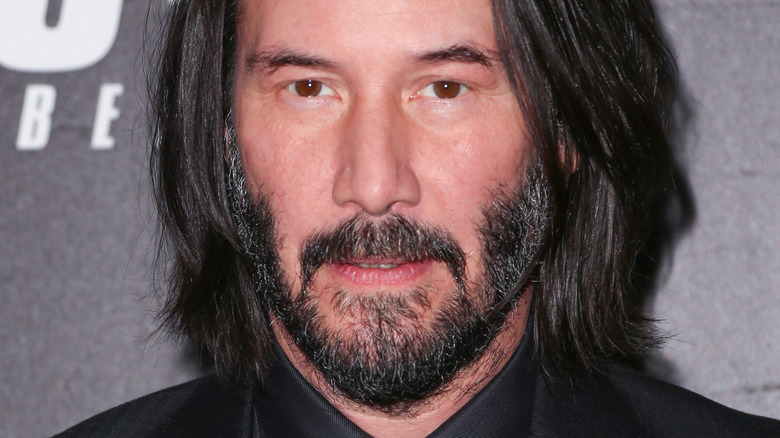 lev radin/Shutterstock
Keanu Reeves has been popping up everywhere in recent years, from multiples appearances as the hardened assassin John Wick, to reprising his classic role as Neo in "The Matrix: Resurrections," to even entering the video game scene as Johnny Silverhand in "Cyberpunk 2077." With Reeves' star power and his penchant for appearing in all sorts of sci-fi and action properties, it's a little bit surprising that the actor has remained conspicuously absent from the Marvel Cinematic Universe. With how big that franchise has gotten, it feels like only a matter of time before every popular actor signs onto one of its many films or TV shows, but Reeves has yet to take the plunge.
Though Reeves has yet to enter the MCU in any official capacity, that hasn't stopped eager fans from dreaming up potential roles and scenarios that the action star would be well-suited for. In fact, one particular fan artist even went so far as to create a mockup image of what Reeves would like if he portrayed a live-action version of Adam Warlock from "The Guardians of the Galaxy."
Reeves makes a convincing Adam Warlock
Fan art creator @daanesh95 provided a glimpse of what Keanu Reeves' MCU debut might look like when he posted a mockup of the actor as Adam Warlock. The picture uses an altered version of Reeves' Johnny Silverhand model from "Cyberpunk 2077." He sports glowing eyes, a stylish red-and-blue suit, and the Soul Gem embedded in his forehead — all hallmarks of the character's comic book appearance.
While Reeves as Warlock is intriguing, it's unlikely to happen since Will Poulter obtained the MCU role. Still, that doesn't necessarily mean the actor won't show up in the MCU at all. In fact, the star has expressed interest in joining the franchise and has even had meetings with Marvel Studios head Kevin Feige (via ComicBook). "I think the way the Marvel films have developed and what they are is really spectacular," he said on "Jimmy Kimmel Live." "It would be great to be a part of that."
As for which character Reeves could play, there a few alternative ideas. @daanesh95 also posted an image of the actor as Namor, though that role is filled by Tenoch Huerta. Reeves himself said during his "Jimmy Kimmel Live" appearance that he might like to play Ghost Rider, but the character has technically already appeared in the MCU via Gabriel Luna's portrayal in "Agents of SHIELD." Even if it takes some multiversal shenanigans to get Reeves through the door, however, there's a clear desire among fans to see him suit up.