Kevin Spacey Books His First Role Following Lawsuit Win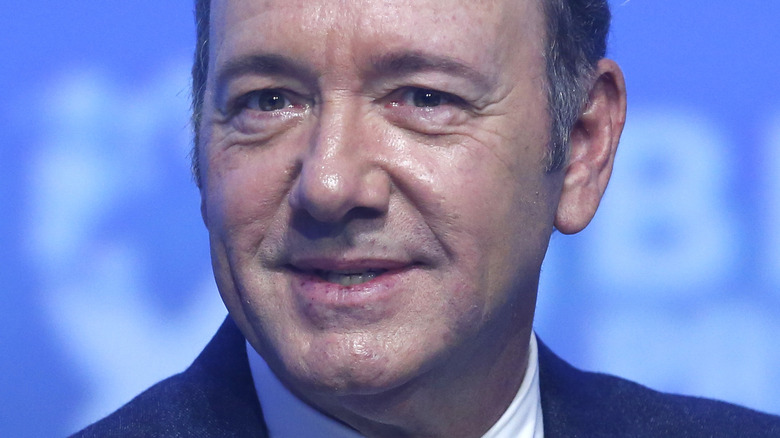 Yannik Bikker/Shutterstock
Kevin Spacey is arguably more known today for the numerous allegations against him than for his roles in hits like "Seven" and "The Usual Suspects." Spacey was accused of sexual misconduct by fellow actor Anthony Rapp, who would have been 14 at the time of the alleged incident, in 2017, and this allegation was followed by a number of others he denied, via Vox. The controversy swallowing his career forced him off of "House of Cards," with the show subsequently getting canceled. He was also edited out of Ridley Scott's "All the Money in the World." However, the actor has been finding steady independent film work while he defends himself against a mountain of allegations, per USA Today. 
Since allegations against him broke, Spacey has appeared in two films, "The Man Who Drew God" and "Peter Five Right," via IMDb. The actor got some rare good news last month after a federal judge found him not liable for battery against Rapp, via NBC News. The actor is still facing multiple sexual assault charges in the U.K. where a trial is set to begin in June 2023, per New York Times. 
Spacey is continuing to work through the wins and losses as he grabbed his first role since winning the Rapp case, which got him out of a $40 million lawsuit. 
Kevin Spacey's next performance will just be his voice
After being found not liable for battery against Anthony Rapp, Kevin Spacey booked a part in the upcoming movie "Control," according to an exclusive report from Variety. Spacey will be taking on a voice role in the picture, which will be directed by Gene Fallaize. 
According to Variety's report, "Control" will follow a British government minister whose car is hijacked remotely by a tech-savvy villain (Spacey) who knows her deepest secrets, including that she is carrying on an affair with the prime minister. Spacey is already wrapping up his role, while the rest of the principal photography will take place in London. He's joined in the cast by Lauren Metcalfe, who plays protagonist Stella Simmons, and Mark Hampton, who plays the prime minister. 
Fallaize did address the sexual misconduct allegations against Spacey when announcing "Control," though it appears he has no problem working with the actor. The director revealed to Variety that he specifically wrote the villain role with the "American Beauty" star in mind. 
"He's one of the greatest actors of our generation. His personal life aside — it's something I can't comment on and have no knowledge of — it's an opportunity to work with one of the acting greats," the filmmaker said.