Is There A Connection Between Damien Chazelle's Babylon And Kenneth Anger's Infamous Hollywood Babylon?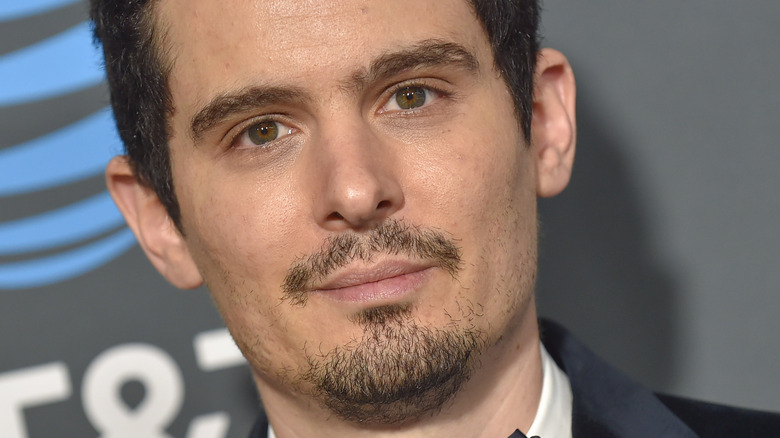 DFree/Shutterstock
A town with absolutely no qualms about looking at itself, warts and all, Hollywood becomes one of the characters at the heart of director-writer Damien Chazelle's upcoming silent-movies-segue-to-talkies saga, "Babylon." Co-starring with the notorious Southern California city as it once was is an interesting cast of players, ranging from box office rain-makers Brad Pitt and Margot Robbie to newcomer Mexican actor Diego Calva and Chinese-American actress Li Jun Li. As seen in the production's first trailer, the film promises to unleash a visual tsunami of 1920s Tinseltown exuberance, decadence, and, frankly, what looks like a lot of hard-partying jazz-age mayhem.
Oscar-winner Chazelle's film imagines the sleepy Los Angeles of the period virtually transformed and eventually consumed by a whirlwind of early filmmaking activity and slippery morals. To tell its story, "Babylon" will view the era through the triumphs and tragedies of real actors, actresses, and studio moguls of the period along with fictional wanna-be movie stars and starlets about to get in way over their heads. Clearly intending to seduce audiences with tales of the nascent Dream Factory's more salacious side, what, if any, narrative DNA does "Babylon" share with another controversial Hollywood exposé, "Hollywood Babylon"?
Director Chazelle says Babylon's storyline isn't derived from Hollywood Babylon
First published in France in 1959, underground filmmaker Kenneth Anger's scandal-mongering tell-all book "Hollywood Babylon" was momentarily banned in the U.S. in 1965 (per The Daily Beast). Purporting to take readers behind the scenes of the movie-making capital of the world, the book served up the most unwholesome stories it could unearth about the stars of both silent movies and the talkies that followed, digging up dirt on the lives of everyone from D.W. Griffith to Marilyn Monroe.
But as Damien Chazelle told Entertainment Weekly, his movie drew its inspiration not from the sordid muck-raking of "Hollywood Babylon," but from Hollywood's pioneering days as a young industry growing too rapidly for its own good. "It's basically what the early film industry was, this makeshift society that had been built up really fast, in this kind of unbridled, reckless way," he said. 
Chazelle went on to say that the word Babylon has its own resonance as implying a place of immorality and wickedness, and it "was a name used to describe Hollywood in those days — the idea of a sinful place, a city of decadence and depravity that was heading to ruin." And, he concludes, the story he'll tell in "Babylon," is nothing less than "the story of Los Angeles itself."