What Legendary's New Partnership With Sony Means For Dune: Part Two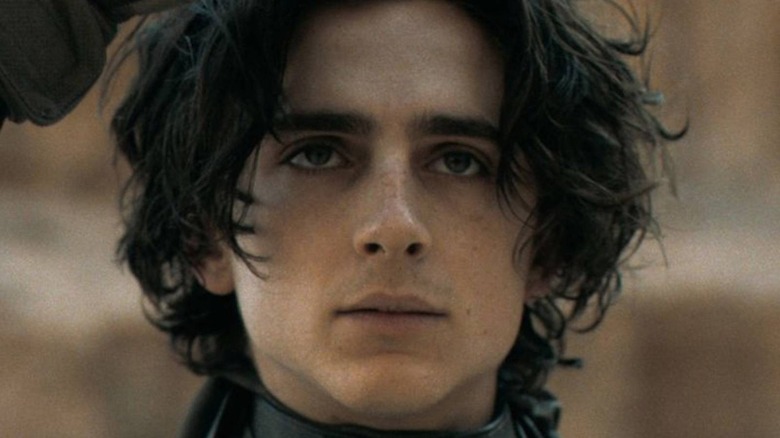 Warner Bros. Discovery
Legendary Entertainment has a new partner in Sony, which will now distribute and market the company's films worldwide (except in China) and handle TV and home entertainment distribution, per The Hollywood Reporter. The report from The Hollywood Reporter notes that Sony will not be holding the streaming distribution of Legendary's movies. The company has been involved in streaming flicks like Netflix's "Enola Holmes" franchise.
Legendary's new deal comes on the heels of their Warner partnership expiring, via Deadline. Legendary also had a previous agreement in place with Universal, per Los Angeles Times. Through those two studios, Legendary was involved with massive blockbuster releases like "Man of Steel," "Godzilla," and "Jurassic World." Legendary reportedly grew frustrated with Warner during the Covid pandemic after not being looped in on the decision to release movies day-and-date with streaming, via Variety. A statement from the company's CEO about the Sony partnership seemed to confirm a commitment to theatrical releases was at least partly behind the move.
"Sony's commitment to theatrical distribution aligns with our vision of how to best derive the most value for Legendary's movies," Legendary CEO Joshua Grode said in a statement, per The Hollywood Reporter. Legendary has multiple currently-running franchises, so how exactly does this deal affect those releases? Already scheduled for release, for instance, is "Dune: Part Two," set to be released on November 3, 2023. 
Dune and Godzilla franchises are not part of Sony's Legendary deal
Sony's deal with Legendary does not include the "Dune" or "Godzilla" franchises, according to The Hollywood Reporter. This means the sequel to 2021's "Dune" will be released as planned under the Warner banner. The sequel isn't the only "Dune" material the studios have planned together either. There's also a "Dune: The Sisterhood" spinoff series for HBO Max in the works, via Deadline. 
Though Legendary had reported objections to their films being released straight to HBO Max during the pandemic under Warner, the company assured fans they're committed to continuing working with the company, which is now under the Warner Bros. Discovery corporate umbrella, per CNBC. 
"We are also grateful to Warner Bros. Pictures, who has been a valuable partner to Legendary over many years, and we look forward to continuing our work with the talented executives at Warner/Discovery," Legendary CEO Joshua Grode said, via The Hollywood Reporter. 
This is not the first time Sony has won a major Hollywood bidding war in recent years. The company won a massive bidding contest for Quentin Tarantino's ninth movie in 2017, which would go on to become the massive hit "Once Upon a Time in Hollywood," per Deadline.