Ruby Cruz And Dempsey Bryk Marvel Over Their First Meetings With Warwick Davis On Willow - Exclusive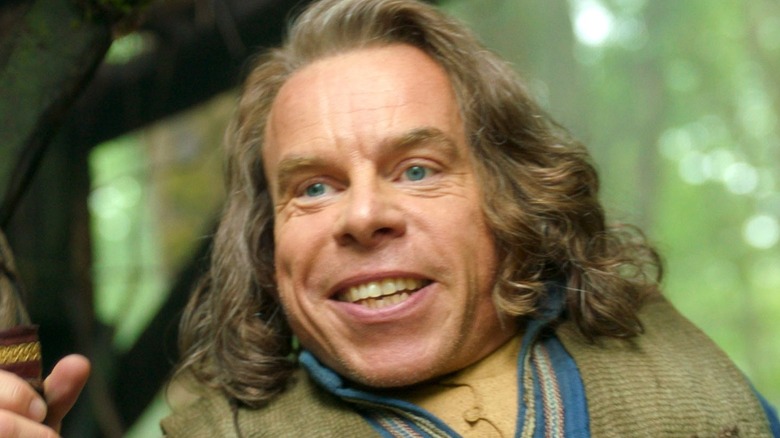 Disney+/Lucasfilm
Debuting nearly 35 years after the release of the original film, the Disney+ series "Willow" marks a momentous occasion in that the star who played the title role in director Ron Howard's hit 1988 sci-fi fantasy film — Warwick Davis — is back for the ride. Generations of fans have grown up loving the story of the heroics of the Nelwyn sorcerer, and among them are Ruby Cruz and Dempsey Bryk, who play two characters at the center of the series.
New on Disney+, "Willow" picks up two decades after the events of the original film, as Queen Sorsha (Joanne Whalley) has assumed rule of the Kingdom of Tir Asleen. Sorsha is the only person who knows the whereabouts and true identity of the now 20-year-old Elora Danan — the girl destined to be the empress of Tir Asleen whom Willow saved as an infant — and now the Queen needs his help again. During a siege on the kingdom, Prince Airk (Bryk), the son of Sorsha and Madmartigan (Val Kilmer), is kidnapped, and a fellowship, including his twin sister, Princess Kit (Cruz), has been formed to find him. The fellowship won't be complete, however, until they locate Willow and convince him to join the mission.
Since the series surrounds the continuing adventures of Willow Ufgood, almost every cast member encountered Davis at the beginning of production. Their meetings provided for some lasting memories for Davis' colleagues, including Cruz and Bryk.
Cruz experienced a meta moment meeting Davis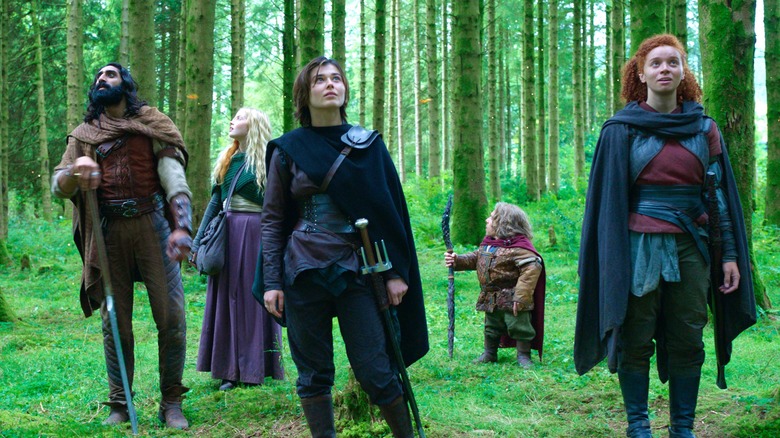 Disney+/Lucasfilm
In an exclusive interview with Looper, Ruby Cruz and Dempsey Bryk recalled their first meetings with Davis on the set of "Willow." For Cruz, the scene where the fellowship locates Willow provided a meta moment in a way, because he is viewed by Princess Kit and Prince Airk as nothing but a character in a story since the sorcerer left the kingdom years earlier. As such, Cruz said, it felt like the fan in her and the character of Kit were meeting the film legend for the first time.
"I remember when my character meets Willow, that felt like a representation of the fans because my character is a fan of Willow. I've heard about him through my parents, but I've never met him," Cruz explained. "Finally meeting him was like the fans seeing him again, and his reveal [in Episode 1] that was such a special moment. I remember being touched, saying [as Kit] to him, 'We need your magic.'"
Bryk said the first time he met Davis felt like a meta moment, too — albeit in a much different and much more comical way.
Bryk had fun with Davis as the actor channeled his Life's Too Short character
Dempsey Bryk's fondest memory of meeting Warwick Davis for the first time came not during a scene for "Willow" but while filming a special video to introduce the cast for the series to viewers. What transpired between the two actors was unexpected and hilarious, Bryk told Looper.
"The first experience I had with Warwick in any type of acting at all [was] the 'Meet the Cast' video, and he was so funny. He basically fell into the character he does of himself in [Ricky Gervais' comedy series] 'Life's Too Short' and stuff like that," Bryk gleefully recalled. "That was like a dream come true because I grew up watching and loving that show, so to see him, to have him making fun of me ... He made fun of my name; basically, he said I had a stupid name! To have Warwick say, 'You got a stupid name,' and try not to break up and laugh, that was a dream come true!"
Written and developed by Jon Kasdan and also starring Erin Kellyman, Amar Chadha-Patel, Ellie Bamber, and Tony Revolori, "Willow" is streaming exclusively on Disney+.