How Rick Moranis' Improv Skills Led To A Great Party Moment In Ghostbusters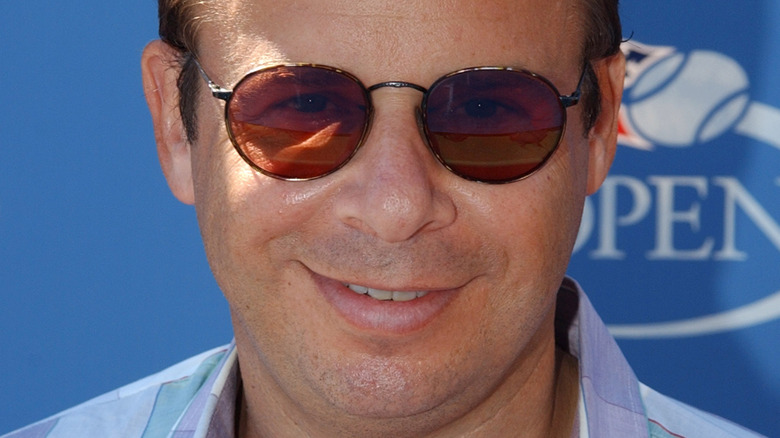 Dimitrios Kambouris/Getty Images
Rick Moranis started his acting career as one of the stars of "SCTV" in 1980. Surprisingly, Moranis was the only series regular who didn't actually work at the comedy troupe's home in Chicago, according to the Second City. Younger audiences are undoubtedly familiar with Moranis' guest-starring role as his Dark Helmet character from "Spaceballs" on "The Goldbergs." Still, before the Hollywood actor started literally downsizing children in "Honey, I Shrunk the Kids," or feeding flesh-eating plants in "Little Shop of Horrors," Moranis was an integral piece of the classic cast from "Ghostbusters."
Moranis played the loveable accountant, Louis Tully, turned Terror Dog, aka the Keymaster of Gozer. However, amidst all the ghostly shenanigans, Moranis' character tries desperately to gain the romantic affection of Dana Barrett (Sigourney Weaver) in the film. Even with comedy icons Bill Murray and Dan Aykroyd leading the cast, Moranis still managed to shine in a supporting role, and the "SCTV" alum absolutely loved his time making 1984's "Ghostbusters."
"You can't be with Bill Murray, Dan Aykroyd, and Harold Ramis and not have fun," Moranis told Bobbie Wygant, while originally promoting the picture, in an interview. "I mean, you know, they're really, really funny men... great guys." Indeed, some of the best bits belong to the main cast, including Murray's "He slimed me" moment, Ramis' "Twinkie" scene, and the epic Stay-Puft Marshmallow Man sequence. But did you know Moranis brought a new dimension to "Ghostbusters" thanks to his exceptional improvisational abilities?
Moranis improved some solid gold into Ghostbusters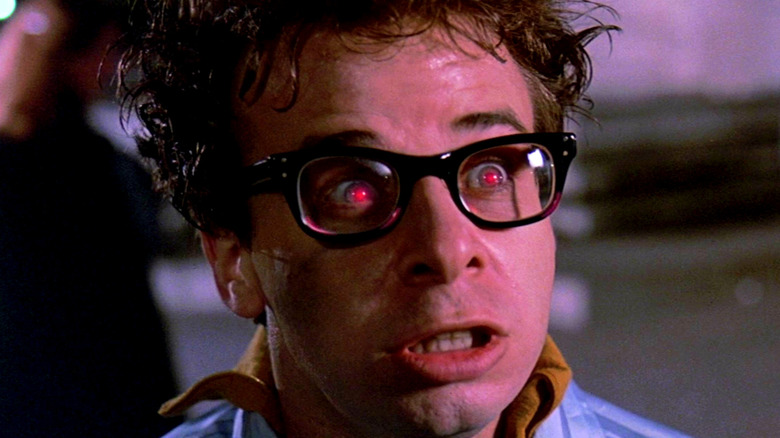 Columbia Pictures
The director of "Ghostbusters," Ivan Reitman, reminisced about the 30th anniversary of the comedy classic, and he remembers Rick Moranis having a huge effect on the project despite the actor only portraying a supporting character. And Reitman credits Moranis with having an inordinate amount of ideas thanks to his wonderful improv skills, according to an interview with Rolling Stone magazine.
"He wrote that extraordinary speech when he is inviting people to a party at his house and he's walking that incoming couple through," Reitman said during the interview, as he discussed Louis Tully's party scene in which the accountant comes face to face with the Terror Dog known as Vinz Clortho. "I had the joke of throwing the coat on the dog that's in his bedroom, but that whole wonderful speech ... Rick just made all of it up as he was doing it. All these guys were so, so good at writing."
According to the same interview, John Candy was offered the role of Louis Tully, but Moranis won the spot on the "Ghostbusters" cast once Candy passed on the project. However, Moranis' relationship with Reitman helped him eventually pin down the part of Tully. "Iv and I kept meeting on Air Canada and on flights between Los Angeles and Toronto," Moranis explained in the same interview with Bobbie Wygant. Moranis elaborated to Wygant that he and Reitman always planned to work together, and "yes" was his answer the second Reitman offered him a part in "Ghostbusters."