David Leitch's Dream Casting For Bullet Train Would Have Reunited Sandra Bullock And Keanu Reeves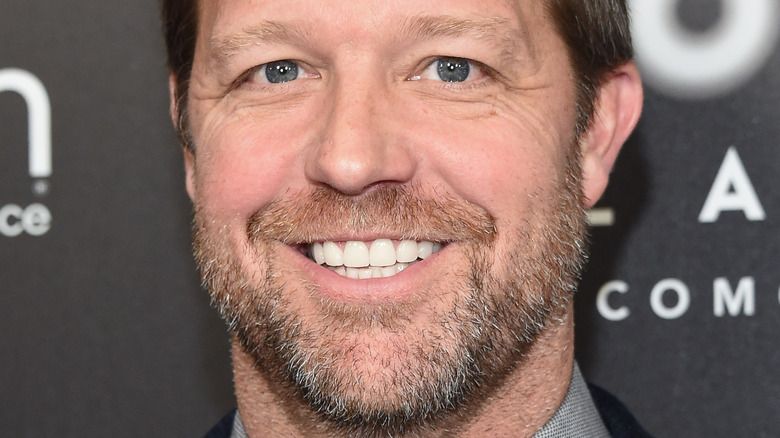 DFree/Shutterstock
As if "Bullet Train" didn't have enough big names in it, we were close to having a classic 90s reunion between Sandra Bullock and everyone's favorite dreamboat, Keanu Reeves. Directed by David Leitch ("Atomic Blonde," "Deadpool 2"), the action comedy thriller follows Ladybug (Brad Pitt), an assassin trying to make a new life for himself, who must fight his way through a host of deadly adversaries to retrieve a special briefcase within a speeding bullet train. Its release in August 2022 saw the film find a hearty box office gross of nearly $240 million worldwide (via Box Office Mojo). Despite this, critics responded to "Bullet Train" with a more mixed reaction, as its holds a Rotten Tomatoes Tomatometer score of 53%, with The Reveal saying of the film that, "It's not fatal that Leitch and company have no evident goal other than to amuse audiences with two hours of spiffy nonsense, but there's a whiff of try-hard desperation behind the film's bravado." 
However, one aspect of "Bullet Train" most agree did work was its A-list cast which includes the likes of Brad Pitt, Brian Tyree Henry, Aaron Taylor-Johnson, Joey King, Bad Bunny, Zazie Beetz, Andrew Koji, and Michael Shannon. Sandra Bullock also appears in the film as Ladybug's off-screen contact, Maria Beetle, who guides the assassin through his mission and shows up in person at the end of the movie. However, Leitch originally had plans to push the Bullock appearance further by including Keanu Reeves in a clever cameo. 
Reeves would have been Pitt's therapist
Director David Leitch initially hoped to have Keanu Reeves join his already stacked cast for "Bullet Train." Throughout the film, Ladybug (Brad Pitt), an assassin trying to take a more pacifist approach to his conflicts, often quotes advice from his contact Maria Beetle (Sandra Bullock) that originated from his unseen therapist, Barry. Producer Kelly McCormick tells Entertainment Weekly, "There was a moment where we were going to do a scene with Barry." Leitch adds, "My dream cast was Keanu. Wouldn't it have been great? Hey, 'Bullet Train 2!'" The appearance would likely make for a fun cameo as well as act as a reunion for Reeves and Bullock, who both starred alongside each other in 1994's  "Speed" and 2006's "The Lake House." 
Another time in 2022 when Reeves and Bullock were almost on screen together was in the action-adventure comedy "The Lost City." Reeves would have cameoed as Jack Trainer, which eventually went to Pitt. Co-director Adam Nee tells ScreenRant, "I think we thought it was gonna be Keanu Reeves initially, but he was tied up with 'John Wick' and that's where we were like, 'Brad was always our first choice,' but we didn't think it was gonna happen. Then [Sandra] did Bullet Train and it came together. And I love Keanu, he would've been fun too." If this isn't a sign from the universe that we need a Bullock and Reeves reunion soon, then we don't know what is.