Bodies, Bodies, Bodies Star Amandla Stenberg Discusses Her Own Body In Film Following A Social Media Fight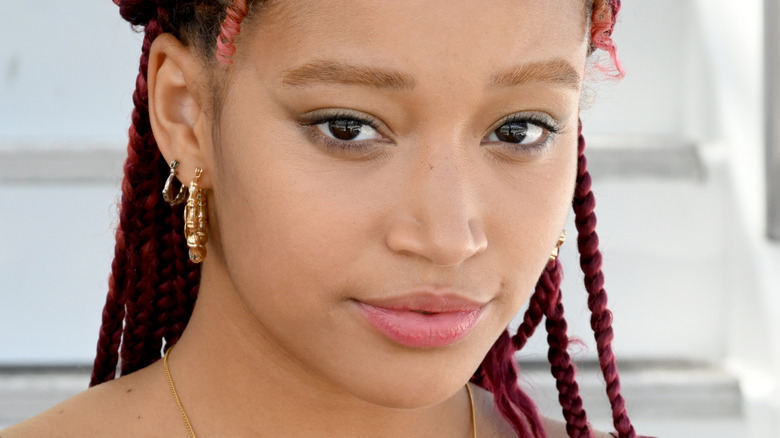 Michael Kovac/Getty Images
"Bodies Bodies Bodies" — the A24 horror-comedy film directed by Halina Reijn and written by Sarah DeLappe from a story by Kristen Roupenian — opened in August 2022 to positive reviews. At the time of writing, it holds an 85% Tomatometer score on Rotten Tomatoes. The film follows a group of rich twenty-somethings (and one much older boyfriend) who, while hanging out in one of their family mansions during a hurricane, find themselves in the midst of a whodunnit when one of them is mysteriously killed.
On top of the mostly positive reviews, the film received attention in the months following the film's release due to a social media feud between actor Amandla Stenberg (who first rose to prominence for portraying Rue in "The Hunger Games") and a film critic. The critic in question is The New York Times' Lena Wilson, who, in her negative review, wrote, "The only thing that really sets 'Bodies Bodies Bodies' apart is its place in the A24 hype machine, where it doubles as a 95-minute advertisement for cleavage and Charli XCX's latest single."
After the review was published, Stenberg reached out privately to Wilson via Instagram DMs to address the cleavage "comment" — eventually leading the actress to discuss her own body image.
Stenberg reached out to Wilson in kind — leading to a back and forth between actress and critic
Following the release of the review, Amandla Stenberg reached out to Lena Wilson privately via Instagram DMs in a conversation that Wilson then made public in a video that the critic posted to Twitter. This can no longer be viewed on the platform, as Wilson has since deleted the social media account. Per IndieWire, Stenberg had written, "Your review was great. Maybe if you had gotten your eyes off my t*** you would've watched the movie!" Wilson responded, "Hey, Amandla! Generally a big fan of your work, but this sure is something. Really wishing you well in your career and life. Have a nice night," before blocking Stenberg. In the Twitter video, Wilson remarked on Stenberg's DM, "Always weird when the homophobia is coming from inside the house but this is something."
Subsequently, Wilson faced immense backlash, with the majority of Twitter users defending Stenberg. Further, Out.com even published a piece on the matter, declaring Stenberg's message was not homophobic.
Stenberg addressed Wilson's video in an Instagram live video in which she explains that she found the "cleavage" line funny and sent the message to Wilson in jest (via IndieWire). "I thought because Lena is gay, I am also gay, I thought as gay people we would both find [the DM] funny," Stenberg explained. "I was also curious to know what Lena would say to such a statement, but Lena decided to publish it and also say that I am homophobic for saying that."
Stenberg took the opportunity to discuss her body image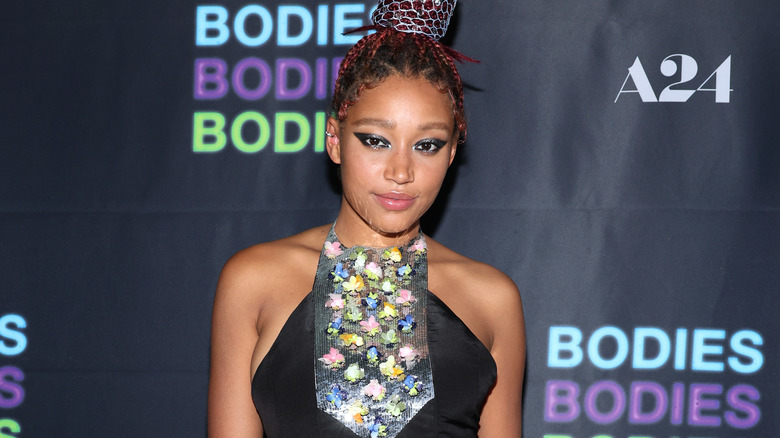 Cindy Ord/Getty Images
After addressing the fact that she sent Lena Wilson the DM as a joke about a line she found humorous in the review, Amanda Stenberg then took the opportunity to turn the discussion toward her body image and having to face commentary on her body.
"The amount of commentary that I've received on my boobs is so extreme, and this has happened since I was a teenager," Stenberg said. "I could literally be wearing a t-shirt, and just because of the size of my boobs, there will be some sort of sexualization or commentary on my chest" (via IndieWire). She continued by noting that because her character wears a low-cut top in the film, and thus shows off her cleavage, that she knew that the comment had to be mostly directed at her. Further, she understands that Wilson was probably trying to make a comment on A24 sexualizing a young actress in order to gain more attention.
However, Stenberg then defended the outfit choice and expressed that the issue runs deeper than one tank top. She continued, "I wore this tank top in this movie because me and the costume designer thought that it fit the character well ... It seems to be in Hollywood it's not normal to have boobs that are above an A or a B cup. I've actually noticed this as my time as an actress. There seems to be a lot of unwarranted conversation around my chest that kind of baffles me."