Whatever Happened To Rue From The Hunger Games?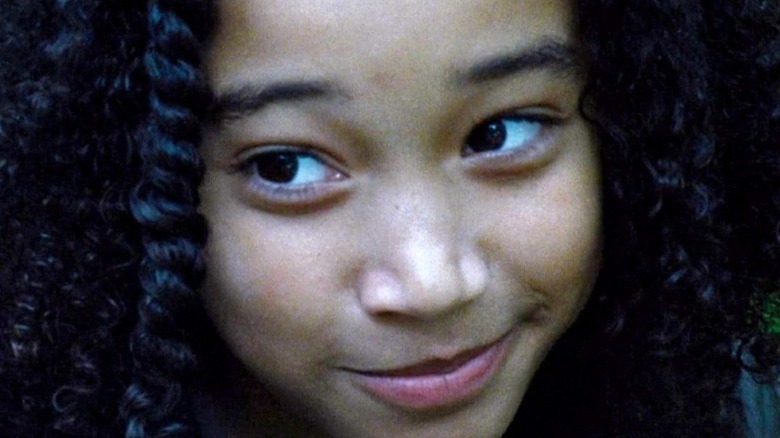 Lionsgate
When "The Hunger Games" was released in 2012, Amandla Stenberg's name was first heard in the media because some fans were upset that a black girl was playing Rue, the young competitor who befriend's Jennifer Lawrence's Katniss Everdeen, despite that fact that Rue is described in the novel as having dark skin. It was a weird and unfortunate controversy, but 13-year-old Stenberg came out of it looking great, releasing a statement that took the high road while standing her ground not just as an actor, but as a fan of the books herself.
"The Hunger Games" wasn't Stenberg's film debut—that came in 2011, when she played the younger version of Zoe Saldana's character in "Colombiana" — but it definitely raised her profile. Sadly, Rue dies in the first film, so Stenberg didn't return for any of the Hunger Games sequels; in fact, it took her a while to return to film acting at all. Now that she's back, she's a lot more grown up, so if you haven't been following her career you might not have even made the connection. With that in mind, here's a quick tour of Amandla Stenberg's impressive post-"Hunger Games" career.
Sleepy Hollow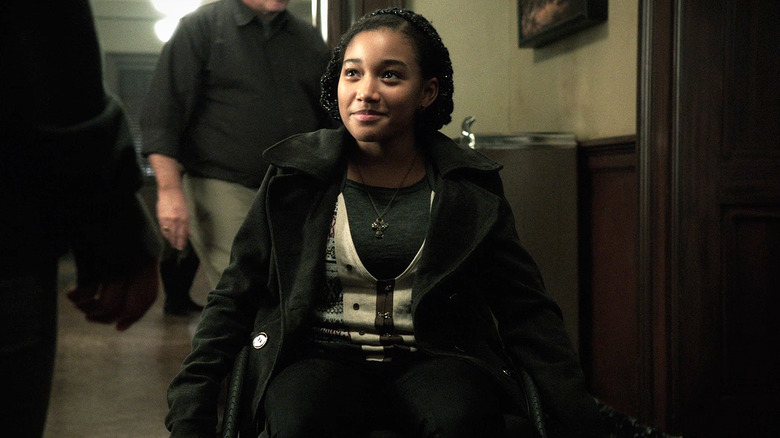 Fox
In the wake of the attention she got for "The Hunger Games," Stenberg had a recurring role in the first season of "Sleepy Hollow," the supernatural drama that ran for four seasons on Fox starting in 2013. She played Macey Irving, the 13-year-old daughter of local cop Frank Irving and lawyer Cynthia Irving. She appeared in four episodes, but was most prominently featured in "Vessels," in which a demon pursues and then possesses her in its pursuit of a Bible that once belonged to George Washington. Ultimately the demon is expelled by the show's heroes, and Macey is unharmed. Stenberg, however, moved on to other pursuits, and Macey never reappeared after the first season.
Mr. Robinson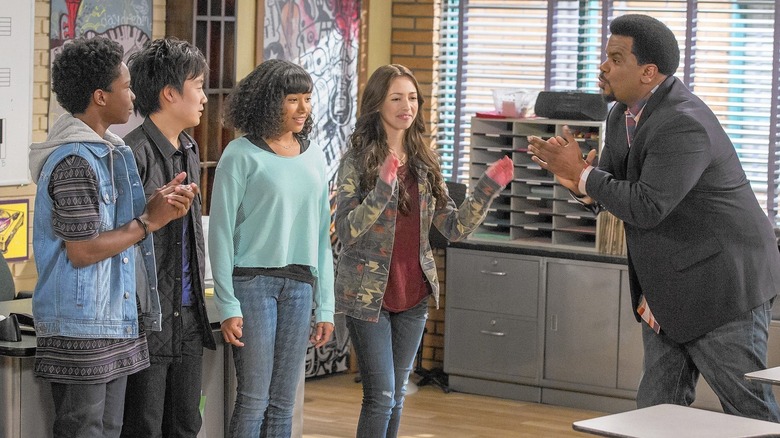 NBC
Stenberg's next TV role was on "Mr. Robinson," a short-lived sitcom vehicle for Craig Robinson, a breakout star of NBC's "The Office." Robinson played a music teacher, and Stenberg played Halle Foster, one of his students. The show was originally intended for the 2013-2014 TV season, but only six episodes were made and they eventually aired on NBC in the summer of 2015. 
Despite the presence of Robinson, Stenberg, and "Frasier" star Peri Gilpin as the school principal, "Mr. Robinson" was poorly reviewed and has already been largely forgotten. Fortunately, this has allowed both Robinson and Stenberg to move on to better projects, so fans of both should probably be grateful they haven't been stuck on a mediocre sitcom for the past few years.
Niobe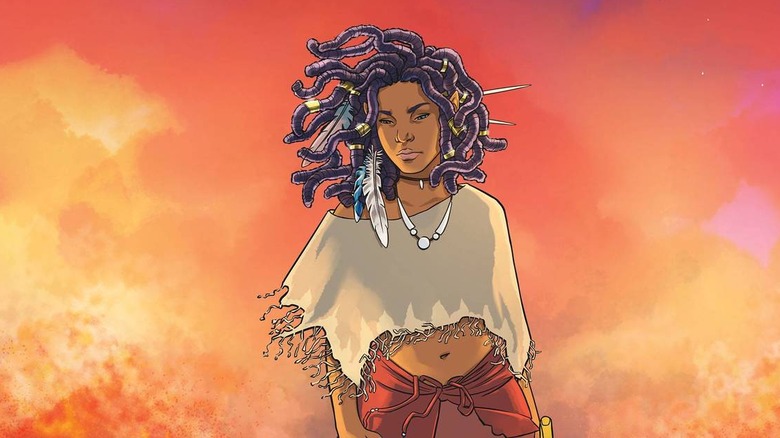 Stranger Comics
One of Stenberg's most surprising roles isn't as an actor at all, but as a comic book writer. Since 2015, she has collaborated with co-writer/publisher Sebastian A. Jones and artist Ashley A. Woods on a series called "Niobe." The title character is a warrior woman in a fantasy setting who's half human and half elf, and also Black. Stenberg has said she identifies with the character's multiracial identity, being of Black and Danish ancestry.
"I was drawn to give voice to Niobe and co-write her story because her journey is my journey," she said in a statement to The Huffington Post. "I connect to her mixed racial background and quest to discover her innate powers and strengths, to learn who she truly is." The original 2015 series was entitled "Niobe: She is Life," and a new series came out in 2017 with the more ominous title "Niobe: She is Death". Her work on the comic was an early sign that Stenberg would soon become known as more than just an actor.
Social Scene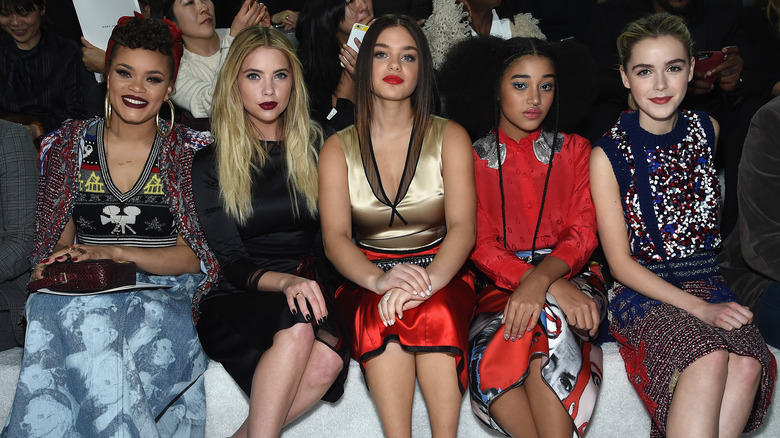 Getty Images
Over the past couple of years, Stenberg has become known as part of a group of young celebs who were constantly seen together in both social and collaborative spaces. In the Spring of 2015, she hung out with Rookie Magazine founder Tavi Gevinson, Willow Smith (daughter of Will Smith and Jada Pinkett), Mad Men actress Kiernan Shipka, and musician Lauren Turk. The photos posted to their Instagram accounts created so much FOMO that articles were written about it. 
In 2016, she appeared in a perfume campaign for fashion designer Stella McCartney alongside the musician Grimes, model Kenya Kinski-Jones (daughter of Quincy Jones and Nastassja Kinski), and Lola Leon (daughter of Madonna). She was photographed in the front row of a Mark Jacobs fashion show (seen above) with Kiernan Shipka, singer Andra Day, Pretty Little Liars star Ashley Benson, and actress Odeya Rush. All of these connections may seem shallow and inconsequential to older generations, but in this social media age, when young people in particular follow the movements of celebrities as if they know them, the importance to one's career of running with a cool crowd should not be underestimated.
LGBT Superstar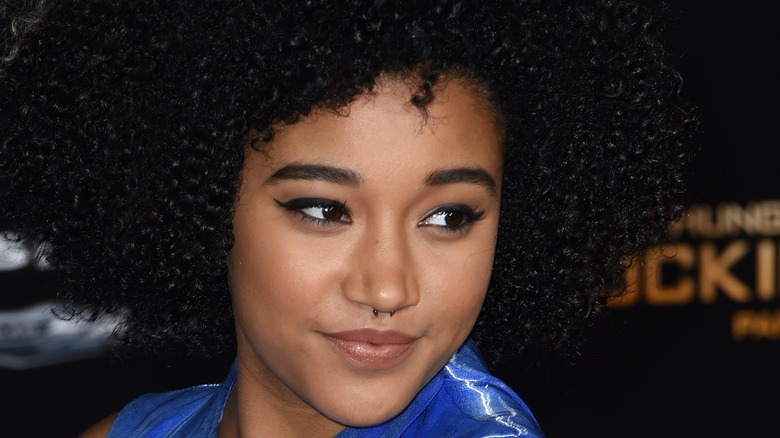 Getty Images
In January 2016, Amandla Stenberg posted a video to the official Teen Vogue snapchat, which she then reposted to her Tumblr. In the video she casually and very eloquently comes out as bisexual, while talking about the need for greater representation in media. A couple of months later, Stenberg also came out as nonbinary, meaning she doesn't identify as a man or a woman. 
She stated on Tumblr that she was comfortable using they/them pronouns, but later expressed a desire not to have those pronouns used outside of "the Tumblr realm" as that could confuse producers and negatively impact her acting career (hence our use of she/her pronouns in this article). This coming-out process not only brought Stenberg into the LGBTQ community, it introduced her to many people as a surprisingly thoughtful and self-aware teenager, whose thoughts about herself and the world around her display a wisdom beyond her years.
Beyoncé: Lemonade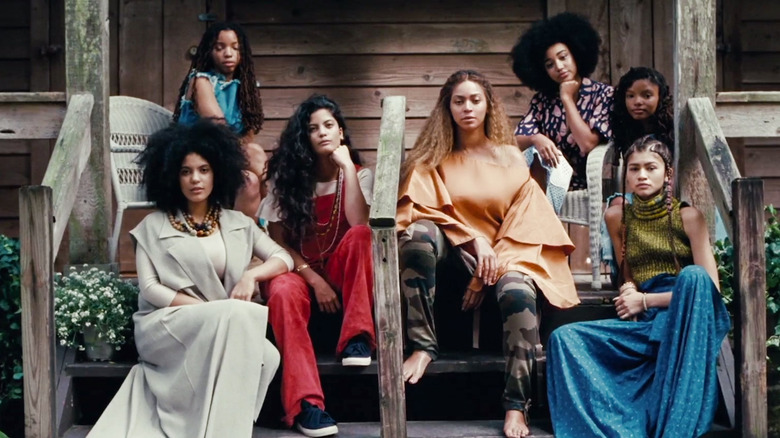 HBO
Another prominent appearance Stenberg made during this period was in "Lemonade," the 2016 HBO special that added visuals to the newly-released Beyoncé album of the same name. What starts as Beyoncé's very personal story of wrestling with her husband's infidelity gradually widens its scope until it becomes a tribute to the strength of all Black women. Amandla Stenberg appears late in the film, in a rural setting, alongside musicians Zendaya, Ibeyi, and Chloe x Halle — as well as Beyoncé herself, of course. Although Stenberg (like most of the performers) has no spoken lines in "Lemonade," her unique look and expressive face make her appearance a memorable one.
As You Are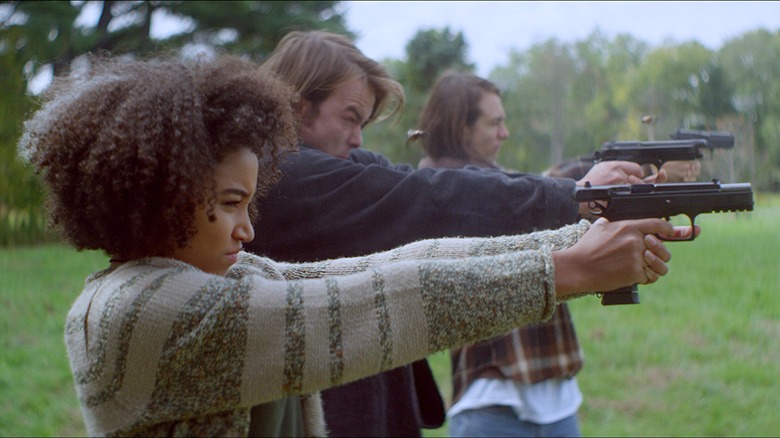 Sundance
Stenberg played a major role in "As You Are," an indie drama set in the early 1990s. The main focus of the film is the relationship between two teenage boys, played by Owen Campbell and "Stranger Things" star Charlie Heaton. Stenberg plays a teenage girl who becomes their friend and then becomes romantically involved with both of them, although it soon becomes clear that the boys' primary romantic interest is in each other. 
"As You Are" premiered at the 2016 Sundance Film Festival, and eventually got a limited theatrical release in February 2017. Although the film wasn't widely seen, it provided Stenberg with her first live-action film role since "The Hunger Games," and displayed how much she'd grown as an actor.
Everything, Everything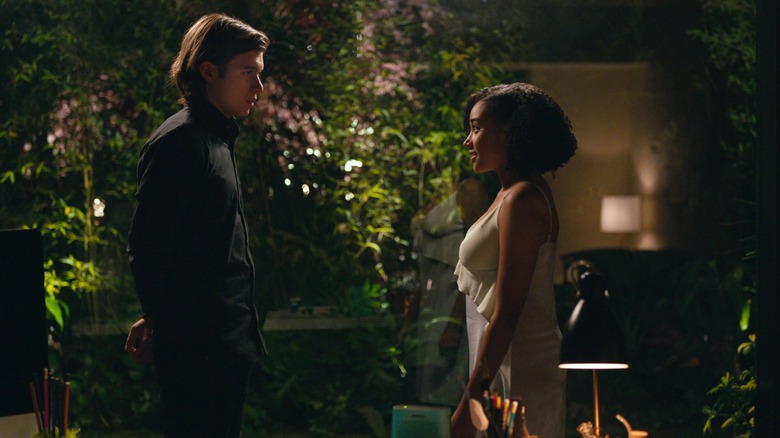 MGM
In 2017, Amandla Stenberg had her first starring role in a major motion picture, the romance "Everything, Everything," based on a young adult novel by Nicola Yoon. Stenberg plays Maddy, a teen girl suffering from an immune disorder that makes it impossible for her to leave her house. She falls in love with a boy named Olly (Nick Robinson) who moves in next door, and their relationship leads to her learning more about herself, the outside world, and her family's secrets. The film received mixed reviews, but exceeded expectations at the box office. Stenberg also recorded a song for the soundtrack, a cover of "Let My Baby Stay" by Mac DeMarco.
The Darkest Minds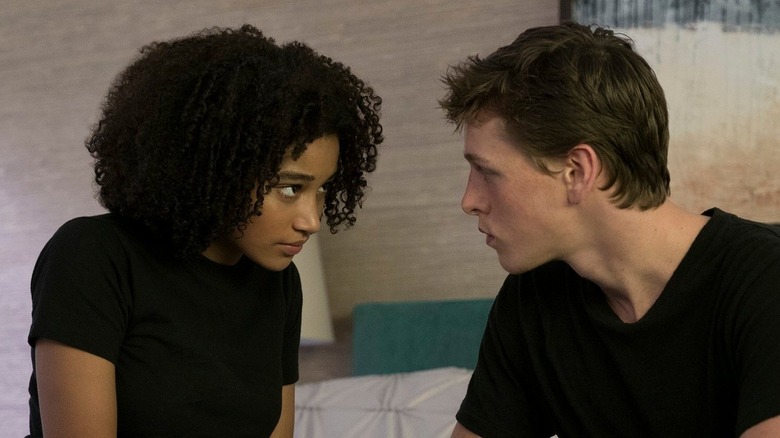 20th Century Studios
After "The Hunger Games," Stenberg continued on her path of playing major roles in book-to-film adaptations. Next up was "The Darkest Minds," a dystopian film that had a very different premise than the one she's known for. Rather than center on society in a post-war world with a ruling body that forces teens to fight to the death, this one is about a contagious disease that kills all young people. Those who survive have special abilities that the government fears, so they're classified with a color that represents their power and thrown into prisons. Stenberg plays Ruby Daly, a girl who can read peoples' minds and implant thoughts into them, which is considered the most dangerous of skills by the government.
The film didn't do well across the board. It earned $41 million against a $34 million budget at the box office, which is disappointing. Critics gave it mixed to negative reviews, noting it was too similar to other dystopian films of the time and remarking that while it started strong, it never quite met the mark as it came to a close. In short, it just wasn't exciting enough compared to other entries in its genre. 
Stenberg's performance did receive positive comments, though. The Hollywood Reporter wrote, "Young moviegoers who haven't yet tired of cookie-cutter dystopias will find a sympathetic protagonist played by Amandla Stenberg." Meanwhile, Alan Scherstuhl of The Village Voice said, "Stenberg is so compelling a presence that her erasure, even just from one character's mind, is something to mourn."
The Hate U Give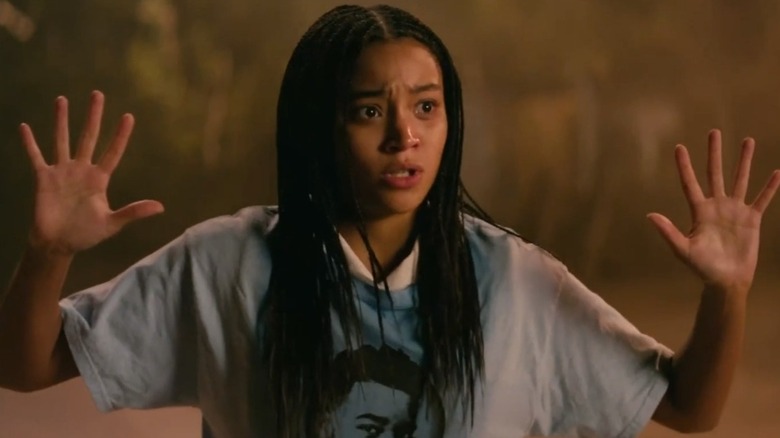 20th Century Studios
Taking a step away from dystopian media, Stenberg next appeared in an adaptation focused on police brutality against people of color. Based on the book of the same name, "The Hate U Give" follows Stenberg's character Starr Carter as she lives in the aftermath of her friend Khalil Harris (Algee Smith) being killed in front of her by the police. Khalil's death makes national news and initially Starr's identity as the witness to the shooting is kept a secret. As the case goes to trial, and the officer involved is not indicted, Starr takes on a larger role and voice in her community, despite the danger it brings as a Black student in a predominately white school.
"The Hate U Give" garnered positive reviews from critics, earning the film a 97% critic score on Rotten Tomatoes. Stephanie Zacharek called it a "marvelous and provocative film" for Time, while Lindsey Bahr from the AP said it was a film that everyone should see. Despite the great reviews, the film did about as well as "The Darkest Minds" did at the box office. Stenberg's performance in the film was particularly praised and even won her an NAACP Image Award for Outstanding Actress. 
Where Hands Touch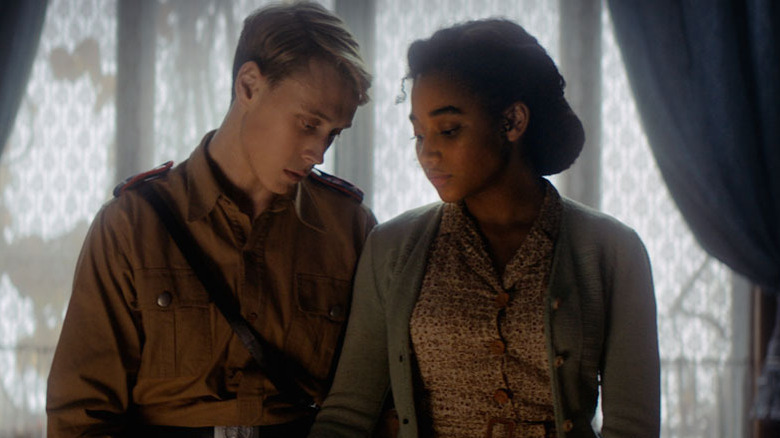 Shear Entertainment
Stenberg's next starring role was a period piece. She starred as Leyna, a multiracial girl trying to find her place in Germany during World War II, in "Where Hands Touch." Her character meets Lutz (George MacKay), the son of an SS officer and a member of the Hitler Youth. Though they fall in love, Leyna is eventually sent to a labor camp where Lutz is assigned as a guard, and they are forced to hide the fact that she's pregnant with his child. The pair try to escape as the United States enters the war, but Lutz's father kills him when he finds out. In the aftermath, Leyna is rescued by American troops and reunited with her family. 
The film received mixed reviews, with critics praising its ambition and intent but criticizing many things about its execution. Despite the issues, Stenberg's performance was widely praised, particularly as it marked her transition from young adult fare to more serious dramas. "Stenberg moves easily from her juvenile roles," Caryn James wrote for The Hollywood Reporter. "Without overplaying, her face subtly and constantly conveys the burden and confusion Leyna feels."
The Eddy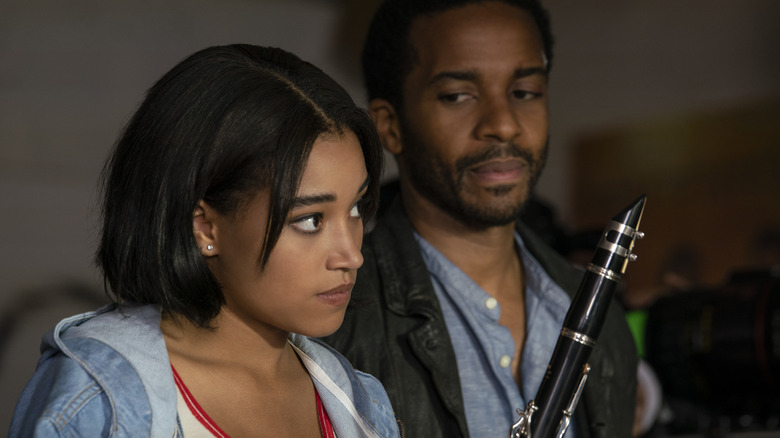 Netflix
"The Eddy" was the actress' first project for a streaming service. This French–American miniseries set in Paris follows Elliot Udo (André Holland), a former jazz musician who has moved to the city to run a club after a death in the family. Stenberg plays Julie, Elliot's daughter, who comes to visit from New York and ends up staying to attend school. She's considered "troubled," skipping school and flirting with older men, like the club's bartender. The series premiered on Netflix in 2020 with mixed to positive reviews.
In an interview with MTV, the actress discussed how she wanted Julie to be more than just a set of stereotypes made into a character. "I think it feels important to me that I never fall into the trope of an angsty teenage girl," Stenberg stated. "I try to ground it in something that feels real to me and something I've observed or either experienced, because it can be really easy to fall into archetypes." In a Variety profile, she detailed how she wanted the character to come across. "I wanted her to feel like a small puppy with a really big bark," the actress shared. "Someone who is maybe a lot to handle because that's the way that she's learned to gain attention."
Connecting with her Danish roots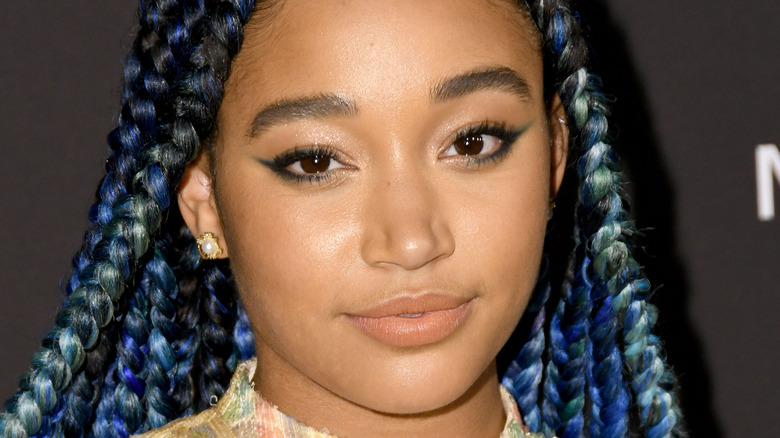 Quinn Jeffrey/Shutterstock
Like many actors, Amandla Stenberg was forced to take a little time off from work in 2020, and spent that time exploring new facets of her personal life. Stenberg is half Danish on her father's side, and her father even lives in Copenhagen. The actress noted in a post on Talk House that after being in Los Angeles for 40 years, he moved back to his home country. "Growing up, I visited Copenhagen a few times," she wrote, "but didn't really have a relationship to the city." In 2020, she spent three months in the country to qualify for Danish citizenship. 
She found she liked to bike around Copenhagen while listening to music during her time there. "Biking is such a huge part of the culture because it is such a small place," she explained. "There's a really special freedom and autonomy when you're just biking from place to place." In terms of music, she likes to listen to "dream pop or Slowdive" while she bikes. One artist she named was A.R. Kane, a Black British duo that "pretty much originated dream pop" in the '80s. She goes on to say her music tastes tend to be all over the board, as she likes anything from hip hop to '90s rock to classical. When she wasn't riding her bike through the city streets, she was attending Pride rallies, as seen on her Instagram. 
Dear Evan Hansen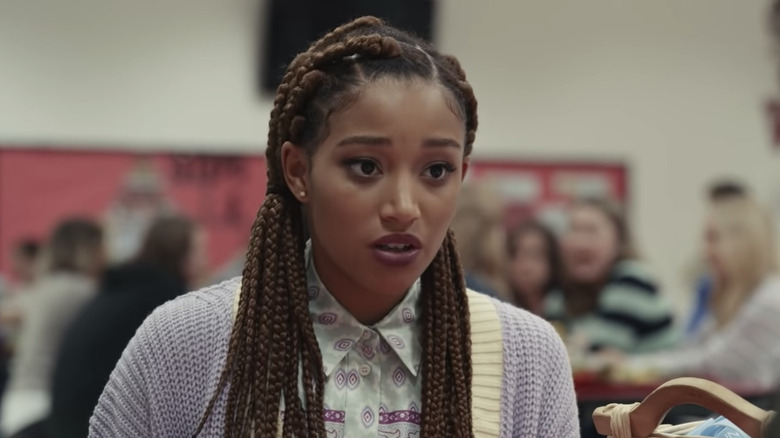 Universal Pictures
In 2021, Stenberg starred in her first major musical motion picture. The film adaptation of the Tony-award-winning musical "Dear Evan Hansen" is headlined by Ben Platt, who originated the title role on stage. Stenberg came onboard to play Alana Beck, a student at Evan's school who wants to keep the memory of their dead classmate alive by reopening an orchard. As part of her role, the actress helped write a new song for her character to perform in the film, "The Anonymous Ones," as part of the expansion of the character (via What's On Stage).
Despite the success and praise for the stage musical, the film did not live up to expectations. Though projected to make between $9 and $12 million during its opening weekend, it only earned $7.5 million, with the final box office total being just above double that. Critics panned the film, particularly citing the choice for the too-old Platt to continue in the role and the way the story frames his unlikable character as a victim. Issues regarding Platt's comments in response to his place in the film fueled discussions over nepotism in the industry, given that his father was also the producer (via SK Pop). 
Stenberg was nervous about how the Broadway fans would react to the changes made to Alana. "I want the fans, the diehard fans to be happy. And our interpretation of Alana for the film I think is a little bit different," she explained to CinemaBlend. "But we have an opportunity to re-explore her more deeply because we have more time to get to know her."
Bodies Bodies Bodies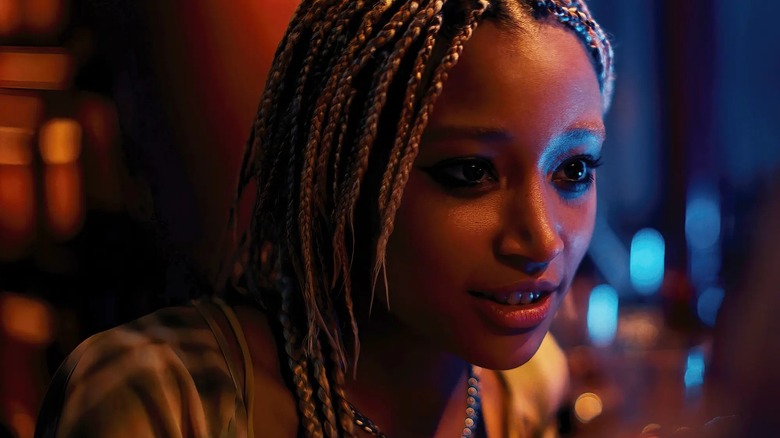 A24
"Bodies Bodies Bodies" is a black horror from A24 about a party that turns deadly. Stenberg plays Sophie, a rich girl along for the ride. After the death of David (Pete Davidson), the party dives into chaos as those who survive the ordeal try to figure out what happened. The film debuted at South by Southwest in March 2022 before heading to theaters in August. Critics have given the movie positive reviews, though the public doesn't seem to agree. 
As chronicled by Variety, the film has been in the headlines because of a direct message Stenberg sent Lena Wilson, a film reviewer for The New York Times, making a joke about her review of the film. Wilson used the phrase "doubles as a 95-minute advertisement for cleavage" to describe the film, which Stenberg took issue with. The writer's reaction was to release the message and call the actress a homophobic bully. (Both individuals are gay.) In response, the actress posted a video on Instagram, which gained quite the following, and described what she sent and why she thought another gay person would also find it funny. The amount of backlash Wilson received over how she handled the situation has caused her to delete her accounts across social media (per Newsweek). 
Upcoming Star Wars project
Amandla Stenberg has some exciting projects on the horizon. In July 2022, it was announced via Twitter that the actress would star on the upcoming "Star Wars" series "The Acolyte" on Disney+. Designed as a female-led story set 100 years before the events of "Star Wars: Episode 1 – The Phantom Menace," the series takes influence from martial arts movies to go in a different direction than the other stories in the franchise (via ComicBook.com). 
The actress is also returning to adaptations with her role in "Wildwood." The movie is based on the 2011 fantasy novel of the same name by Colin Meloy of The Decemberists. Stenberg was announced by Laika Studios (via Twitter) as part of the voice cast for the animated film alongside Mahershala Ali, Awkwafina, and Angela Bassett, to name a few. 
Amandla Stenberg has poised herself for a full career that's already come a long way since her breakthrough as a tribute from District 11. From being an activist and LGBTQIA+ icon to taking on one big franchise after another, the actress will only continue her rise in Hollywood.