Game Of Thrones' Kristian Nairn Got Real-Life Calls To Hold The Door After The Big Hodor Reveal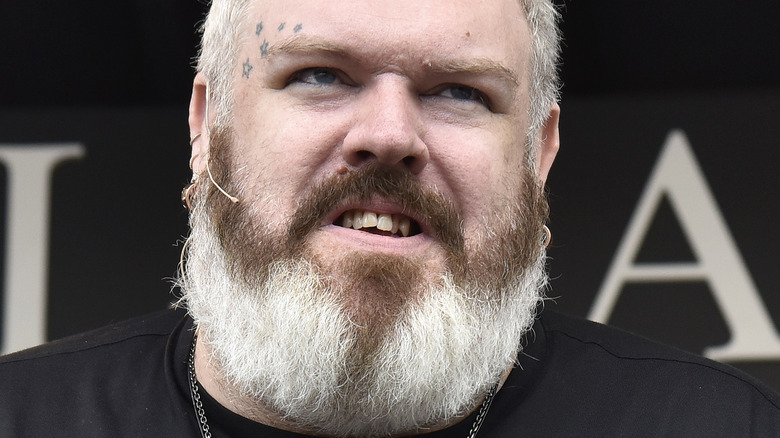 Tim Mosenfelder/Getty Images
Usually –- and ideally –- a character's departure from a show is a memorable event. Depending on those affected, a death scene can cause sorrow, anger, shock, joy, or a mixture of these. In terms of killing off characters, even main ones, "Game of Thrones" is an unmatched paragon of driving fans to the edge of their seats as the medieval fantasy series made one feel that no character, regardless of who they are and what their role is in the story, is safe.
Throughout the eight seasons of the HBO series, there were some pretty devastating deaths: from Ned Stark getting beheaded to the infamous Red Wedding to the multiple main character demises that occurred In the last season. One of the most emotional deaths in the show happened in Season 6 Episode 5, "The Door". On a Reddit post about the saddest "Game of Thrones" deaths, u/tdownst wrote in a highly-upvoted comment, "For me it was Hodor. The intertwining of his backstory with what was currently happening made for a pretty emotional scene." 
Indeed, the gentle giant's sacrifice did not leave fans indifferent. So much so that Hodor actor Kristian Nairn's life was impacted by fan reactions even after he left the show.
Hold the door, Hodor.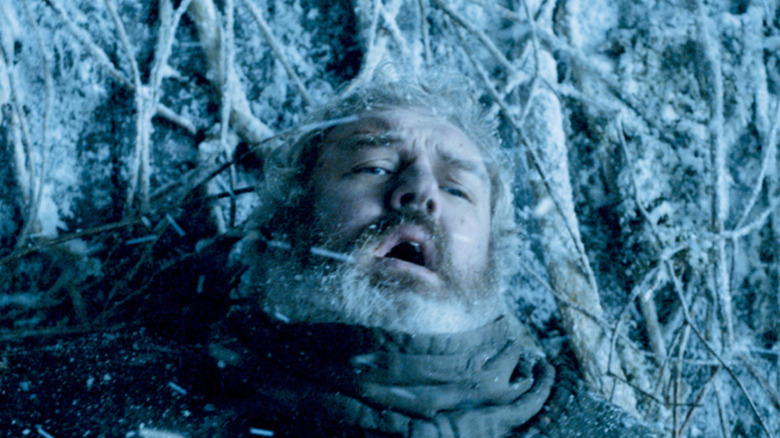 HBO
Hodor's sacrifice to allow Bran Stark (Isaac Hempstead Wright) and Meera Reed (Ellie Kendrick) to escape is certainly one of the most unforgettable deaths in Season 6, if not the whole show. In another Reddit post on the most impactful deaths, u/madbeachrn mentioned both Shireen Baratheon (Kerry Ingram) and Hodor due to their innocence. Indeed, even Northern Ireland-born Nairn "had a little bit of a sob to [himself]" when he found out about his character's fate (per The Hollywood Reporter).
Hodor's death was also marked by the revelation that it was Bran who affected his mental capacities and made him only capable of uttering a single word –- Hodor — which turned out to be a mash-up of three words in a single command: Hold the door. This order stuck with people long after Season 6, Episode 5 aired.
In an interview with HuffPost, Nairn spoke a little about the fan reactions he encountered after Season 6. Although some people have held the door for Nairn, the actor and professional DJ explained that it is, more often than not, the other way around: "More often, they want me to hold the door for them," he said. "I never expected the kind of response I've had. Every day, I get emotions from people. They still cry. It feels like it just happened the other day!" In addition, Nairn also commented on the Hodor doorstops that went for sale after that impactful episode. "Where's my commission? [Laughs] No, just joking. It's usually very flattering," he quipped. 
If Nairn had to describe Hodor's sacrifice, it would be as "heroic." Despite his fear, Hodor did not budge until the two kids were safe. In the actors' poetic words to the Hollywood Reporter, "Not all heroes hold weapons. Some hold doors."