James Corden Once Tried His Hand At Modeling On The Price Is Right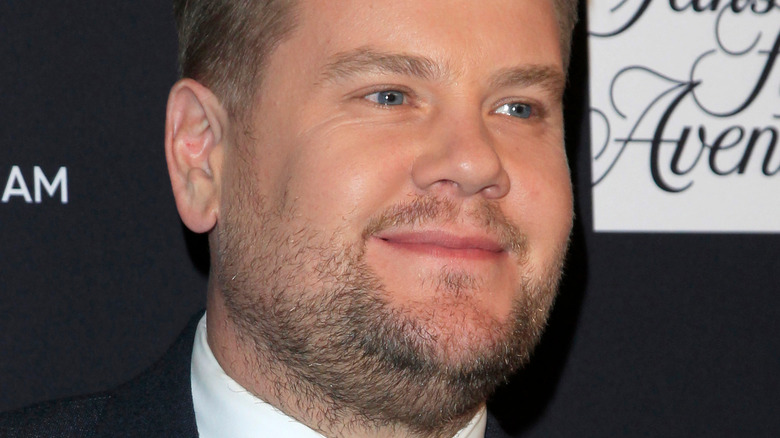 Kathy Hutchins/Shutterstock
It's no secret that James Corden boasts quite an illustrious career. From taking home a 2012 Tony Award for his leading role as Francis Henshall in Broadway's "One Man, Two Guvnors" (via Broadway.com) to his more than seven-year reign as host of CBS' "The Late Late Show," the High Wycombe-area native has basically done it all. But in 2015, Corden got to add a brand new skill to his resume –- modeling on "The Price is Right."
Over the course of its 50-plus-year run, the popular game show has welcomed a slew of celebrity guests to the flashy set. Whether they're present to model the prizes or simply serve as a helping hand to contestants, their presence usually makes the experience even more exciting.
Famous faces to grace "The Price is Right" include "American Idol" alum Chris Daughtry, model Heidi Klum and, of course, the legendary Snoop Dogg. Actors from CBS soap operas, such as "The Bold and the Beautiful," also make fairly regular appearances thanks to the close proximity of the shows' sets. As for "The Late Late Show," the nighttime program is filmed directly above "The Price is Right," which grants Corden rather convenient access.
After years of showcasing his slew of talents -– including putting on an entire Broadway-worthy musical in the middle of a busy intersection and singing karaoke with A-listers –- Corden confidently tried his hand at something fresh when he filled in for "The Price is Right" male model James O'Halloran.
James Corden confidently replaced male model James O'Halloran
In October 2015, as part of Big Money Week, James Corden stepped in for "The Price is Right" model James O'Halloran, who showed his temporary replacement the ropes. Corden learned how to spotlight the prizes up for grabs, participate in various games, and wave to the in-studio and at-home audiences. The energy on the episode was higher than usual, with Corden showing as much -– or more –- excitement than the contestants when they won something and expressing some colorful words when they lost. Corden is also quite the hugger. No matter their size, each player was happily embraced and picked up (something Drew Carey doesn't enjoy) by the late-night talk show host.
Corden told ET about his modeling gig, "The truth is, it's like riding a bike, you know. Just the looks and the ... *gives smoldering look to the camera* ... That's what makes it." As for O'Halloran, he had nothing but praise for his fill-in: "He's done a pretty damn good job, actually. He's very entertaining. He's doing these hip thrust movements, I haven't seen such a thing."
At the time of Corden's special "The Price is Right" appearance, many were asking one question –- would he return the favor to Carey and have him as a guest on "The Late Late Show"? In March 2022, in honor of the game show's 50th anniversary, Corden surprised Carey again. This time, he told Carey to "come on up" to his set. Not only did this mark Carey's inaugural "The Late Late Show" appearance, but he also got to play "The Price is Right" for the first time. Though he failed miserably at Switcheroo, Carey got to take home the lavish prize of chicken stroganoff.