The Only Thing Drew Carey Understandably Doesn't Like About The Price Is Right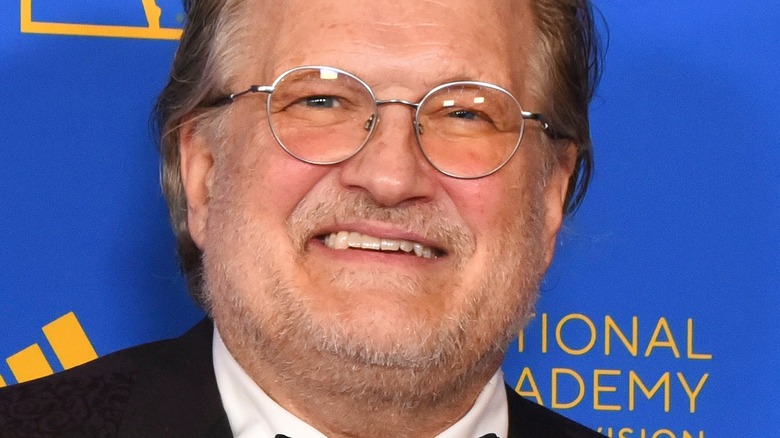 Michael Mattes/Shutterstock
It's almost hard to believe, but Drew Carey has been hosting CBS's legendary daytime game show series "The Price is Right" for 15 years already. While he's hardly eclipsed the towering legacy of his iconic predecessor Bob Barker, it's safe enough to say at this point "The Price Is Right" is as much Carey's show as anyone's. Given his clear affinity for playing host on the show, and the show's timeless popularity (per Deadline), it'll likely remain his for many years to come.
In case there were any question about just how much Carey enjoys his gig on "The Price Is Right," the comedian turned game show host was more than open about the fact during a 2019 interview for CBS Mornings. As for what he enjoys most about the job, Carey explained, "The energy there is unbelievable. Like everybody is so positive. Even the crew. Everybody's in a good mood..." It seems, however, there is one specific part of hosting "The Price is Right" that Drew Carey is not a big fan of. And we can probably all understand why.
Carey isn't a fan of being picked up by The Price is Right superfans
It's funny that Drew Carey speaks so fondly of the energy everyone brings to the set of "The Price Is Right," because it sometimes actually fuels the one thing about the show that Carey doesn't particularly care for. Contestant fervor has, of course, been a big part of what's made "The Price Is Right" so much fun to watch over the years. So much so some fans have likely tuned in specifically to see what crazed chaos everyday players, and even future stars like Aaron Paul, conjure from one episode to the next. Indeed, over the years Carey has been jumped on, bear hugged, tackled, and occasionally even smooched.
As Carey told the CBS Mornings crew, he's fine with all of that. But he really does not enjoy it when contestants pick him, stating, "The only thing I don't like is when dudes pick me up and spin me around." For the record, Carey is clearly laughing a little when he makes that comment. So even if he doesn't enjoy being twirled about by brawny contestants, he clearly doesn't take it all too seriously. It should be noted, however, that the twirling clip shown during his interview also ends with the contestant inadvertently dropping Carey on the ground. So perhaps we should ask that any "The Price Is Right" contestant who insists on picking Drew Carey up be a little more careful when they put him back down.