Reviews For The Guardians Of The Galaxy Holiday Special Have Critics Reveling In The Intergalactic Holiday Cheer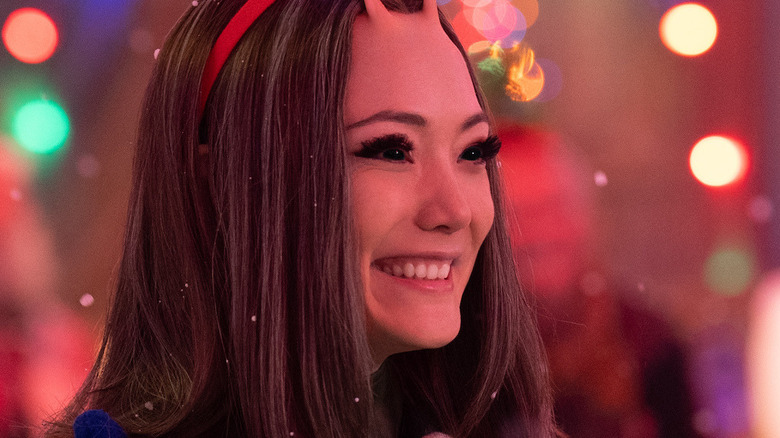 Jessica Miglio/Marvel Studios
It's only been a few months since we caught up with the "Guardians of the Galaxy," who played a significant part in "Thor: Love & Thunder." But we're about to spend the holidays with them, as Disney+ puts forth "The Guardians of the Galaxy Holiday Special." 
The mini-movie centers around Drax the Destroyer (Dave Bautista) and Mantis (Pom Klementieff) trying to figure out how to cheer up the team's leader, Peter "Star Lord" Quill (Chris Pratt), who misses Gamora (Zoe Saldaña) and is still mourning her death after the events of "Avengers: Infinity War." Noting that he misses what Christmas was like on Earth in his youth, his crew becomes concerned for his morale. What better way to gladden him than to head to Earth and kidnap one of Quill's idols, Kevin Bacon (playing himself) as a personal gift? Needless to say, holiday-flavored chaos promptly ensues, and Mantis and Drax find themselves in a whole pile of trouble trying to make their friend happy.
While viewers are going to have to wait until November 25 to find out how wild things get for the gang on Earth, there are definitely some sneak previews to be had in the form of early reviews. Fans of the franchise wondering how the special stacks up against the two "Guardians of the Galaxy" films — and want to know if, as director James Gunn promised, it will prepare them for the 3rd "Guardians of the Galaxy" film — need to look no further to find out what critics think of the special.
The majority of critics love the Guardians special...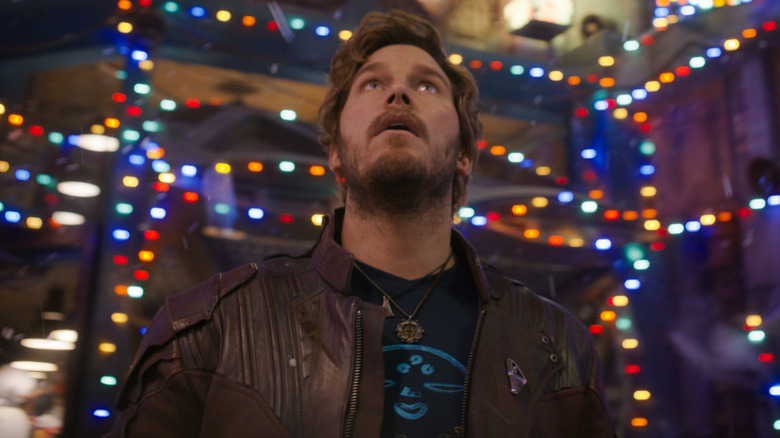 Marvel Studios
It looks like Drax and Mantis' heist is set to be a roaring success. As of press time, "The Guardians of the Galaxy Holiday Special" sits with an at 89% approval score at Rotten Tomatoes, with only two reporting critics keeping it from a 100% score.
Leading the charge of plaudits is Rolling Stone's David Fear, who fondly compared the special to the "Star Wars Holiday Special" but wishes that director James Gunn had leaned a little harder into the campier aspects he wishes for. "The Guardians movies have always operated in the more absurd corners of the Marvel Cinematic Universe — irreverence was built into the group's onscreen existence from Day One — which gives Gunn a sort of anything-goes hall pass when it comes to the proceedings," he wrote. But he also added that it has anything a fan might want when it comes to a "Guardians of the Galaxy" special set during the holiday season.
Variety's Jordan Moreau had even higher praise for the film. "Guardians of the Galaxy Holiday Special" is stuffed with funny, feel-good Christmas joy, and it's one of the best pieces of content Marvel Studios has released in years," he said. Moreau praised the film for shining a light on Drax and Mantis' close bond and gave it extremely high praise.
Another critic excited by the movie was The Hollywood Reporter's Angie Han, who noted that the movie was clearly put out to excite fans about the upcoming release of "Guardians of the Galaxy Vol. 3" but liked it anyway. "It's funny enough to provoke out-loud laughter and poignant enough to elicit that telltale sting behind the eyes, if not quite enough to draw full-on tears," she wrote.
... But a few didn't like it.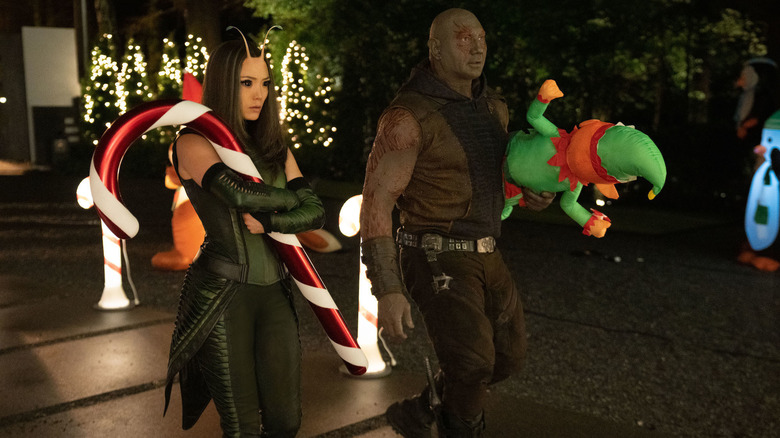 Jessica Miglio/Marvel Studios
Empire Online gave the special 3 out of 5 stars, with Chris Hewitt also noting James Gunn's repeated nods to "The Star Wars Holiday Special" and giving high acclaim to Pom Klementieff's performance. But Hewitt's review landed on the more negative side of the spectrum, stating, "[t]he whole thing is incredibly slight, and fairly inconsequential [...] while the Kevin Bacon scenes feel disappointingly toothless." He did, however, also praise the film's sense of fun.
On the more negative side of things, /Film's Chris Evangelista found the special to be middling and expressed disappointment with how the film's characters weren't better used. "One gets the impression that writer-director James Gunn didn't really have enough to fill out an entire special, which means we're treated to multiple musical numbers and multiple montages to pad the runtime. At the same time, Gunn and his cast manage to slip in one final emotional beat that genuinely works," he wrote in his "Guardians of the Galaxy Holiday Special" review.  
His conclusion showed a desire for something more interesting than what was dished out. "Am I being a Scrooge? A Grinch? Some other Christmas-hating ghoul?" Evangelista asked rhetorically. "I don't know. Again: I didn't go into 'The Guardians of the Galaxy Holiday Special' expecting something that would blow me away. I was just expecting ... something more."
Fans can judge for themselves when "The Guardians of the Galaxy Holiday Special" hits Disney+ on November 25.