John Candy's Character Del In Planes, Trains And Automobiles Was Based On A Real Person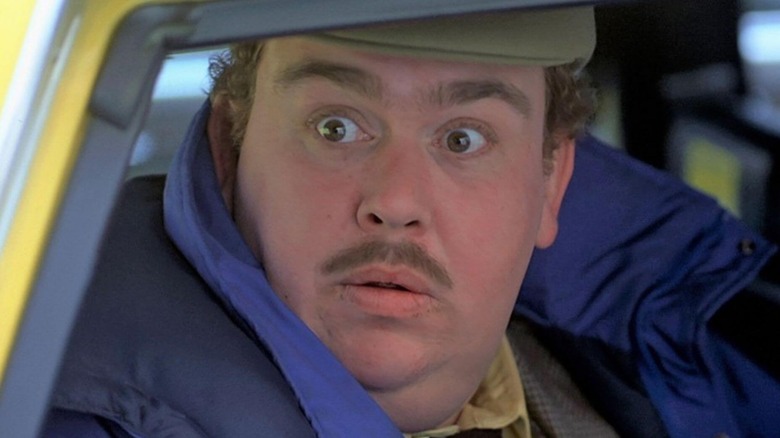 Paramount Pictures
Since its debut in 1987, John Hughes' comedy "Planes, Trains and Automobiles" has endured as an American classic. Every holiday season, the heartwarming Thanksgiving-set film is a traditional watch for many families. With equally high praise from critics and audiences, it remains one of John Hughes' most memorable films (via Rotten Tomatoes).
The movie follows advertising executive Neal Page (Steve Martin), who is on a business trip in New York City trying to make it home to Chicago in time for Thanksgiving with his family. On the way there, he meets Del Griffith (John Candy), a friendly but lonely shower ring salesman who is also headed west. When their plane is diverted to Kansas because of the weather, the two attempt to make it back to Chicago together, with several high jinks and misadventures along the way. The film is a holiday staple because of its tale of friendship, love, and the pairing of Martin and Candy, the former of whom plays the straight man to Candy's more eccentric character.
Yet, while the chemistry between Candy and Martin is sublime, Candy is often considered the heart of the film. His performance is equal parts sad, bittersweet, and hilarious. Despite deeply guarded pain, Del Griffith is relentlessly optimistic, providing the movie with genuine and surprising emotion.
And while it's been widely known that Hughes based "Planes, Trains and Automobiles" on a real incident from his life, Candy's character was also based on a real person.
Del Griffith was based on a real salesman that John Hughes met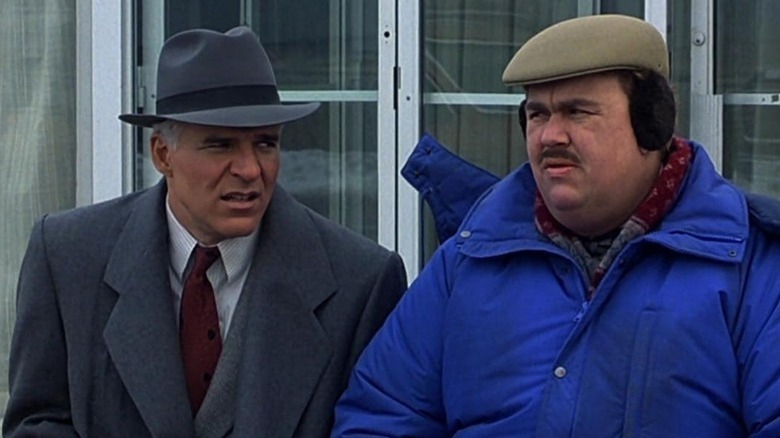 Paramount Pictures
Vanity Fair's oral history of "Planes, Trains and Automobiles" recounts the movie's beginnings and how it became the classic it is today, including the origins of John Candy's talkative salesman. According to Hughes — with Vanity Fair quoting from an interview with the Rocky Mountain News in 1987 — Del Griffith was based on a real salesman that John Hughes encountered in his own excursion trying to get back home for Thanksgiving.
"There was an old guy there, a salesman who had been on the road for years. He knew everything about this kind of situation. I kind of hung out with him. I was so impressed by this guy's understanding of the situation," he told the outlet at the time. At the time of his real-life "Planes, Trains and Automobiles," Hughes was an advertising copywriter who ended up in Arizona whilst trying to get back home for the holidays.
In the oral history, Candy's daughter Jennifer recounted how her father diligently prepared for the role, despite never putting much preparatory effort into previous movies. "This was the first role that I really noticed him prepping the character. He really planned the facial hair. He really planned the hair, like, Del Griffin [sic] had to have a perm. And we went and got a perm. I remember him coming home with dark hair and a perm. So it was like, okay, this is what he's doing now," she said.