Movies You Probably Forgot Starred Steve Martin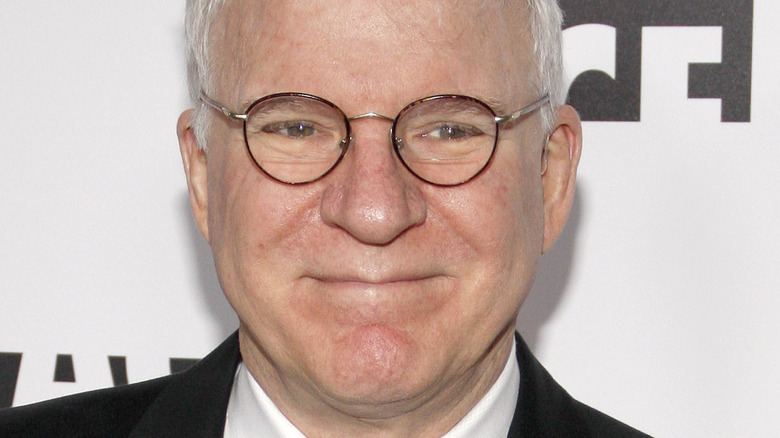 Tinseltown/Shutterstock
With a career stretching back to the late 1960s, actor Steve Martin was a comedian first, injecting music into his stand-up comedy bits in a way that made him fresh and inventive, and an idol to the likes of Bo Burnham. 
Not long after his comedy career took off, Martin was making guest appearances on television shows like "The Tonight Show" and "The Smothers Brothers Comedy Hour" before eventually landing big screen roles. His star-making turn as the titular hero in the 1979 classic "The Jerk" made him a comedy legend, and the 1980s saw him at the peak of his fame with a number of hits. He got even more well-known in the 1990s, becoming a comedic elder statesman by the mid 2000s. Today, he's made a late career comeback with the hit Hulu series, "Only Murders in the Building," which re-teams him with his "Three Amigos!" co-star Martin Short and is currently heading into its third season.
Boasting a filmography that began more than 50 years ago, this wild and crazy guy has been in plenty of all-time greats that you'll never forget, but plenty more that you probably have. Or do you think you remember them all? Find out now with this list of Steve Martin movies you probably forgot about.
My Blue Heaven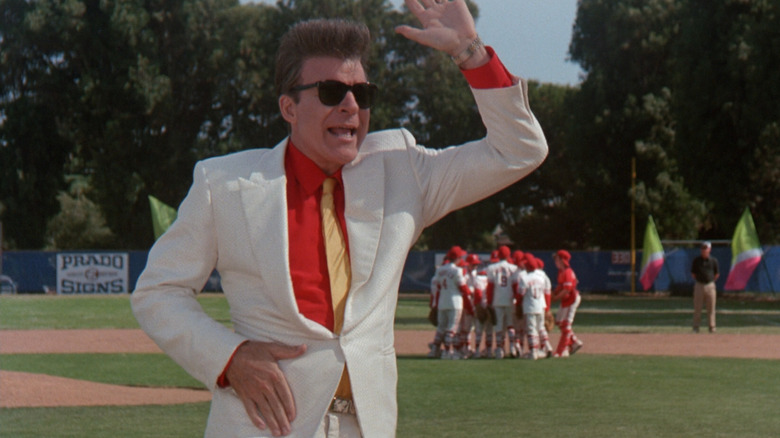 Warner Bros.
Put Steve Martin in a buddy comedy flick alongside "Ghostbusters" standout Rick Moranis, mix in some Mafia mayhem, and what do you get? The 1990 comedy "My Blue Heaven." Not many remember this one, and it remains a sorely underrated gangster movie from the early '90s, but at the time had all the ingredients to be a hit. 
Both Martin and Moranis were two of the 1980s' best, and making them partners was a stroke of genius. But what many may not even realize is that the film is based on the same real-life mobster who inspired "Goodfellas," the crime drama from Martin Scorsese released the same year. In "My Blue Heaven" — a movie that could very well be seen as a semi-sequel to Scorsese's classic — Martin plays Vinnie Antonelli, a slick, big city gangster who's been entered into witness protection after becoming a state witness. His handler is Barney Coopersmith (Moranis), a traditional G-Man and an uptight, by-the-book agent who has to keep him on a short leash.
While Coopersmith wants him to lay low and stay under the radar, the flashy Antonelli has other ideas, and they become a classic mismatched movie pair. Despite their sparkling on-screen comedic chemistry, Martin and Moranis both somehow let this one become one of their more lesser-heralded movies, overshadowed by bigger films in their respective careers.
Parenthood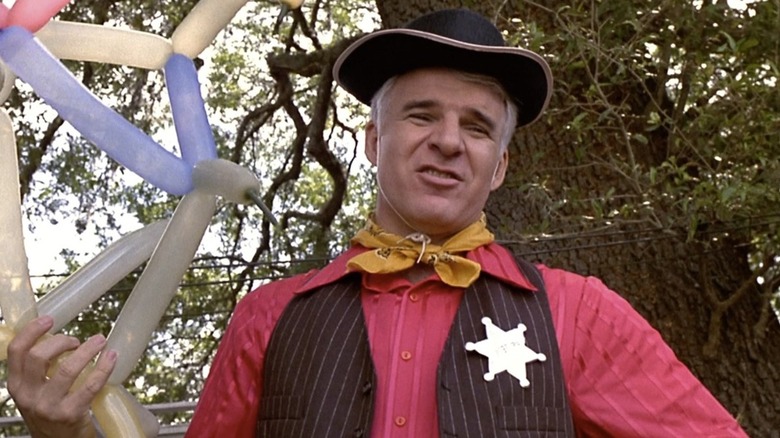 Universal Pictures
Audiences today probably know "Parenthood" as a series that aired on NBC for six seasons in the 2010s, from "Arrested Development" executive producer Ron Howard. That series starred Dax Shephard, Lauren Graham, Peter Krause, and Monica Potter in a story of three generations of family living in San Francisco. But some may not realize that the series is part of a larger franchise that included a short-lived TV sitcom from 1990 starring David Arquette and Leonardo DiCaprio, which itself was spun out of a big screen comedy starring Steve Martin.
Released in 1989, the original "Parenthood" was directed by Ron Howard and followed three generations of the Buckman family living in St. Louis. This time Martin was the responsible father and husband, while still bringing his signature wackiness to the part. He starred alongside his "My Blue Heaven" buddy Rick Moranis once again, while the rest of the all-star cast included a young Joaquin Phoenix as his nephew and a pre-action hero Keanu Reeves as his niece's boyfriend.  
A big hit at the time in an era when modest all-ages comedies could earn big box office bucks, it received strong reviews for its timeless tale of a large dysfunctional family. Over the years, the original "Parenthood" has been overshadowed by its TV spin-off, but with Martin in a new TV sitcom himself, now might be the perfect time to rediscover it.
Novocaine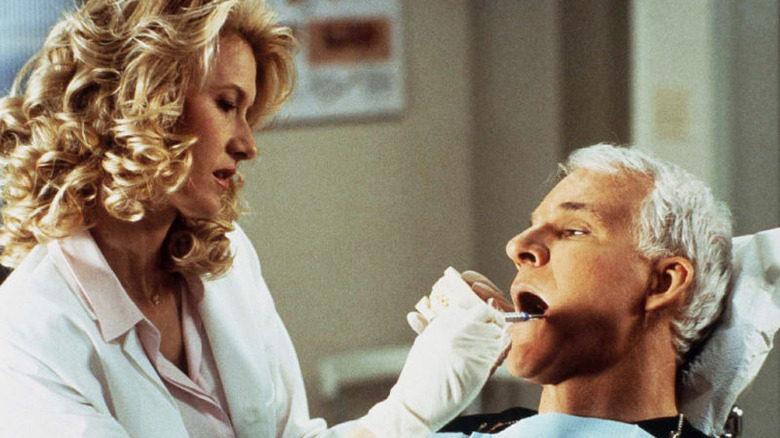 Artisan
After playing a demented dentist and a pair of sinister surgeons more than 15 years earlier in other films, Steve Martin returned as another doctor in the 2001 film "Novocaine," from writer-director David Atkins. A little-known movie that came and went faster than your average dental visit, it was a critical and commercial bomb, so it's really no wonder why audiences have completely forgotten this one. Nevertheless, despite its obscurity, a look back at this lost relic reveals a couple of surprisingly big name actors surrounding Martin, led by "Jurassic Park" star Laura Dern.
Martin stars as Dr. Frank Sangster, an ordinary upstanding dentist who has an encounter with Susan Ivey (Helena Bonham Carter), an attractive patient and alluring seductress who comes around complaining of some tooth pain and takes him to bed. But the threat of losing his license for sleeping with a patient is the least of Sangster's worries, as it turns out Ivey has made off with a stash of his powerful narcotics. So when a DEA agent shows up blaming a recent death on the use of his drugs, Sangster goes looking for the sexy thief.
While Martin and Carter have some good, fun scenes together, "Novocaine" remains an average movie at best. Intended as a dark comedy with a cynical edge, some critics praised its screwball antics, but most agreed it was a cringe-worthy romp that delivered too little laughs.
The Man with Two Brains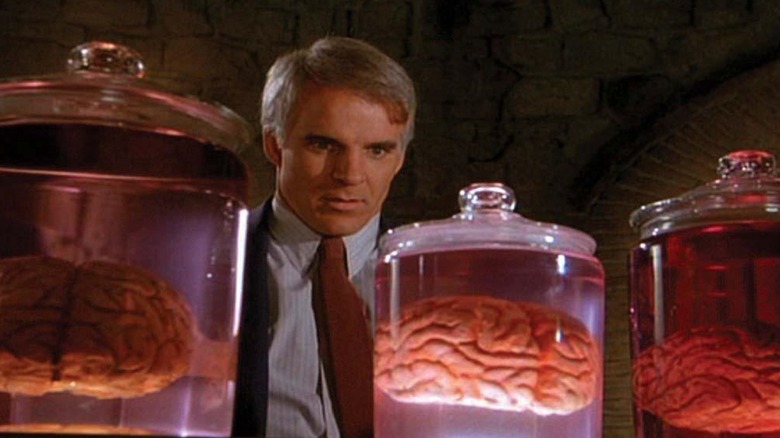 Warner Bros.
In his first role as a doctor, Steve Martin starred in the forgotten 1983 B-movie homage "The Man with Two Brains." Directed by Carl Reiner, who'd first worked with Martin on "The Jerk," the movie was a black comedy that played off tropes of 1950s sci-fi classics like "The Thing That Couldn't Die" and "They Saved Hitler's Brain." It co-starred Kathleen Turner and David Warner, with appearances by James Cromwell, Jeffrey Combs, and Merv Griffin.
Audiences today might not know, but filmmakers in the '80s loved paying respect to movies from the '50s, with several remakes like "The Blob" and "The Thing" popping up in the same way that '80s movies fascinate Hollywood today. In this send-up of the standard mad scientist story, Martin plays Dr. Michael Hfuhruhurr, a lonely brain surgeon who falls in love with Anne, who is just a disembodied cranial organ in a jar that he can communicate with telepathically. Hoping to bring her to life in more human form, Hfuhruhurr sets out to find a recently dead woman so that he can give Anne a body, but may have to resort to murder to get one.
Another slapstick comedy, "The Man with Two Brains" was a laugh riot at the time, though it definitely shows its age today. But if you're a fan of Martin's zany side, it should get your neurons firing.
Sgt. Bilko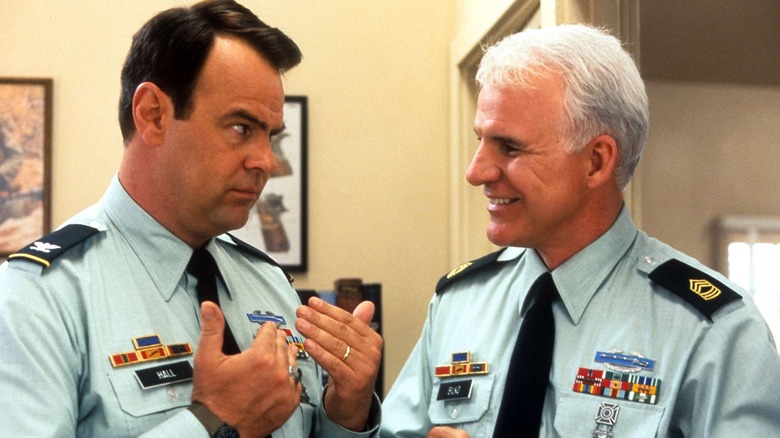 Universal Pictures
In 1996, Steve Martin appeared in a big screen adaptation of a classic TV series, 1955's "Sgt. Bilko" (aka "The Phil Silvers Show"). The film was part of a wider '90s trend of taking popular sitcoms from the '50s and '60s and reviving them as theatrical franchises, which gave us hits like "The Addams Family" and "The Fugitive," but also inexplicable bombs like "My Favorite Martian" and "Mr. Magoo."
"Sgt. Bilko" was firmly in the latter category (via Box Office Mojo), with Steve Martin in the role of Master Sergeant Ernest G. Bilko. Stationed at the relatively quiet Fort Baxter, Bilko uses his position to launch any number of crazy schemes and underhanded scams to make a few bucks under the noses of his military superiors. This includes Colonel Hall (Dan Aykroyd), who reluctantly looks the other way on Bilko's odd activities. But they're both in trouble when the Fort gets a visit from Major Colin Thorn (Phil Hartman), who has an old score to settle with Bilko. 
Thanks to the efforts of the star comedian trio of Martin, Aykroyd, and Hartman, the film is a decent romp. But despite the talent and some modest laughs, it failed to make an impression, and felt like a relic of the wrong era: a bit too clean and hopeful for the edgy and cynical 1990s.
Sgt. Pepper's Lonely Hearts Club Band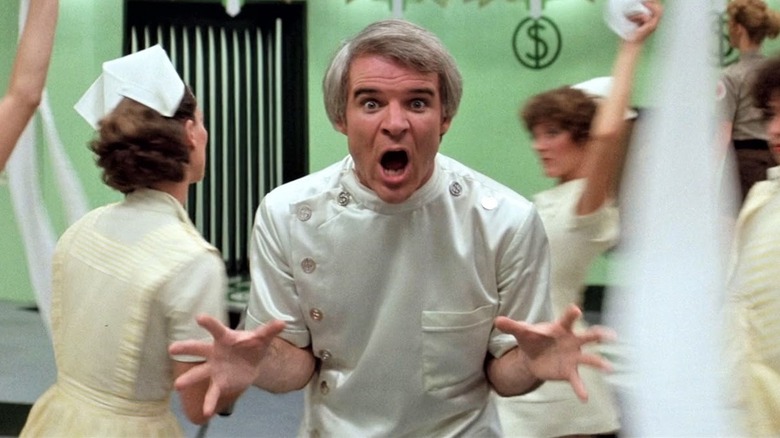 Universal Pictures
RSO Records president and film producer Robert Stigwood had seen success in the 1970s by making movies with popular soundtrack albums, most notably "Saturday Night Fever" and "Grease." Both had featured songs written and/or performed by the Bee Gees and Peter Frampton, all of whom would return for the 1978 jukebox musical based on the Beatles' landmark album, "Sgt. Pepper's Lonely Hearts Club Band." In addition to Frampton and the Bee Gees, who played the title band, the film included a parade of musical guest stars such as Aerosmith, Alice Cooper, and Earth, Wind and Fire. Steve Martin was a musical star of sorts too, having released his comedy album "A Wild and Crazy Guy" that same year. 
In the film, Frampton plays Billy Shears, the grandson of the original Sgt. Pepper, whose magical musical instruments are safely kept in the town of Heartland after his death. But when Billy (Frampton) and his version of the group are lured to Hollywood by evil record company president B.D. Hoffler (Donald Pleasance), a plot is set in motion by the Future Villain Band (Aerosmith) to steal Sgt. Pepper's instruments. Steve Martin pops up as Dr. Maxwell Edison, a psychotic plastic surgeon who gets his own musical number that has Martin singing the Beatles tune "Maxwell's Silver Hammer."
Martin's part as Edison is a highlight and may very well have been the inspiration for his casting as the deranged dentist in the more iconic 1986 musical comedy, "Little Shop of Horrors."
Leap of Faith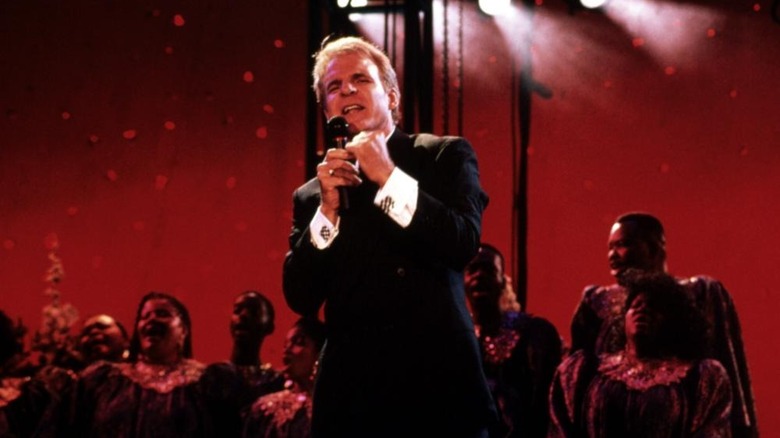 Paramount
As we've already seen, Steve Martin has done a fair share of big studio comedies that either failed at the box office or just never succeeded in staying relevant over the years. Another such movie that hit both of those sad notes is the overlooked 1992 box office flop "Leap of Faith," co-starring Debra Winger, Lolita Davidovich, and Liam Neeson. 
Steve Martin stars as Jonas Nightingale, a supposed faith healer and evangelist who's really a con artist and scam peddler named Jack Newton. When Newton and his manager Jane (Winger) get stuck in a small backwoods town after their car breaks down, they think they'll have an easy time ripping off the rubes who they presume live there. But the local sheriff, Will Braverman (Neeson), isn't fooled, and Newton quickly realizes that the people of Rustwater, Kansas aren't the gullible dopes he'd figured them for.
Though the story is a bit awkward, this incisive religious satire got decent reviews and Martin dazzles as the slimy, smarmy Newton, out to bilk the locals of their hard-earned cash. But while the movie may be underrated, it bombed hard in theaters and seems to be one of those efforts that nobody remembers today.
The Lonely Guy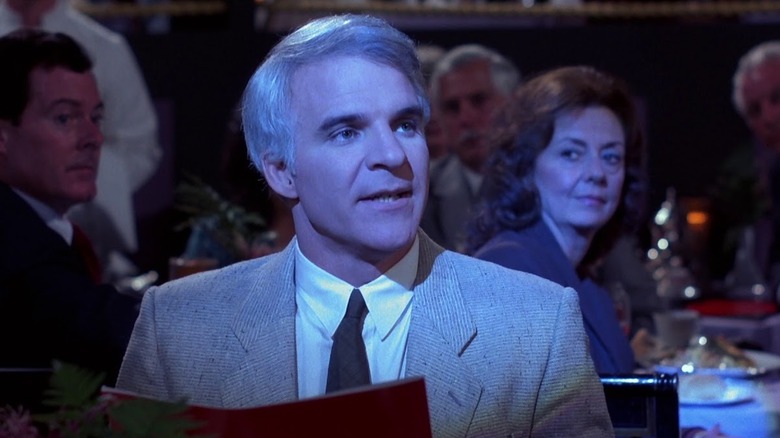 Universal Pictures
Following his breakout role in "The Jerk" in 1979, some movie studio execs seemed to think the Steve Martin's bread and butter was offbeat romantic comedies. One of his more forgettable early '80s entries in that genre was the 1984 rom-com "The Lonely Guy," and it failed to capitalize on Martin's true appeal as an off-the-wall personality. 
The failed film teamed him with fellow comedian Charles Grodin to tell the story of a greeting card writer and his struggles in life and love. It all starts when he catches his girlfriend in the act with another man and has no choice but to dump her. From there, he befriends a fellow "lonely guy" named Warren (Grodin), who is having major trouble of his own. Eventually, he meets a down-on-her-luck girl named Iris, though their courtship is complicated when he writes a bestselling book on being a lonely single man that makes him a celebrity.
A movie that Roger Ebert lambasted as "a dreary slog through morose situations, made all the worse by Martin's deadpan delivery," the movie was largely deemed a total misuse of Martin's talent. Thankfully, he'd rebound two years later, kicking off a string of big, fondly remembered hits like "The Three Amigos!," "Planes, Trains, and Automobiles," and his only truly great rom-com from that decade, "Roxanne."
And the Band Played On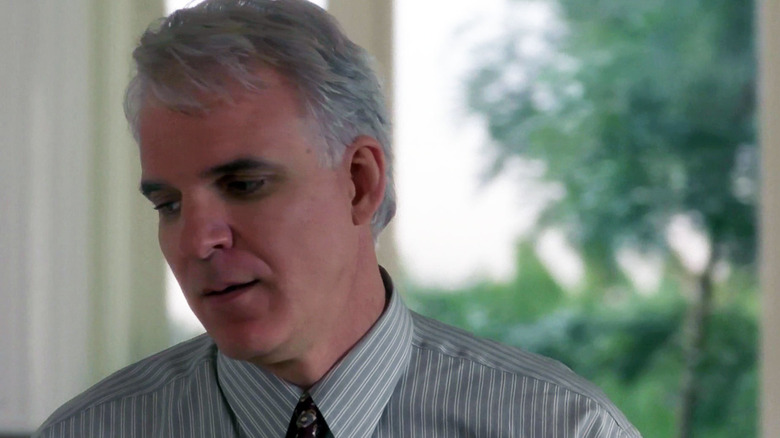 HBO
Skimming through Steve Martin's filmography, which spans parts of six decades, you're unlikely to find him appearing in many heartfelt, tearjerking dramas. But there is least one, the 1993 docudrama "And the Band Played On," which also starred Matthew Modine ("Full Metal Jacket"), Alan Alda ("M*A*S*H"), Ian McKellen ("The Lord of the Rings"), and Richard Gere ("Pretty Woman"). The HBO original film was a noteworthy release that focused on what was then a controversial and borderline taboo subject: the AIDS epidemic that was still being perceived as only afflicting the gay community.
With a large ensemble cast also featuring Lily Tomlin, Phil Collins, Glenne Headly, Donal Logue, and many others, the film is vast in scope, but mostly follows an epidemiologist named Don Francis (Modine) who studies the disease through interviews and examinations of dozens of patients. From his first discovery of the illness overseas in 1976 to his investigations in America's biggest city in the 1980s, Francis faces surprising resistance due the bias against homosexuality. Martin appears in the film playing a man whose brother has died from the affliction.
A landmark television event, it was deemed too sensitive for airing on a broadcast television network. Finding a home on premium cable channel HBO, it was eventually nominated for an astonishing 14 Primetime Emmy Awards, winning three.
The Muppet Movie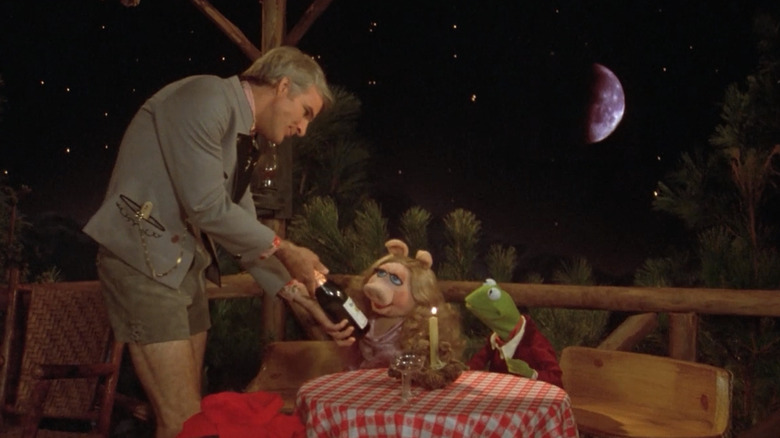 Associated Film Distribution
More along the lines of the kind of movie you'd expect to have an appearance from the banjo-playing comedian, Steve Martin made a brief cameo in the original "Muppet Movie" in 1979. Known for their own comedy show that was famous for celebrity guests, the titular Muppets moved to the big screen and took a cavalcade of stars with them. Along with Martin, big names like Richard Pryor, Milton Berle, Bob Hope, and Orson Welles turned up in bit roles.
Serving as a flashback to how all the Muppets met, the film tells the story of small-town frog Kermit and his sky-high hopes of hitting it big in Hollywood. Determined to live out his dream as a big screen star, Kermit sets out on a cross-country trip and along the way meets all of his future Muppet pals. He's also pursued by a devious restaurant owner named C.J. Hopper (Charles Durning) who wants Kermit as the mascot for his latest business, and has a number of madcap hijinks. One of them brings him before a smarmy waiter played by Steve Martin, who serves him and Miss Piggy at the joint where they wind up meeting the piano-playing Rolf.
Many may have forgotten that Martin was in this all-time classic, owing to the seemingly endless parade of big name cameos that trotted in and out of the action.
Dead Men Don't Wear Plaid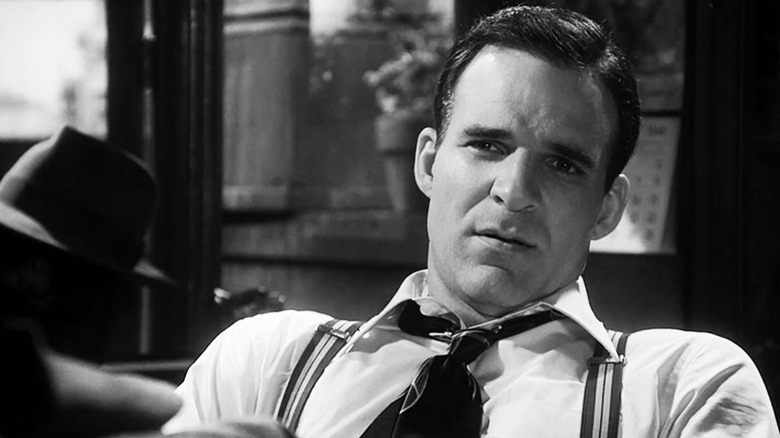 Universal Pictures
In one of his most unique films, Steve Martin gets to act alongside some of cinema's biggest legends thanks to the use of archival footage. Part thriller, part crime noir spoof, part loving homage, and all comedy, "Dead Men Don't Wear Plaid" was helmed by Carl Reiner off the back of their work together on Martin's first big hit, "The Jerk." Released in 1982, its strange title comes from a line spoken by Martin in a scene that was eventually left out of the movie. 
Filmed entirely in black and white, the story is a classic noir mystery, with Martin in the role of private eye Rigby Reardon as he investigates the questionable death of a prominent cheesemaker. Convinced that it was no accident, Reardon begins interviewing suspects, which finds the actor inserted into shots taken from a dozen or more classic crime films starring the likes of Humphrey Bogart, Cary Grant, Ingmar Bergman, Ava Gardner, Kirk Douglas, Joan Crawford, and many more.
As a gimmick, the use of classic film clips works, but it's hard to tell just how good or bad the movie is on its own merits because as a viewer you're stunned from one scene to the next, never knowing what Hollywood icon will turn up. It got good reviews and earned a place in the pantheon of lesser-known Steve Martin movies, but it definitely deserves better that its box office reception.
Pennies from Heaven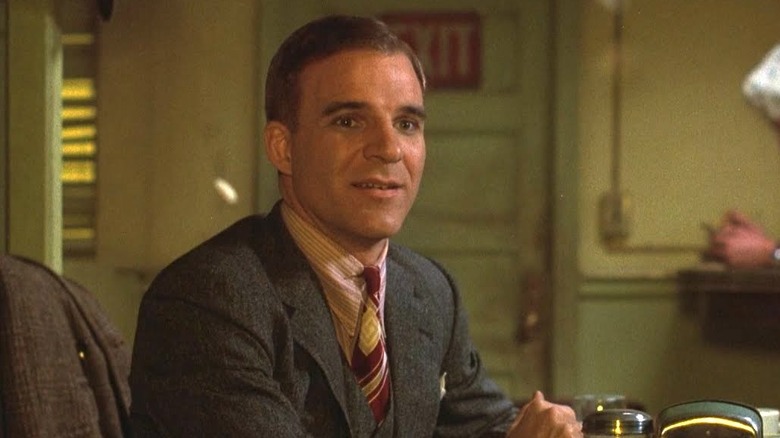 MGM
The 1981 musical comedy "Pennies From Heaven" brought Martin back together with his love interest from "The Jerk," Bernadette Peters. His first film after that 1979 hit, it was — like "Dead Men Don't Wear Plaid" — another noir homage, this time full of mostly lip-synched songs. The film was adapted from a 1978 British TV drama from creator Dennis Potter, who would also helm the similarly-themed Michael Gambon series "The Singing Detective," seemingly part of a bizarre niche sub-genre of musical crime noir stories.
Set in 1930s Chicago, Arthur Parker (Martin) is a beleaguered sheet music salesman whose business is floundering and whose marriage to Joan (Jessica Harper) is in freefall. With big dreams and little to show for them, Parker ends up having a short-lived affair with schoolteacher Eileen (Peters), who winds up pregnant and running into the arms of a street hustler named Tom (Christopher Walken). When Arthur and Eileen reunite they throw caution to the wind and embark on a new life together, but fate seems to conspire against them and their big plans are interrupted by scandal and murder.
Mixing fantasy, musical numbers, and bawdy romance, "Pennies From Heaven" was an uneven mish-mash of styles and tones, but managed some good reviews. Audiences didn't respond however, and it's never become a Steve Martin classic the same way his other, bigger movies have.
Looney Tunes: Back in Action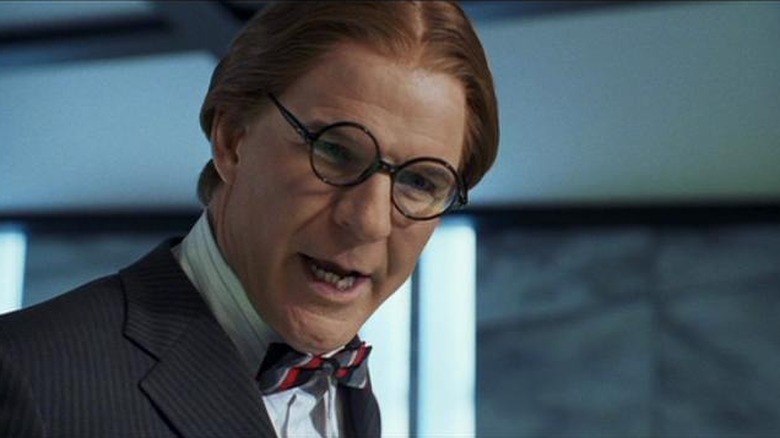 Warner Bros.
Steve Martin has spent much of his career playing awkward, bumbling leads or the odd obnoxious jerk. But in the 2006 family comedy "Looney Tunes: Back in Action," he got to play the role of sinister villain. The first Looney Tunes movie since "Space Jam" a decade before, Martin starred alongside a cast that included '90s leading man Brendan Fraser, Jenna Elfman, Timothy Dalton, and Joan Cusack.
Fraser leads this mix of live-action and comedy as Damian "DJ" Drake, a Hollywood stuntman who's lost his job and is forced to take a lowly gig on the Warner Bros. lot as a security guard. When an angry Daffy Duck is fired by the studio for demanding more money, he goes on a rampage across the lot that costs Drake his job. The two find themselves both unemployed and must team up to save Drake's father (Dalton), who is revealed to be a spy and who's been captured by Mr. Chairman (Martin), the evil head of the Acme Corporation. 
As an over-the-top and cartoonish super-villain, Steve Martin is appropriately ridiculous. Hidden under goofy glasses and a wacky wig, the actor is nearly unrecognizable. Combined with the fact that his role is relatively small, you'd be forgiven for not remembering "Looney Tunes: Back in Action" as part of his long and winding career.