One Of Del Griffith's Best Lines In Planes, Trains And Automobiles Was Improvised By John Candy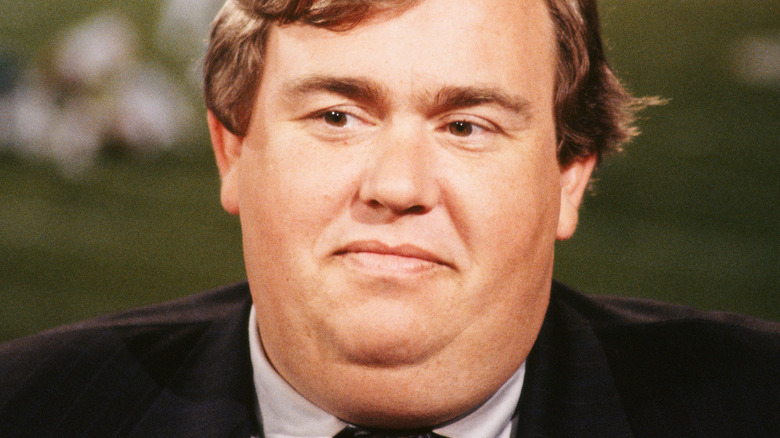 George Rose/Getty Images
Few in the history of comedy are missed like John Candy. Candy's own comedic background — famously getting his start as a member of Second City's Toronto branch and its "SCTV" television show — prepared him well for seemingly every scenario he might encounter on the set of a comedic film. It's why he was featured either in a lead or supporting role in so many of the most beloved comedies of the 1980s and early 90s: "Uncle Buck," "Stripes," "Spaceballs," and the list goes on.
Then there's "Planes, Trains and Automobiles." One of the many times that Candy worked with writer and director John Hughes, "Planes, Trains and Automobiles" provided Candy with what ended up being one of his most recognizable roles. That role was Del Griffith, the outgoing, friendly, somewhat hapless shower curtain ring salesman who finds his way into the life of Steve Martin's uptight ad executive Neal Page, repeatedly getting on the poor soul's last nerve even as he rescues Neal's attempt to get home in time for Thanksgiving. Perhaps it's no surprise that Candy's comedic training and timing also came into use for this film, with one of its funniest lines to boot.
Between two pillows...
The moment comes fairly early on in the film. Neal has already launched into a memorable-but-vicious tirade about how set off he is by Del, even after Del graciously offered to share his motel room. There's only one bed, and the two are forced to share. They awake with Del — awkwardly, hilariously — spooning Neal. "Why are you holding my hand?" Del asks Neal.
According to Andy Lipschultz, unit publicist on the film, the punchline of what came next wasn't thanks to writer-director Hughes. Lipschultz explained in Vanity Fair's oral history of "Planes, Trains and Automobiles":
"To me the funniest line, the famous line, was, 'Where's your other hand?' 'Between two pillows,' 'Those aren't pillows!' Okay, that was not in the script," said Lipschultz. "That is a John Candy line... That was something John Candy came up with on set."
Seconds after, we see the two men — portrayed in such a way a 1980s audience would read as — leap out of the bed in squeamish horror before trying to brush the whole thing off by talking football. Whether it's the absolute funniest line in the movie is, of course, subject to endless debate, but it certainly ranks up there. And, according to Lipschultz anyway, it came organically from John Candy's head.