Who Plays Navy Lieutenant Sara Giles On NCIS?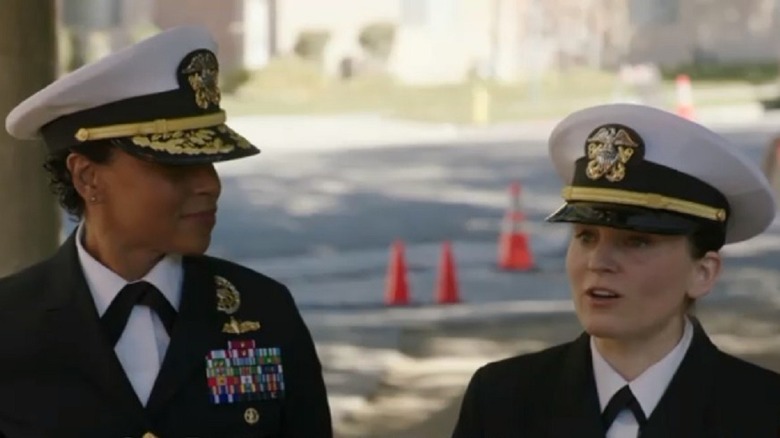 CBS
Contains spoilers for "NCIS" Season 20, Episode 8
"NCIS" has been through some major changes in recent years, the biggest of which being Gary Cole's Alden Parker taking the place of Mark Harmon's Leroy Jethro Gibbs. While changing out the lead character of a show can be a sign of trouble, "NCIS" is continuing without a hitch. Gibbs' absence is always felt, but Cole is a TV veteran and a solid replacement, leading a team made up of Nick Torres (Wilder Valderrama), Jessica Knight (Katrina Law), and Timothy McGee (Sean Murray).
Parker was introduced in "NCIS" Season 19 and has been busy ever since. The man doesn't even take a break for the holidays, tracking a would-be killer in "NCIS" Season 20, Episode 8, "Turkey Trot." In the Thanksgiving-themed episode, Parker and his team are running a charity race headed by Navy Rear Admiral Martha Stock (Gillian White). However, there's an explosion, and though there's a man obsessed with the admiral who is impersonating an NCIS agent in the crowd, in true "NCIS" fashion, who the real culprit is is far more complicated.
One of those injured by the blast is the admiral's right-hand woman, Navy Lieutenant Sara Giles. It's a brief role and part of a bait and switch since it turns out the admiral is not even the target.
Navy Lieutenant Sara Giles is played by up-and-comer Taryn Kelly
Navy Lieutenant Sara Giles is played by actor Taryn Kelly, and her appearance on "NCIS" is actually her biggest role thus far in her career. After interacting with the main team, Giles is injured in the attack, and we later discover she is recovering in the hospital. It's a brief role, but plenty of actors have gotten their start with guest spots on procedurals.
Before she popped up on the series, Kelly appeared mostly in short films and on TV shows, including one episode of "Guidance" as Daria in 2017 and one episode of "Mr. Student Body President" in an uncredited role as a student in 2018. She also has a part in the 2022 film "Insite" opposite Academy Award-nominated actor Eric Roberts. On top of her acting credits, Kelly has served as a production assistant on a few projects, including the 2020 ABC TV special "John Legend and Family: Bigger Love Father's Day."