Tommy Chong's Love Of South Park Helped Reunite Cheech And Chong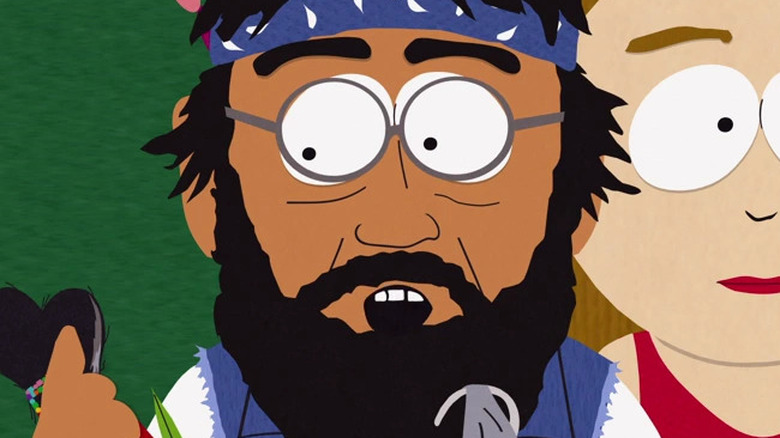 Eugene Powers/Shutterstock
"South Park" has been on the forefront of pop culture since its debut in 1997. With references to everything from "Pokemon" and "World of Warcraft" to current day politics and the content wars between streamers, the show has always worn its influences on its sleeve. In a 2000 episode from the 4th Season entitled "Cherokee Hair Tampons," the series brought back a beloved comedy duo from the 70s and 80s that Looper readers voted was the best celebrity cameo in the series' run.
Cheech and Chong came together as a comedy pair in the late 60s. Made up of Richard "Cheech" Marin and Tommy Chong, the duo made a splash in pop culture with their stoner-centric comedy albums, and later, a series of movies including the cult classic, "Up in Smoke." In the mid-1980s, the popular comedians broke up their act. Cheech Marin suggested Tommy Chong's ego got in the way of their partnership. He told the New York Post, "He wanted to be recognized for what he perceived his persona to be rather than for the Man [stoner] character, but he would only play the Man character, so it was tough on him."
Marin continued that even at the end of their first run as a duo, their animosity never got in the way of their act. He said, "We could be having a knock-down, drag-out [fight] off-stage, and we'd walk on stage and the rhythm would be there. It never affected us [as performers]. I don't know why."
Cheech Marin broke away from Tommy Chong until South Park brought them up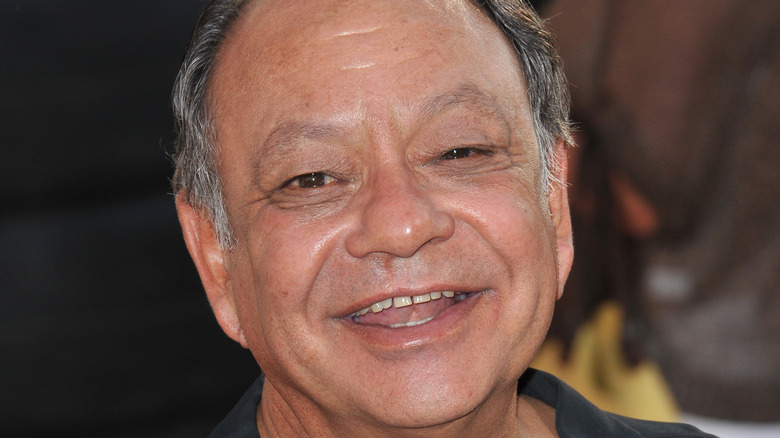 Featureflash Photo Agency/Shutterstock
Cheech Marin told CBS News that it was his 1987 film, "Born in East L.A.," based on a skit in Cheech and Chong's then-final comedy album, "Get Out of My Room," that kicked off his acting career as a solo artist. That's where Cheech and Chong ended for a while until "South Park" came knocking.
In an interview, Tommy Chong told The Hollywood Reporter about the 20th anniversary of "South Park," "'Beavis and Butt-Head' maybe was the first, but 'South Park' was the perfect stoner cartoon for us stoners, without a doubt." His love of the adult cartoon brought Cheech and Chong back together after a long hiatus. Chong even tweeted congratulations to the "South Park" team for the 20th anniversary, mentioning the Cheech and Chong reunion.
In the episode "Cherokee Hair Tampons" from Season 4 of the show, Cheech and Chong voiced characters in the show inspired by themselves and their act from the 70s and 80s. Cheech and Chong hadn't really worked together since the 80s, with their last comedy album being 1985's "Get Out of My Room." The only times they worked together in the 90s were voicing characters in the animated film "Ferngully: The Last Rainforest" and when Tommy Chong appeared in a 1997 episode of "Nash Bridges," which starred Cheech Marin as one of the leads.
Their reunion on South Park led to a full fledged reunion of the duo in 2008 that continues today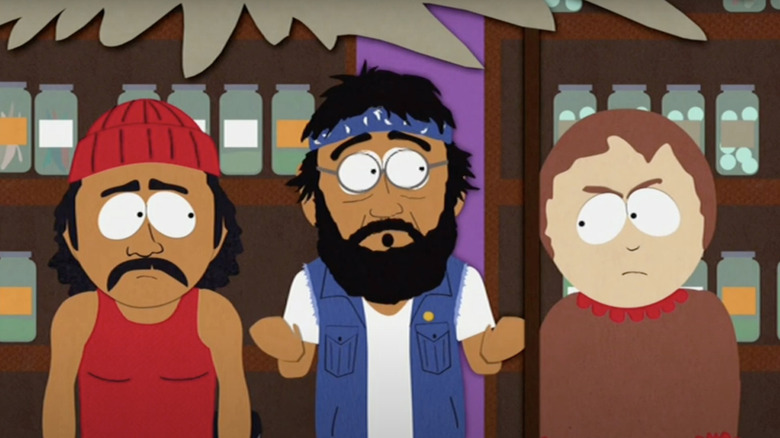 Eugene Powers/Shutterstock
While Cheech and Chong returned to their stoner roots playing a version of their famous comedy duo in "Cherokee Hair Tampons" for "South Park," they recorded their dialogue separately in two different cities, according to a 2001 blog post from South Park Studios. Tommy Chong told The Hollywood Reporter of the appearance, "They reached out to us. Cheech [Marin] and I had broken up and got back together again for some part in ['Cherokee Hair Tampons'] where they decided to pay homage to Cheech and Chong. We were more than thrilled to be part of it."
The comedy duo of Cheech and Chong eventually reunited officially in 2008 with the "Light Up America" tour (via Cinemablend) and have appeared as a pair ever since. Marin admitted to the New York Post, "When we first got back together, there was still a lot of animosity, and it persisted for a while. But eventually it kind of waned. I think when health issues come into play, you do another assessment."
In a full circle moment, Cheech and Chong returned to the world of animation, the medium that reunited them a couple of times during their breakup, for the 2013 film "Cheech and Chong's Animated Movie." It was the first movie they toplined as their stoner characters since 1984's "The Corsican Brothers." As of 2022, the pair remain a comedy duo.