Kirsten Vangsness On Portraying Penelope Garcia Again On Criminal Minds: Evolution - Exclusive Interview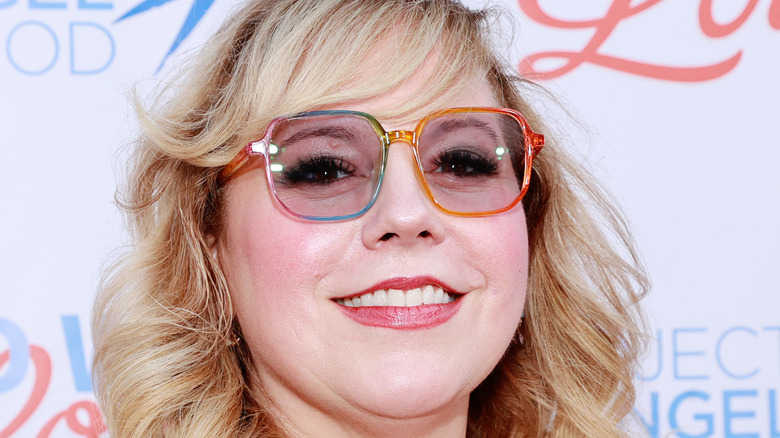 Emma Mcintyre/Getty Images
Kirsten Vangsness played the colorfully kooky Penelope Garcia for 15 seasons on the original "Criminal Minds," which ended in 2020. And now she's back with "Criminal Minds: Evolution," a revival of the long-running series that is set to premiere on Paramount+ on November 24.
The new series picks up after the zenith of the COVID-19 pandemic, with the FBI agents from the Behavioral Analysis Unit regrouping in order to track down a complex serial killer who is recruiting people into his murderous web. As Garcia, who is known for her hacker-level skills and unique fashion sense, Vangsness portrays the technical analyst of the BAU, alongside Joe Mantegna as David Rossi, Paget Brewster as Emily Prentiss, and Aisha Tyler as Dr. Tara Lewis.
During an exclusive interview with Looper, Vangsness discussed what it's like being back on the "Criminal Minds" set, where the inspiration for her wardrobe comes from, and whether she and Adam Rodriguez, who plays onscreen rival-slash-love interest Luke Alvez, get along in real life.
Criminal Minds: Evolution takes you 'behind the scenes'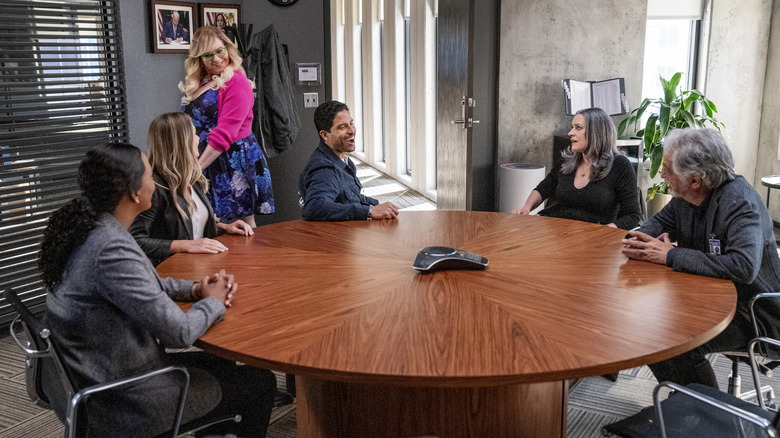 Michael Yarish/Paramount+
I watched the first two episodes, and they took me right back. Not that it's been that long, but what's it like to step back into Penelope Garcia's very fashionable shoes?
Fantastic. The season you guys saw happen in January [of 2020], we stopped shooting that in March before the pandemic. So it was longer to us than it was to everybody else, and there was a feeling of "We're never going to do this again." It was a miracle we got to do it that long.
To step into her shoes is amazing. I'm still like, "What?" I already want them to bring it back [for another season] so bad. I know all of us do. So, so, so bad. Even [for] this [one season], I'm like, "I can't believe I got to do a whole season." It's so pleasurable. The thing I love about the show is it's a show that's going to give you the feels. But it's also deeper; you're in it more. You feel like you're going behind the scenes. It's great ... Just wait. It gets better.
Vangsness' own fashion sense inspires Garcia's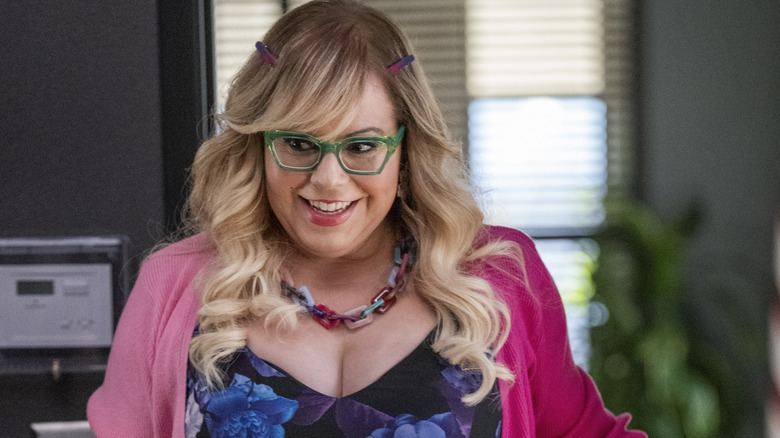 Michael Yarish/CBS
I love your vibe on the show, so one of the things I wanted to ask you about was Penelope's wardrobe. Do you ever incorporate any of your own clothes or take some of hers home?
Our original costume designer was B.J. Rogers, and I live somewhere between a size 12 and a size 16. My body is such that — and I think I'm speaking for 90% of the women in the world — I can't just pull something off a rack and put it on. I can't. It won't zip up my back. Ever since I was in third grade, it's never going to happen. So you find your things, your staple things, and you're like, "This is my skirt, and I love it, and I know that this skirt is safe and I'm safe with it."
So when I first started on the show, they borrowed a lot of my safe clothes because they were like, "We don't really have anything." At first, I was just a reoccurring [character], so they didn't know they were going to need all that. Then they started to build, and as it went, what was happening in real time is I'm showing up to work in my space pirate clothes, and they're like, "Wait, could she wear that?" There's a little bit of a bleed over. But B.J. Rogers is a really talented costume designer, so it's some of her too.
Now we have a different costume designer, and what they've done is put their own twist on it. During the pandemic, I fully, for a hot second, gave up bras. I still want to, but I don't for aesthetic purposes. They make me rage. I was like, "Why did anybody make us do this?" So things became more relaxed. You get to see more of that.
This particular costume designer, she's so great, and the costumes are fantastic. But they were like, "I think it would be cool if we had her live in this kind of fashion." I was like, "But Garcia doesn't live in one. Garcia lives in all of the fashions, depending upon how she's feeling." She is her own artistic creation. I definitely relate to that. That's a real joy to keep that going.
And it's good because I don't have a body that you see all of the time on television. It's been interesting to watch the show and be like, "Oh, there I am." It's really good because all of our bodies are good bodies, and to be confronted with that and be like, "Every woman in the world does this, and I get to be on a television screen [so they can] see a body that's different than all of those other bodies" — that's nice. I like that.
Her and Adam Rodriguez's relationship has 'evolved'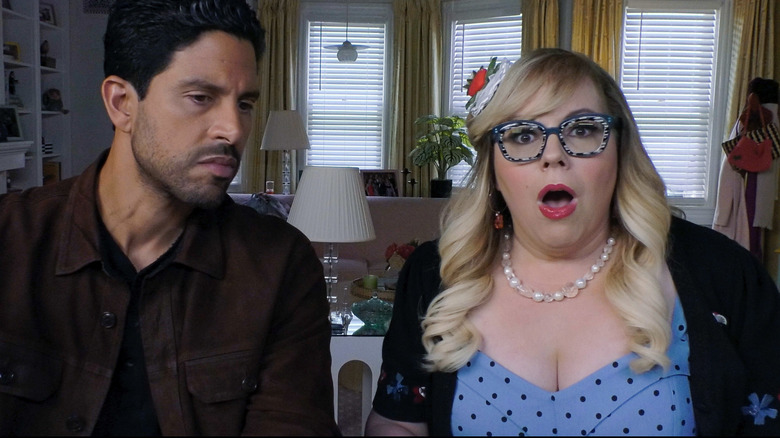 Paramount+
On the show, you and Adam Rodriguez have a fun but complicated relationship. Any funny behind-the-scenes stories with him you can share, whether from previous seasons or this one?
When he started on the show, I organically hated his guts when I would be in my Penelope self. Just hate. Hate everything he does. Disdain. And it works really well. What's funny is it's totally evolved. Now, don't get me wrong — it still annoys the bejesus out of me. But what's nice is that during the pandemic, Adam and I became closer to the point that we were having dinners with our partners and stuff like that. So we are close, and we've been doing a lot of scenes together in this series. I don't want to give anything away, but we do a lot of stuff together and we bond in different ways. No one is going to be able to guess — trust me. But you'll be delighted, I think.
Just yesterday we shot together all day. He loves to tease. He's a teaser and I'm very gullible, but he teaches me that it's okay. We spend so much time before takes being like, "Could you try to be a better actor in this? Could you maybe give me something?" It translates because when we start acting, we understand that our intention is to not throw each other as actors, but as characters. I'm going to try to push [his] buttons. We spend a lot of time doing that, and it's really fun.
You've been on the series since its inception, but is there a dream scenario or storyline you haven't tackled yet that you'd like to?
I have a really hard time with the violence of it all. So no one else would like the story, but can we do one about how being an abolitionist is probably the way to go and how law enforcement causes a lot of conflict and how capitalism is preventing our own inner best selves and that social justice has to start from inside? I want that episode to happen. 
I also would like an episode where we actually see [Derek] Morgan [who was played by Shemar Moore on the original series] and Garcia sleep together in a dream sequence. And I want one where we see her and Tara sleep together in a dream sequence. I don't know if all my dreams will come true. Maybe one-third of those. One can dream. If they give us another season, who knows.
In addition to the original "Criminal Minds" and now "Evolution," you also made multiple appearances on "Suspect Behavior" and "Beyond Borders." That makes you the only character in the franchise to appear on all four series. How flattering is that?
It's an honor. It's an honor to be the avatar to the smart girls. It's an honor to feel like, "You wanted me on that? And that?" I do a lot of theater, and I've been in a lot of different things, but in terms of things that someone can turn on a TV and see, this is pretty much it. So the fact that they want to use me that much is nice for my self-confidence. You're like, "The acting classes are working."
"Criminal Minds: Evolution" will premiere with back-to-back episodes on Thursday, November 24 on Paramount+.
This interview has been edited for clarity.