Black Panther's Chadwick Boseman Had A Lot Of Difficult Conversations Surrounding The Film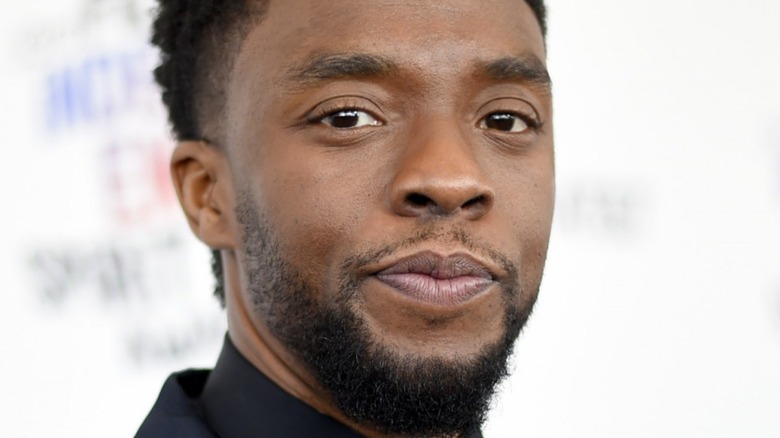 Kevin Mazur/Getty Images
Since his first appearance as T'Challa/Black Panther in 2016's "Captain America: Civil War," Chadwick Boseman dedicated himself to bringing the nearly forgotten superhero to the screen. Stan Lee and Jack Kirby first created "Black Panther" and the majestic world of Wakanda back in 1966, but it would take 50 years from that first appearance for the character to emerge on movie screens. Boseman also had unique and individualistic ideas about who King T'Challa was and where he was placed in comparison to other popular Marvel characters (per ComicBook.com). His efforts, along with the work of director Ryan Coogler and co-stars Angela Bassett (Queen Ramonda), Letitia Wright (Shuri), and Michael B. Jordan (N'Jadaka/Erik "Killmonger" Stevens), paid off by bringing an obscure Marvel comic entry into the pop culture stratosphere.
For the late actor that brought King T'Challa to life with such authenticity and passion, the upcoming "Black Panther: Wakanda Forever" was affected by his passing but will also pay homage to its former monarch. But Boseman's steadfast dedication to the role and franchise was much more profound and long-lasting than many fans likely previously thought. The actor had many difficult conversations about the superhero and how Wakanda would be portrayed before the first film was even announced.
Chadwick Boseman ensured T'Challa sounded authentic to Wakanda and not Western colonialism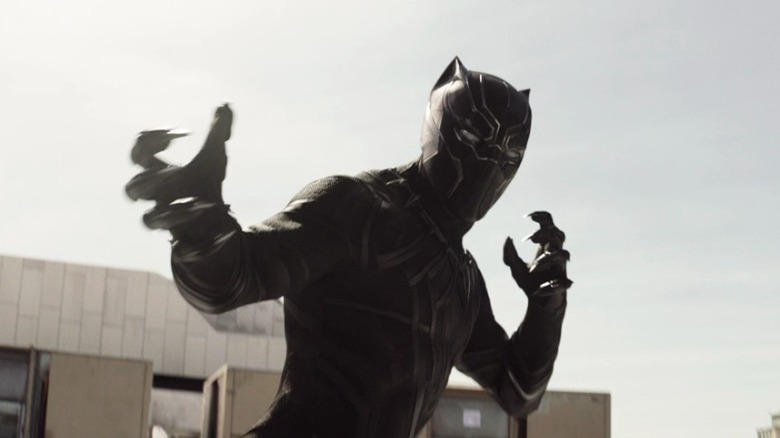 Walt Disney Studios
In the new Black Panther Podcast, host Ta-Nehisi Coates interviewed "Black Panther" and "Black Panther: Wakanda Forever" director Ryan Coogler in the debut episode. Around the 13:00-mark in the video, the two discuss Chadwick Boseman's commitment to his character, in which Coogler reveals, "His significance [to the character] cannot be overstated. There isn't really anything like it in the industry. Because he was cast before a director for Black Panther was hired for a movie called [Captain America:] Civil War way before they were for sure Black Panther would be a movie..." He then shared how Boseman worked to ensure the legacy of T'Challa by "advocating for what Wakanda should be, and he was having very difficult conversations that are not easy to have, [such as] 'What's T'Challa going to sound like?'"
The actor previously spoke with CNET in 2017, where he mentioned how the character should sound. He revealed, "People think about how race has affected the world. It's not just in the States. Colonialism is the cousin of slavery. Colonialism in Africa would have it that, in order to be a ruler, his education comes from Europe. I wanted to be completely sure that we didn't convey that idea because that would be counter to everything that Wakanda is about..." Boseman concluded by saying he avoided speaking in a European accent to ensure T'Challa sounds distinctive to his nation's identity and culture.
Director Ryan Coogler says Chadwick Boseman held conversations with executives on establishing Wakanda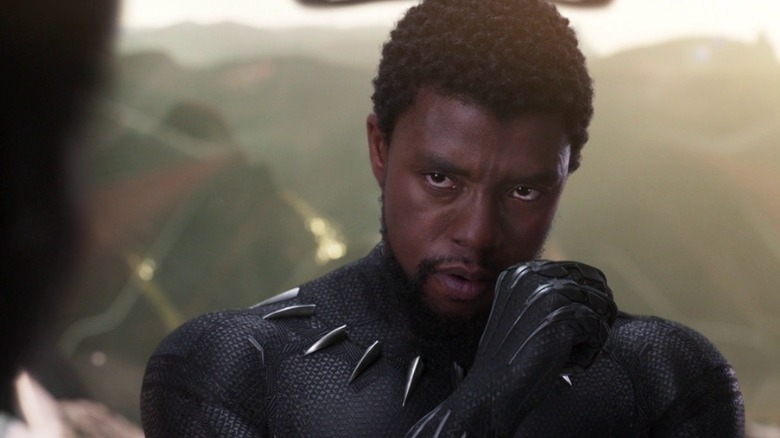 Walt Disney Studios
In the Black Panther Podcast, Ryan Coogler also revealed how Chadwick Boseman spoke openly with Marvel Cinematic Universe executives on how Wakanda should be portrayed. The director comments, "He was so good in that movie [Captain America: Civil War], and the decisions that he made were so amazing, that it seemed like T'Challa was always a thing when you watched that movie. It's almost like he took the movie over in a way, but you got to realize that wasn't the case. He was in there having very difficult conversations with the most prolific, most powerful studio in the world. He was having hard conversations about what Wakanda was going to be."
Boseman had been a fan of the "Black Panther" comics for years prior to securing the role in "Captain America: Civil War." In 2018, he told The Los Angeles Times, "The projects that I end up doing, that I want to be involved with in any way, have always been projects that will be impactful, for the most part, to my people — to Black people," said Boseman, a playwright and theater director turned actor and, now, blockbuster movie star. "To see Black people in ways which you have not seen them before. So 'Black Panther' was on my radar, and in my dreams." Although his passing was difficult for almost everyone on the "Black Panther: Wakanda Forever" cast, his commitment to the franchise endures forever.