Trevor Noah Had No Interest In Joining The Daily Show The First Time He Was Asked
"The Daily Show" has produced a plethora of breakout stars, including Steve Carell, Stephen Colbert, John Oliver, Samantha Bee, Lewis Black, Michelle Wolf, Wyatt Cenac, Roy Wood Jr., and the list goes on. In fact, it seems like the only person whose career hasn't been boosted by the show was the original host, Craig Kilborn. In an interview with the New York Times, the show's creators — Madeleine Smithberg and Lizz Winstead — acknowledged that Kilborn didn't work as a host. "I don't really talk about how I left the show, but let's just say that Craig and I didn't get along that well, in the end, and it was not an ideal work environment," said Winstead plainly. "I decided to opt out and leave." When asked about what changed when Jon Stewart took over the show, Smithberg stated, "The show got better. It's an empirical fact."
Jon Stewart transformed the show for 16 years after that. In his closing rant in his final episode of "The Daily Show," he went on a tirade against societal ills. "So I say to you tonight, friends, the best defense against bulls*** is vigilance. So if you smell something, say something" (via Twitter). It was a summation of themes of his entire run as the second host of "The Daily Show," in which he consistently took on corrupt politicians and media personalities. Stewart passed the torch to the show's third host, Trevor Noah, who took over the show in 2015, saying at the top of his very first episode, "Thank you for joining us as we continue the war on bulls***."
But the first time that Stewart contacted Noah to be on "The Daily Show," that was a war that Noah wasn't ready to fight yet.
Trevor Noah initially said no to The Daily Show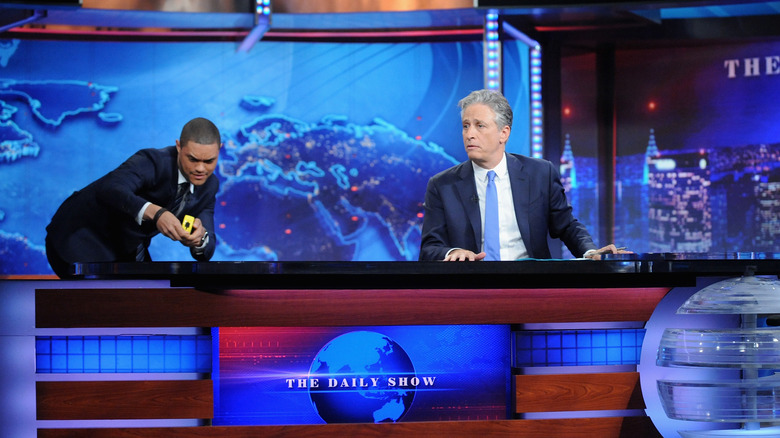 Brad Barket/Getty Images
According to an article from The Hollywood Reporter, Trevor Noah was first contacted by Jon Stewart directly to be a correspondent in 2013, but Noah said he wasn't interested. Somehow, the South African comedian came around and appeared three times as the show's international correspondent before being announced as Stewart's replacement as host. 
Now, seven years later, Noah can look back on his legacy with pride, but he also wants to separate from it a bit. "At the end of his career, he's Trevor Noah and, yes, he hosted The Daily Show," said one of his managers, Derek Van Pelt. "Whereas if you host The Daily Show for 25 years, you're The Daily Show's Trevor Noah, which is not what he is or what we wanted him to be." So it would appear that Noah is leaving on good terms with the show, the way he wants to go out.
According to a Vulture article, there was some doubt that "The Daily Show" would continue after Noah left, but an anonymous source insisted to the outlet that the show will go on. "It's 100 percent that The Daily Show is going to move forward," the source said. "It's the flagship and the crown jewel of the network. It isn't going anywhere."
In a thread in the r/AskReddit subreddit, one fan asked who should replace Noah as host of "The Daily Show," and few could be bothered to give serious answers. "At this point, nobody cares," wrote u/letsgetrandy. "Elmo," suggested u/Smurfinaforest facetiously. There were a few earnest suggestions, though, as u/GRADYSPLACE suggested former "Daily Show" correspondent Samantha Bee. That would be fortuitous timing as Bee's own unofficial "Daily Show" spin-off, "Full Frontal with Samantha Bee" was just canceled by TBS in July (per Variety).