What Does Black Panther: Wakanda Forever's Second Week Numbers Tell About The Movie's Future?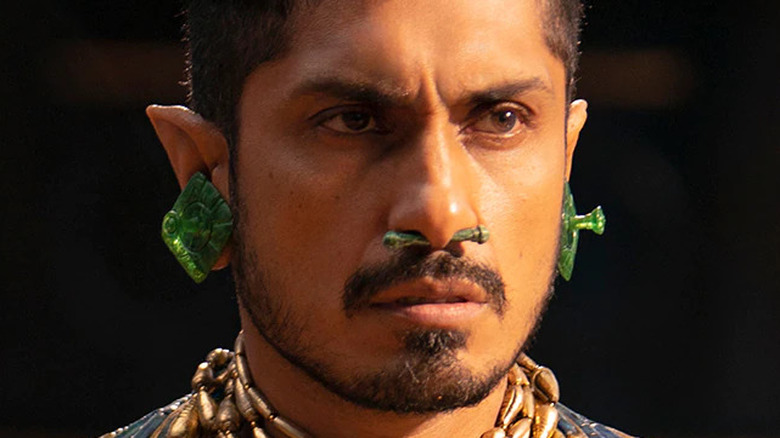 Marvel Studios
It's hard to deny that "Black Panther: Wakanda Forever" has done well among critics — it has been certified fresh at Rotten Tomatoes with an 84% critical approval score. Looper's own Reuben Baron gave "Wakanda Forever" an 8.5/10. Audiences, too, seem to enjoy the movie: on IMDb, it has earned a 7.3/10 (the same score the original "Black Panther" earned on the website), and the Rotten Tomatoes audience score sits at 95% at press time. It also received an "A" grade from CinemaScore.
But have those plaudits translated themselves to cold hard cash? In one word — yes. "Black Panther: Wakanda Forever" earned $180 million domestically during its first weekend in wide distribution, which rocketed it past a nine-year-old November release record established by "The Hunger Games: Catching Fire" in 2013. Per Deadline, the film also pulled in $330 million at the worldwide box office. That's one successful flick, no matter how you slice it.
As the film heads into its third week of release — and tries to claim a slice of the lucrative Thanksgiving Weekend box office — here's how it did during its second-weekend screening in theatres all over the globe. How many more dollars does the film — and Marvel Studios — have to bank before it starts turning a profit?
The film dropped off by 63 percent in its second week...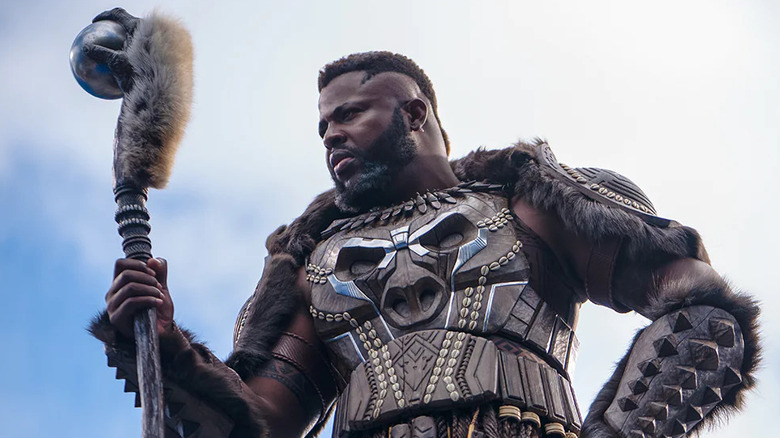 Marvel Studios
Here's the good news: "Black Panther: Wakanda Forever" remained at the top of the domestic box office in its second week of release. Box Office Mojo reports that it accrued an additional $67.3 million domestically. Variety notes that the film has now pulled in $546.3 million worldwide as of press time. The bad news is that it amounts to a 63% drop in box office between weeks.
And yet that is not necessarily a dire forecast for the film's future, as, per The Hollywood Reporter, it's showing the best audience retention numbers for a Marvel Studios movie since the COVID-19 pandemic began. While such films as "Doctor Strange In The Multiverse of Madness" suffered through a 67.1% dip in its second week, "Thor: Love & Thunder" fell by 67.6%, and "Spider-Man: No Way Home" fell by 67.5%, "Black Panther: Wakanda Forever" battled a comparatively smaller loss of business. The Hollywood Reporter note that it sports the fifth biggest second-weekend drop among mid-pandemic MCU flicks (they report that "Black Widow" reigns a the top of the list with a 67.8% drop off).
After Sunday, November 20, it sits at $288 million domestically. Per the tallies compiled by Box Office Mojo, this puts it within striking distance of passing "Thor: Love & Thunder" and "The Batman" as the sixth and fifth most successful movie of the year, respectively. Depending on what "Avatar: The Way of Water" does, it should remain in good form to close out 2022 as one of its top ten films. But no film released this year has toppled the titanic total put forth by "Top Gun: Maverick," which left theatres early in November with an astounding $1,486,657,763 worldwide.
...But it's likely to be a success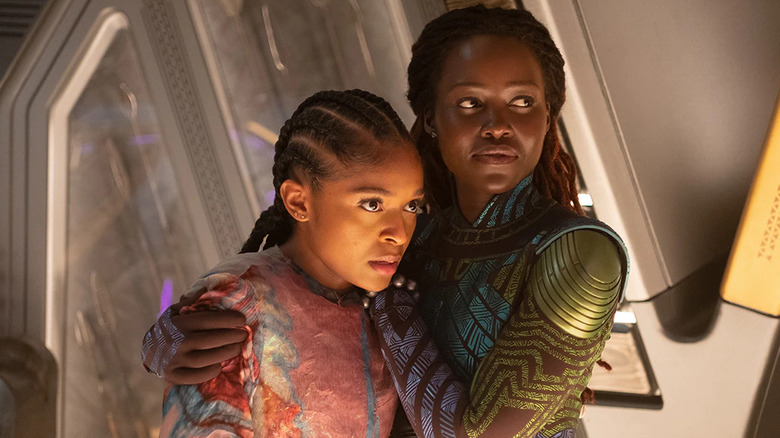 Marvel Studios
If "Black Panther: Wakanda Forever" keeps on this path and continues to add dollars over the Thanksgiving weekend and into the holiday season, there's no reason why it would fail to return its production cost and become profitable for Disney and Marvel Studios.
While there has been no confirmed budget for the movie, we can use reported comparative budgets from other recent MCU films to get a ballpark figure of how much "Black Panther: Wakanda Forever" might cost. USA Today claims "Doctor Strange In The Multiverse of Madness" had roughly a $200 million price tag, while Fox Business reports that "Thor: Love & Thunder" had an estimated $250 million budget. It's easy enough to presume from those totals that "Black Panther: Wakanda Forever" has a budget roughly in the $200 million ballpark, with Variety claiming the film to have cost $250 million. Ergo, having banked over $500 million worldwide, if it's not close to paying back its original budget production cost, then it's close to doing so on its domestic receipts alone. This naturally doesn't include marketing costs.
There is little likelihood, however, that the film will not reach the same heights as the original "Black Panther," which made over $1 billion worldwide. There may be many reasons for that — the more somber tone of the sequel or audiences resisting a return to theatergoing practices as the pandemic continues. Then again, anything is possible. In any event, "Black Panther: Wakanda Forever" appears very close to becoming a box office success, soft second-week numbers withstanding.