Monica's Smaller Role In Yellowstone Season 5 Has Fans Worried For Her Life
Paramount Network
In the testosterone-fueled, alpha-guy world of Paramount's neo-Western series "Yellowstone," women like Monica Dutton (Kelsey Asbille) generally have to wage a constant struggle for even the most precarious handhold on the show's social ladder. A fixture on the series for over 40 episodes since 2018, up through this Season 5, Monica has had more than her share of drama and trauma. And, not surprisingly for a series primarily concerned with white males fighting to hang onto a ranch carved out of once-Native American land, Monica's indigenous heritage adds an adversarial edge to her character's narrative arc.
On the other hand, Monica's marriage to "Yellowstone" ranch scion Kayce Dutton (Luke Grimes) would seem to offer at least some measure of stability and security. But Kayce has struggles of his own, caught between loyalty to the ranch and the Native American tribe he married into. And Monica's marriage also makes her the daughter-in-law of ruthless patriarch John Dutton (Kevin Costner). As such, she finds herself in an even less-tenable position in the show's ongoing, often hyper-violent storylines where few characters can count themselves 100 percent safe from John's "save the ranch" machinations. Adding to Monica's tribulations on the show, her latest crisis finds her injured and hospitalized after a car-on-buffalo crash in the Season 5 premiere. With all the above to consider, some fans are feeling concerned lately about Monica's role on the show.
Yellowstone fans think Monica's diminished screen time bodes ill for her future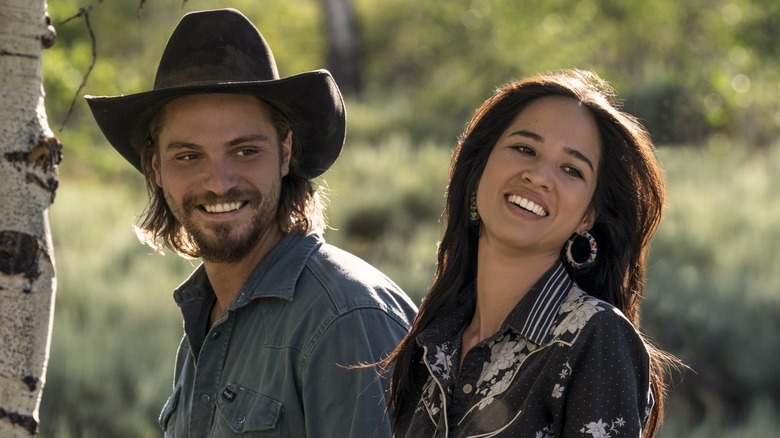 Paramount Network
The ominous truth is, late last year, TV Line speculated that Monica Dutton could be on the series' chopping block in an article titled: "'Yellowstone' Deathwatch: Who Won't Survive the Finale to See Season 5?" And while she's still around, fans are clearly worried.
Posting on the "Yellowstone" subreddit, series viewer u/chiefc0 wondered if audience reaction to her character is leading the scriptwriters to cut her part down, saying, "Did viewers hate Monica so much that the writers shrunk her role?" They went on to note that they've noticed Monica being disparaged on Reddit, but they find "Yellowstone" regular Bethany Dutton (Kelly Reilly) much less palatable, writing, "I know [Monica] gets a lot of hate around here but I find Beth way more annoying and ridiculous, and she's somehow the main character now."
Redditor u/Ricky Bobby 67 believes Monica is the next character to be written off the show, saying, "My money is on Monica." And they feel her screen time is the key to setting up her exit, adding, "They've been giving her an increasingly smaller role in the show since Season 3 ... minimizing her role in the show will keep the fans from rioting, but still feel the weight of her death." Also convinced that various story developments on "Yellowstone" presage the long-suffering Monica's imminent demise, Reddit fan u/Diab9lic chimed in to say, "I feel they keep trolling Monica's death too."