Yellowstone Fans Are Completely Unimpressed With The Car Crash Scene In Season 5's Premiere
"Yellowstone" shows just how big a series can become as a franchise over the course of just a few years. Since its first season aired back in 2018, the series has received the green light for major spin-offs like "1883" and "1923" as well as the upcoming shows "6666" and "1883: The Bass Reeves Story." Still, the base series that started it all remains the flagship of the franchise and has remained incredibly popular thus far (via Parrot Analytics)
Created by Taylor Sheridan, "Yellowstone" follows the family drama, intrigue, and general goings-on at the titular ranch. Characters like Monica Dutton (Kelsey Asbille) have been around since the beginning. The committed educator and a headstrong representative of the Broken Rock Indian Reservation, Monica has had a run of awful luck as a character, and it looks like she's not done on her rough road either. Still, fans aren't above criticizing the character or the writing behind her big tragic moment in the Season 5 premiere.
Fans were very critical of Monica and the crash scene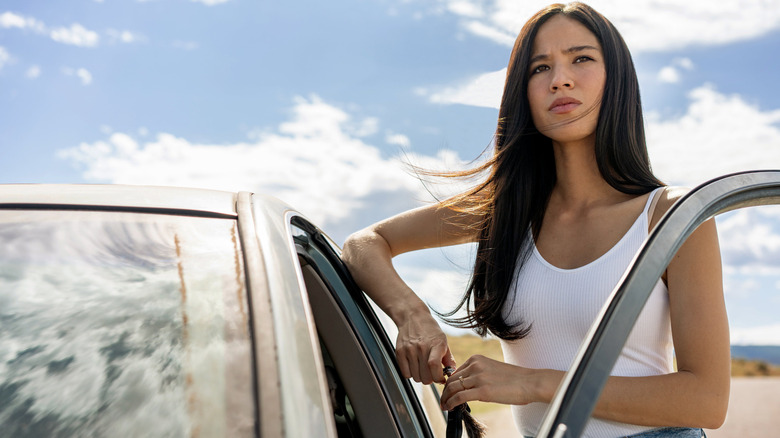 Paramount Network
Monica Dutton found herself in a dangerous situation during the Season 5 premiere of "Yellowstone." While in labor, she was forced to drive herself to the hospital. On a rural highway and experiencing a great degree of pain and stress, she was involved in a devastating car crash that ultimately resulted in the death of her baby. While this was a tragic loss for the character, many fans of the series were quick to criticize the writing and direction behind the scene.
On the r/YellowstonePN subreddit, a thread discussing the Season 5 premiere was practically dominated by Monica's car crash, and viewers were not kind about the scene. "The car crash scene was so bad. You're telling me she didn't see the headlights from the oncoming car coming?" asked u/PCPumaTim. The user also criticized Monica for not watching the road or wearing a seatbelt before the accident. "Ugh, for real. Speeding and swerving on a backcountry road while having painful pregnancy cramps with your child in the passenger seat?" wrote u/cutestcatlady incredulously. Another user spoke about how the scene felt "forced" and "infuriating."
Other fans lamented the fact that it might have been better if Monica was simply killed off in the "Yellowstone" premiere. One viewer, in particular, expressed they would have "forgiven" the car crash scene if Monica had perished in it.