Chicago Med Fans Are Concerned For Maggie And Ben's Relationship
"Chicago Med" Chief Charge Nurse Maggie Lockwood (Marlyne Barrett) and husband Ben Campbell (Charles Malik Whitfied) have a life together that's already weathered some serious complications on this long-running One Chicago hit. For starters, the two meet while they're both undergoing chemotherapy. But the truth is, this emotion-charged start to their affair proves to have given them a solid foundation of mutually confronting the biggest life challenge either of them could face. They also share the intense personal struggles of fighting their way through to survive their cancers. Their triumph over this adversity then serves to cement their relationship further as they move forward together as a couple and finally get married in the 100th "Chicago Med" episode — the somewhat ominously titled "The Ghosts of the Past" (per TV Line).
And then there's Maggie's former boyfriend, Grant Young, played by Wayne T. Carr. In addition to being an old flame from a previous period in Maggie's life, Grant is also the biological father of Maggie's daughter Vanessa ( Asjha Cooper). And as it turns out, Grant's re-emergence in Maggie's world has fans more than a little anxious about her romantic dynamic with hubby Ben.
Fans worry that Grant will cause serious problems for Maggie and Ben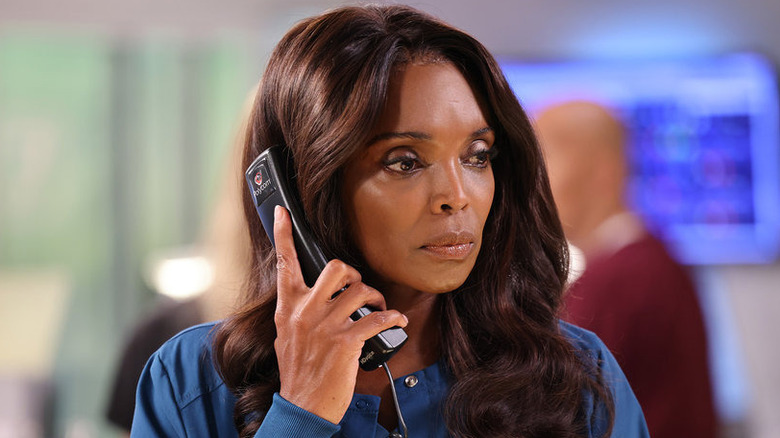 George Burns Jr/NBC
The issue of Maggie's feelings for her former beau Grant takes on a new urgency for fans thanks to, of all things, a refurbished Chevy Monte Carlo. The car is the one Grant and Maggie used to cruise around in back in their high school days. Grant turns up in the shiny nostalgia-mobile and gives Maggie a ride, leading to the couple sensing that old spark. But then they're smashed into by another vehicle, leaving Grant briefly hospitalized — and leaving fans seeing nothing but trouble brewing.
Posting on Twitter, "Chicago Med" fan @ladysnightpod writes, "I'm sorry I don't really believe that Maggie is the only one who would appreciate Grant's car. I don't like this situation." They then go on to add that they don't think Maggie will ever tell Ben about her ride-around with Grant and "That seems like a bad choice." @23Martini agrees, saying that Maggie hasn't done enough to discourage Grant's attention, writing, "Ben won't understand this nonsense now Maggie is irresponsible she set no boundaries with Grant that's why he keeps coming around the mountain when he can." For series fan @Steph_11and78, Maggie's behavior strikes them as both immature and reckless, tweeting, "Maggie, you're not in high school. And you're married!" Also concerned, @Susie2Britany simply thinks that Nurse Lockwood is a smart enough woman to realize she's stepping over the line with Grant, tweeting, "Maggie I love you but you know better."