The Ending Of The Bad Guys Explained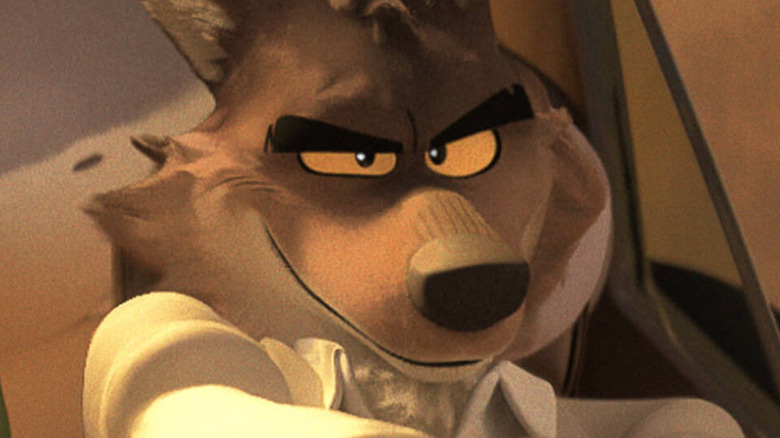 Universal Pictures
The 2022 DreamWorks Animation film "The Bad Guys" takes the best of the action-heist film genre and makes it some seriously fun family entertainment. Featuring an all-star cast of voices — including Sam Rockwell, Marc Maron, Awkwafina, Craig Robinson, Anthony Ramos, Richard Ayoade, and Zazie Beetz — "The Bad Guys" races its way through clever heists and daring stunts with just a dash of other-worldly energy. The film follows Mr. Wolf (Rockwell) and his crew of expert thieves as they try to steal the ultimate treasure: the Golden Dolphin statue. However, as fun as being a villain can be, the "Bad Guys" aren't just the baddies society makes them out to be.
Can these notorious criminals defy their stereotypes and become good? You'll have to watch the movie to find out, but once you do, perhaps there are some unanswered questions about the Bad Guys' journey. Or maybe you're curious about why "The Bad Guys" looks so darn cool. Also, are we getting more of "The Bad Guys" on our screens? If you want answers to these questions and more, read on for the ending of "The Bad Guys" explained.
Mr. Wolf turns out not to be so bad after all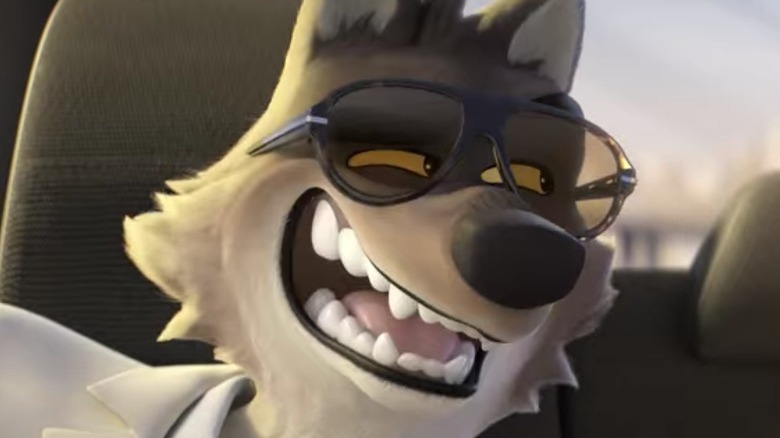 Universal Pictures
Who's afraid of the Big Bad Wolf? Turns out, just about everyone. Mr. Wolf, pack leader of the Bad Guys, readily admits he is the villain in every story, but he truly wishes people wouldn't be so scared of him. After Mr. Wolf botches a purse theft and saves an old lady from falling down the stairs, he gets a tail-wagging taste for good behavior. Instead of going to jail for the attempted theft of the Golden Dolphin statue, Mr. Wolf convinces Professor Marmalade (Richard Ayoade) into teaching the Bad Guys how to be good. The Bad Guys' rehabilitation is Mr. Wolf's scheme to get a second crack at stealing the Golden Dolphin, however, he soon has a genuine change of heart and really wants to ditch his scoundrel ways.
But just because Mr. Wolf doesn't want to be bad doesn't mean he's ditching his well-honed looting skills. He steals the Love Crater meteorite from Professor Marmalade, who has harnessed its electromagnetic powers to rob the city. Mr. Wolf saves the day with his good deeds, but his newfound kindheartedness means he also takes responsibility for his past crimes. Turning himself in to the authorities is Mr. Wolf's first step toward a new life that's not so bad after all.
Mr. Snake's slithery ways are not what they seem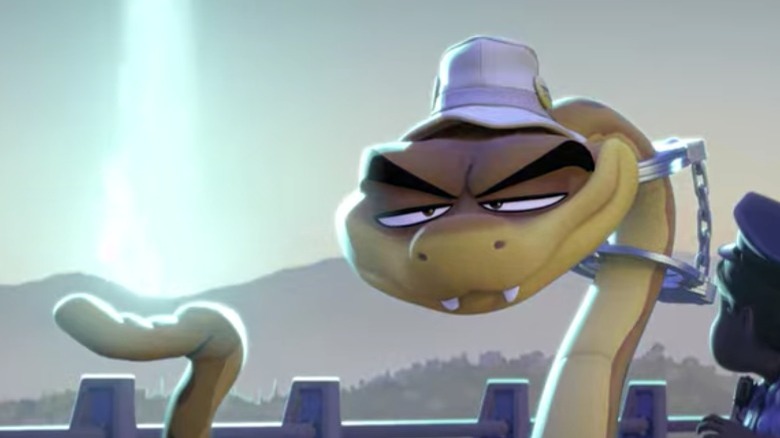 Universal Pictures
Sarcastic Mr. Snake (Marc Maron) sees life's glass as perpetually half empty, but as Mr. Wolf says, he'll steal it from you nonetheless. Decked out in a bucket hat and Hawaiian shirt that would make Raoul Duke from "Fear and Loathing in Las Vegas" jealous, the safe-cracking Mr. Snake is Mr. Wolf's closest partner in crime. Mr. Snake is the most vocally resistant to embracing his good side, but his gruff demeanor hides a secret soft spot for his friends. After feeling betrayed by Mr. Wolf's good streak, he abandons the Bad Guys in favor of becoming Professor Marmalade's henchman. But Mr. Snake's turnabout is not what it seems.
At the end of "The Bad Guys," Mr. Snake, a skilled double-crosser if there ever was one, reveals that he actually pulled the ole' switcheroo on Professor Marmalade. When his tail shakes after benevolently sharing a push pop with Shark, as he'd been trained to do by Marmalade, Mr. Snake schemes to take down Marmalade's insidious thievery from the inside. With the help of Marmalade's mind-controlled guinea pig minions, Mr. Snake replaces the real meteorite with a lamp replica. He blows up the actual rock, incinerating Marmalade's seaside compounding in the process. Mr. Snake and Mr. Wolf make amends and along with the rest of the Bad Guys, and they all do the time for their crimes.
Professor Marmalade gets himself into a sticky situation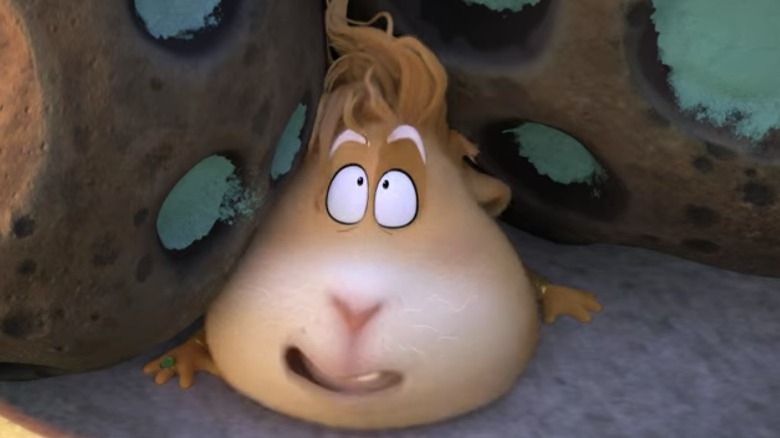 Universal Pictures
A genius guinea pig with an untarnished public persona, Professor Marmalade might be second only to Mother Theresa in the do-gooding department. He's stopped wars, fed the hungry, saved countless pandas, and helped the city gain a new perspective after a tragic meteor strike. Professor Marmalade might be the recipient of the Golden Dolphin award for virtuousness, but he's not as sweet as he purports to be. Professor Marmalade is actually a supervillain-level baddie, out to frame the Bad Guys for his evil deeds. He wants to pull off the greatest heist the world has ever seen and he knows the public will never suspect him. With his guinea pig army at the ready, it looks like Professor Marmalade will succeed, but The Bad Guys ultimately put a stop to his plans.
Even though the Bad Guys stop Professor Marmalade's heist, he almost walks away consequence-free, convincing the citizenry he's come to save the day and that he will keep the Love Crater meteorite at his compound for safekeeping. Only Mr. Snake has the upper hand and blows up the meteorite. Not only is Professor Marmalade's compound destroyed, but he's blamed for stealing the Zumpango diamond. Incorrectly assumed to be the notorious criminal the Crimson Paw, Professor Marmalade is carted off by the police, learning what it feels like to be accused of a crime he didn't commit.
Diane Foxington slyly keeps the peace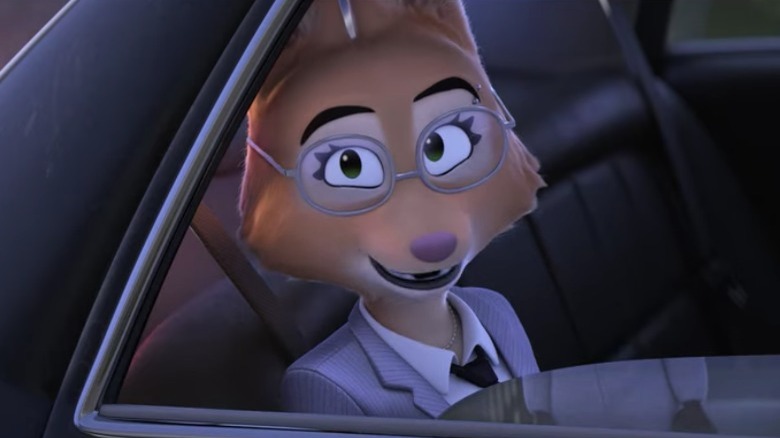 Universal Pictures
Governor Diane Foxington (Beetz) doesn't fear the Bad Guys. In fact, she thinks their antics are rather sad. She calls out their villainy as second-rate and she wants the public to forget about them. But the Bad Guys want to prove her wrong by pulling off the ultimate heist: stealing the Golden Dolphin statue bestowed upon the "goodest" citizen. Everyone's tried but no one has succeeded, and what better way to show up the governor than by stealing the Golden Dolphin right from under her nose?
However, the Bad Guys meet their match in Foxington, who is actually the legendary criminal the Crimson Fox. She could have stolen the Golden Dolphin, however, not wanting to be stereotyped as a "tricky fox," she abandoned her crime career for politics, using her cunning for good. But she secretly suits up once again to help The Bad Guys stop Professor Marmalade's scheme. Willing to share her secret identity to clear The Bad Guys' name, Mr. Wolf steps in at the last minute to take responsibility for his actions and to take the heat off of Foxington. Her criminal alter ego remains hidden, and conveniently, the public falsely assumes it belongs to Marmalade. In a post-credits scene, after the Bad Guys serve time, it's Foxington that picks them up from jail, readying the crew for some new, do-good adventures.
Police Chief Misty Luggins finally gets to serve up some justice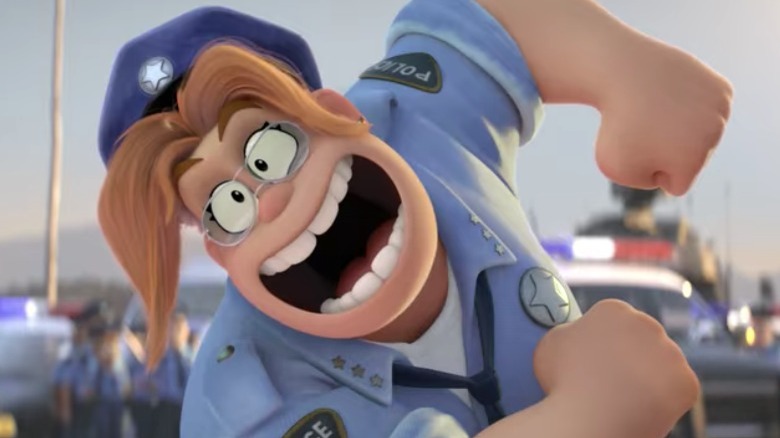 Universal Pictures
Police Chief Misty Luggins (Alex Borstein) thirsts for justice and she would love nothing more than to arrest the Bad Guys. She's come close in the past, but Mr. Wolf and his crew always manage to dodge her handcuffs. In hot pursuit, she uses the full force of the law to chase The Bad Guys through the streets of the city, but The Bad Guys are just slightly faster and a bit more clever than she, but it doesn't stop her from trying. At the Good Samaritan Gala, Luggins finally gets to arrest The Bad Guys, but Mr. Wolf convinces Professor Marmalade and Governor Foxington to let them be rehabilitated instead.
Chief Luggins gets to throw the Bad Guys in the slammer after they're falsely accused of stealing the Love Crater meteorite, but her satisfaction is short-lived when they escape prison. The Bad Guys save the city from Professor Marmalade and they eventually turn themselves in to Luggins for their past crimes. Not only does she put handcuffs on Mr. Wolf, but she also gets to throw Professor Marmalade in the back of the police van — a truly satisfactory achievement for the police chief. Finally, it's her moment to shine, and Mr. Wolf has enough respect for her efforts to give her that due.
The Bad Guys learn doing good actually feels good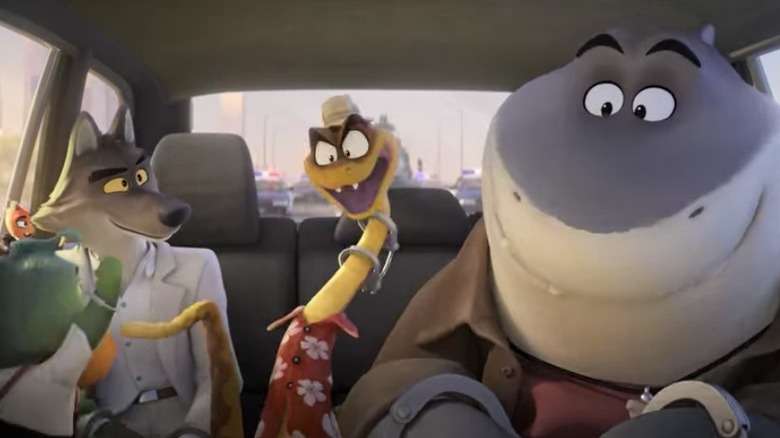 Universal Pictures
The Bad Guys are master criminals with an outsized reputation for their criminal prowess. Folks see Mr. Wolf, Mr. Snake, and their cohorts Ms. Tarantula (Awkwafina), Mr. Piranha (Ramos), and Mr. Shark (Robinson) as frightening, so they all lean into their stereotypes to secure their bag. However, their layer full of gold bars, fine paintings, and other loot can't evoke the warm, fuzzing feelings of performing a good deed.
First, Mr. Wolf gets an energizing taste of respectability and soon attempts to steer his crew toward a more moral path, even if it means giving away their precious, albeit stolen, possessions. Even Mr. Snake, who puts up the gruffest front against Mr. Wolf's newfound ways, can't help but get the tingle in his tale after benevolently giving Mr. Shark the last push-up pop in the freezer. With their fins, scales, and abdomens wagging, the rest of the crew realizes they can be more than just scary villains. Stealing the Love Crater meteorite from Professor Marmalade proves the Bad Guys can do good while feeling good. As Anthony Ramos, the voice of Mr. Piranha, told Looper, "it's beautiful to see these characters in this story discover the good within themselves."
For the Bad Guys, friendship is everything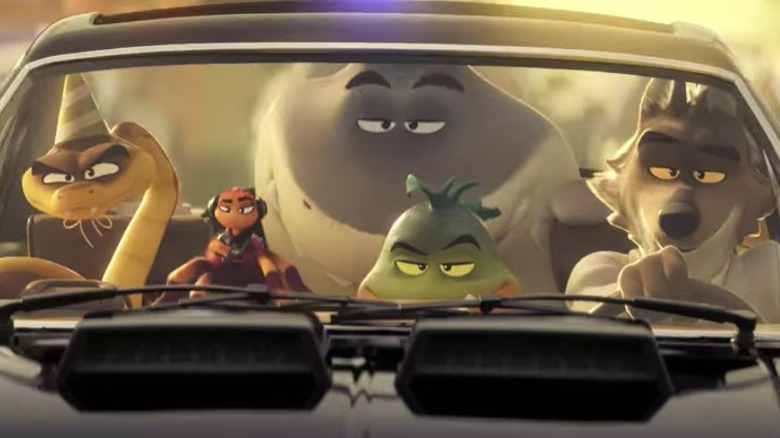 Universal Pictures
The Bad Guys are thick as thieves and they will not let a little work get in the way of their close-knit friendship. Blasting tunes in their getaway muscle car while wearing their cool shades, the Bad Guys know how to have fun together. They mix business with pleasure, planning a birthday party for Mr. Snake while on a high-speed chase with the police. Mr. Wolf, Mr. Snake, Ms. Tarantula, Mr. Shark, and Mr. Piranha bring their own individual talents to the group, but it's when they work together as a crack criminal team that they really shine.
Their comradery is compromised by the scheming Professor Marmalade, who plants seeds of discord in the group by isolating Mr. Wolf away from the group. But the crew comes through and saves Mr. Wolf and Diane Foxington from Marmalade's death trap, reuniting with a fierce group hug. The Bad Guys work together to stop Marmalade's heist and even when seemingly plummeting to their doom, Mr. Wolf, Mr. Snake, and the others have a sentimental moment with each other. After saving the city from Marmalade, in an act of solidarity, they all turn themselves in to the police proving friendship is magic for all sorts of creatures, not just ponies.
The film's light-hearted subversion of the heist movie genre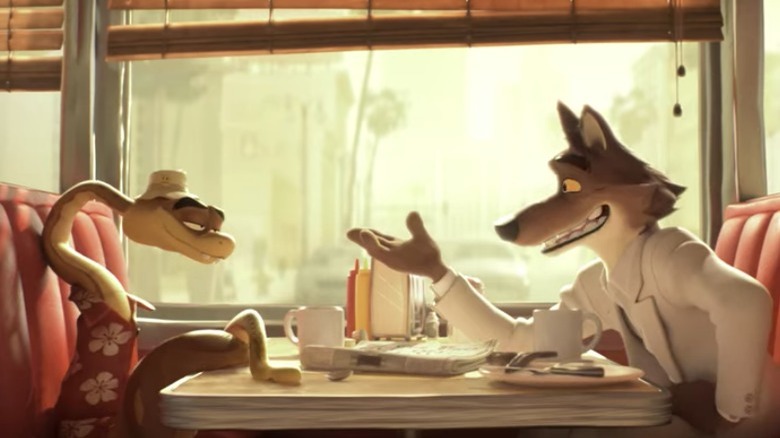 Universal Pictures
"The Bad Guys" subverts the tried-and-true heist movie genre into an action-packed adventure suitable for all ages. With shades of "Ocean's Eleven," a whiff of "Mission: Impossible," and car chases that rival anything Steve McQueen could pull off in "Bullitt," "The Bad Guys" proves that thrilling thievery isn't just for adults. Director Pierre Perifel told The Wrap films like "Snatch" and "Baby Driver" influenced his vision for "The Bad Guys." Of course, having adorable animals pull off intricate heists makes the film all the more fun for kids, but adults can appreciate its skillful tributes to the best movies of the genre.
Aaron Blabey, the author of "The Bad Guys" graphic novels, was very intentional in making the heist genre accessible to kids. In an interview with RogerEbert.com, Blabey said, "I use iconography that is generally associated with adult stuff. It is in a different age bracket from what kids can normally get their hands on. I've taken that, and I've hot-wired it in such a way that it is directly for kids." Even the extremely not kid-friendly Quentin Tarantino is a huge influence on "The Bad Guys." Cinephiles will recognize Mr. Wolf and Mr. Snake's diner exchange at the beginning of the film as a homage to the beginning of Tarantino's 1994 classic "Pulp Fiction." But don't tell that to your little ones.
The Bad Guys has a look all its own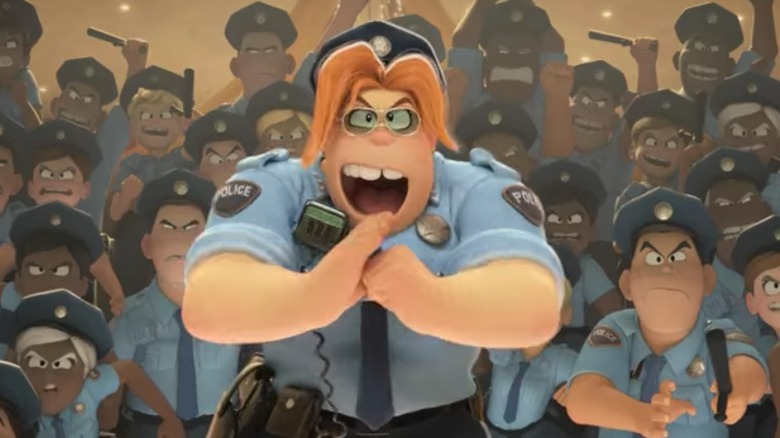 Universal Pictures
"The Bad Guys" doesn't look like your typical Hollywood CGI animated feature. Stylishly mixing elements of both CGI and classic 2D cel animation, the movie has a look all its own. From its inception, director Pierre Perifel was very clear about his visual ambitions for the film. In an interview with The Wrap, Perifel noted, "I was really hinting that I want to do something more painterly, more illustrated with 2D effects and certain style of animation." Perfiel shared with The Wrap that he drew on the rich history of global animation for "The Bad Guys," citing Japanese cartoons "Lupin," "Sherlock Hound," and "Cowboy Bebop" and the French animated feature "Ernest & Celestine" as direct influences on the film's look. He said, "It's in a way, the look, that animation style is very French but international, at the same time."
The broad mix of visuals helps "The Bad Guys" stand out from its competition. Perifel hoped the movie's unique look, and DreamWorks Animation's willingness to embrace his creativity would take mainstream animation in a more artful direction. He told SyFy, "We can do different things. And we can travel into many different styles much more easily. To me, that's a massive advantage that we have and I want to exploit it." Looks like DreamWorks is already stealing visuals from "The Bad Guys," as Perifel observed to The Wrap that "Puss in Boots: The Last Wish" uses some of the same stylizations.
The hopes for The Bad Guys to become a franchise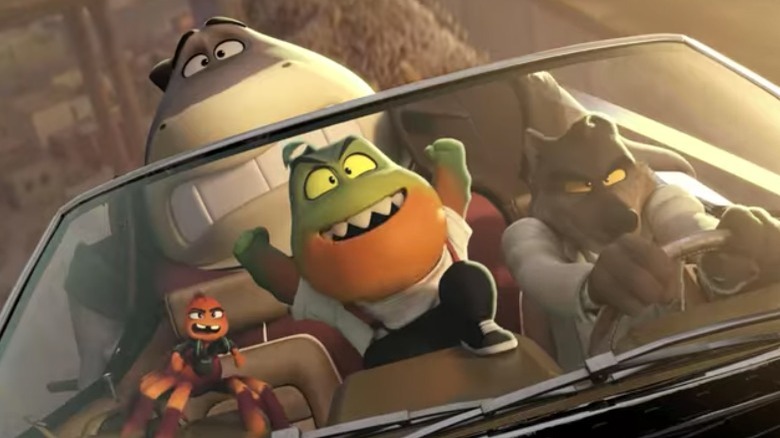 Universal Pictures
Already a wildly successful graphic novel series before being adapted into a movie, "The Bad Guys" has some serious franchise ambitions. According to The New York Times, "Bad Guys" author and illustrator Aaron Blably has sold more than 30 million books in the past decade and cites "The Bad Guys" graphic novels as his biggest success. As of 2022, there are 16 different "Bad Guys" adventures in publication, not to mention a novelization of the film and a Mad Lib-style "fill-in" book to make your own adventures (per Scholastic).
With so many stories to choose from, it's not surprising that the makers of "The Bad Guys" have their eyes set on an expanded cinematic universe. Speaking to The Wrap, "The Bad Guys," director Pierre Perifel said he's hoping to do more sharing, saying, "I hope we created a franchise for the studio and then can do many more." He added that Blably plans on releasing more "Bad Guys" graphic novels, so there will be plenty of stories for future films. Per The Hollywood Reporter, "The Bad Guys" had a good, top-draw debut weekend at the box office and Box Office Mojo indicates the film grossed a respectable $250 million globally. Although a sequel film to "The Bad Guys" has yet to be greenlit, Perifel told The Digital Fix "I'm starting to imagine a future with a second movie."
What The Bad Guys could be up to in a sequel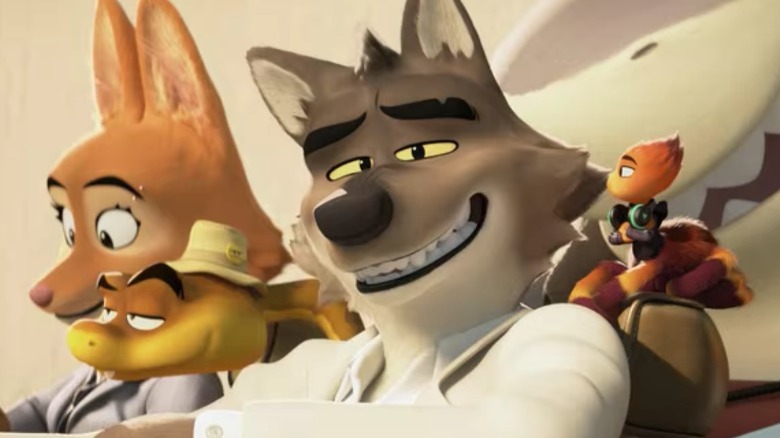 Universal Pictures
With so many adventures to choose from, it's fun to imagine what antics the Bad Guys could get up to in a sequel. With plenty of source material for inspiration and a crew of interesting, lovable characters to explore, the next iteration of "The Bad Guys" has plenty of creative possibilities. Sure, Mr. Wolf takes the spotlight in the movie, but what about a deep dive into Ms. Tarantula's tech skills or Mr. Piranha's musical flatulence? Luckily, it's not hard to sniff out what the Bad Guys' next move is.
According to Cartoon Brew, Netflix has ordered a "Bad Guys" holiday special set for a 2023 release. Collider shared details about the project, reporting that it will be set before "The Bad Guys" film and that it will follow Mr. Wolf and his crew as they attempt a Christmas Day heist, only to find themselves having to save the holiday from ruin. Looks like the Bad Guys are up to their same Grinchian antics, but like Dr. Seuss' legendary holiday meanie, it seems like their hearts might also grow three sizes.