Adam Carolla Had Quite The Workout Thanks To His Masked Singer Suit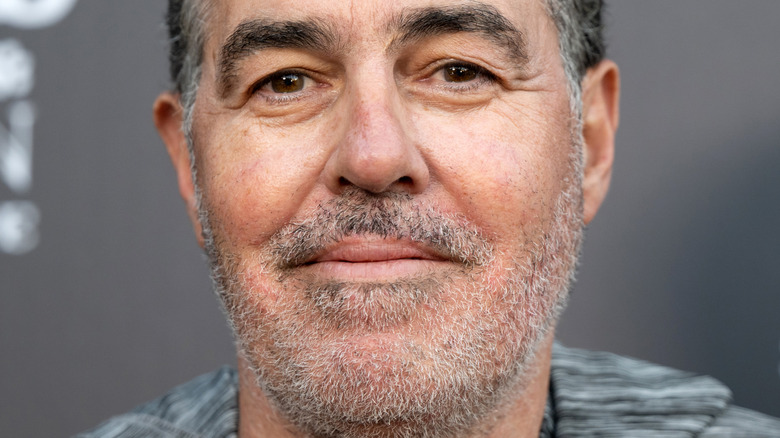 Amanda Edwards/Getty Images
"The Masked Singer" brought a fresh twist to the typical singing competition show format. The American version of the Korean-created franchise, the Nick Cannon-hosted show sees celebrities singing songs while hiding their identities by wearing full-body costumes and masks. From there, a panel must try deciphering the singers' identities while audience members get to vote for their favorite performers, with the least popular having to take off their mask. While the show has often received a mixed reception, with its first season having a 52% Tomatometer score on Rotten Tomatoes, it has nevertheless managed to find great success. The show's premiere in January 2019 broke records, making the show the highest-rated unscripted debut from any network in seven years (via Deadline). Its subsequent popularity is credited with influencing more experimental show formats, with the show itself being considered a part of the Korean Wave.
With its creative premise, elaborate costumes, and fun celebrity reveals, the show's appeal is hard to deny. But while it might be easy to appreciate the show from an audience perspective, what must it be like for the titular singers who must show off their talents while moving about in those kooky costumes? The experience can vary from person to person, but being featured on "The Masked Singer" is always sure to have an interesting story or two to attach to it. This was certainly the case for Adam Carolla, who was quick to discover that this kind of performance was like nothing he could have ever expected. 
Adam Carolla had trouble figuring out where to step
Comedian, radio personality, and podcaster Adam Carolla, best known as the host of "The Adam Carolla Show" podcast, would make a memorable appearance on Season 8, Episode 8 of "The Masked Singer." The episode, entitled "Comedy Roast Night," which saw the panelists throwing savage comedic jabs at one another, would see Carolla inside a colorful avocado costume singing "Hit the Road Jack." As fun as the reveal would turn out, Carolla's performance in the disguise took some time to get accustomed to for the entertainer. 
In a recent podcast interview, Carolla describes how difficult it was performing in the costume, with a prompter set inside that he had a hard time reading. But if trying to read inside was tough enough, moving inside the costume was a truly laborious task. "I couldn't see any of this stuff," Carolla explains. "I was just in there with kind of tunnel vision and looking through the screen trying to figure out ... where the mark was ... They put the mark on stage, but you can't see down, so you just sort of count your steps and then stop."
Despite the bizarre situation, Carolla was grateful to be a part of the vibrant show, telling Fox 9 that it was "Something you can tell your grandkids about. I did have an experience. It is a very interesting experience. People talk about fun all the time, but they should also focus on having an experience."