Pixar Acknowledges The Similarities Between Their Upcoming Film Elemental And Avatar: The Last Airbender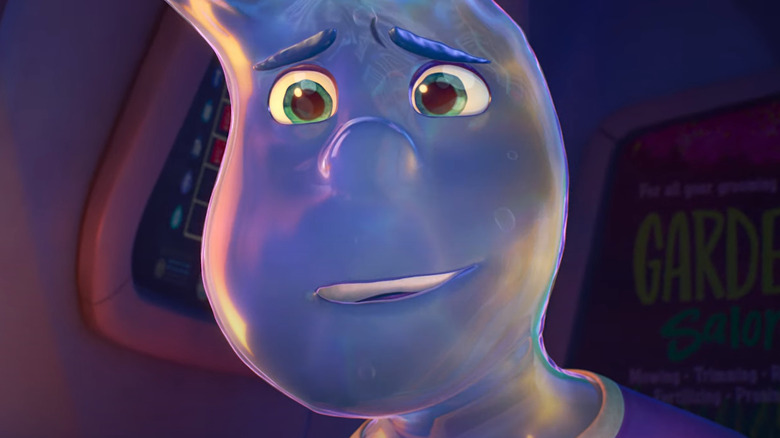 Pixar/YouTube
Disney and Pixar have officially revealed their next project, a movie titled "Elemental." The movie marks the first feature-length film from the studio in 2023, following great performances with this year's "Turning Red" and "Lightyear." The official synopsis for "Elemental" reads, "In a city where fire, water, land, and air residents live together, a fiery young woman and a go-with-the-flow guy are about to discover something elemental: How much they actually have in common."
Pixar once again partners with director Peter Sohn, who's worked with the studio on numerous occasions, directing "The Good Dinosaur" and lending his talents to movies like "Lightyear," "Luca," and "Ratatouille." Joining Sohn are Leah Lewis ("Nancy Drew') and Mamoudou Athie ("Archive 81") in the two lead roles of Ember and Wade. The film centers around the dynamic between the two characters, as Ember is made of fire while Wade is of water descent.
"Elemental" will take audiences into a world where characters from different elements all live together. Unluckily for Pixar, this drew almost immediate comparisons to another incredibly popular franchise focusing on the forces of nature, "Avatar: The Last Airbender." Director Sohn had some interesting words regarding the comparisons between the two.
Avatar: The Last Airbender did not inspire Elemental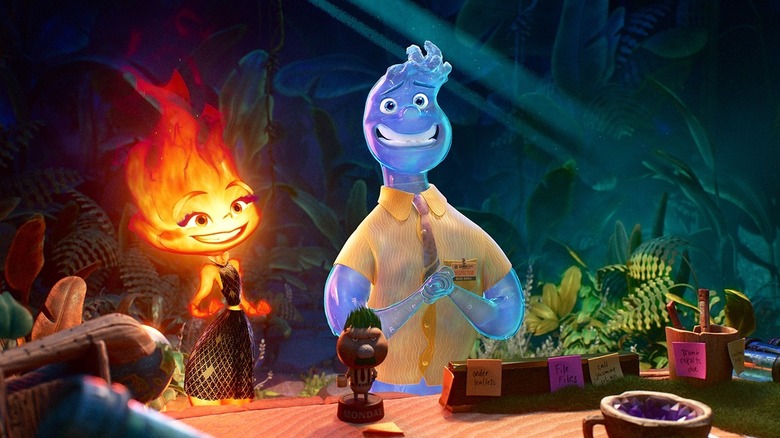 Disney
"Avatar: The Last Airbender" creators Michael Dante DiMartino and Bryan Konietzko masterfully launched a franchise that personifies the four natural elements, so comparisons between it and "Elemental" were inevitable. Thankfully, the Pixar project's director, Peter Sohn, recognizes the similarities between the two but assures fans that, while "Avatar" is excellent, he did not take any influence from the series for his movie.
Speaking to Entertainment Weekly today, Sohn said, "No, it wasn't a touchstone, but I love that show. I saw it with my kids and it's great, but we're so different from it. There's no martial arts in our world. There's not anything like that. It's this city story with a romance, and this family drama. But I do appreciate the connection that people are making just 'cause they love that and hopefully they can love this, too."
Sohn spoke to Collider, revealing that he loosely based the story of "Elemental" on his life growing up in New York City with Korean immigrant parents. He married someone who wasn't of Korean descent, which opened his eyes to an entirely new culture. He focused on the shock that comes when two cultures clash, taking inspiration from his life and those of the crew members on "Elemental."
"Elemental" hits theaters on June 16, 2023.