The Absolute Best Network TV Shows Of 2022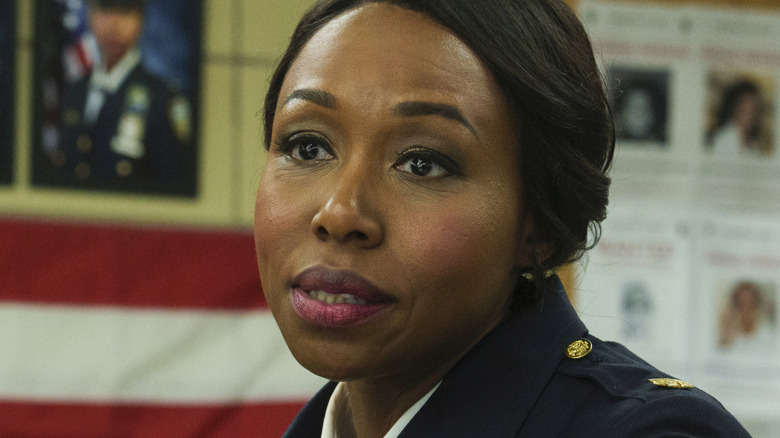 Peter Kramer/CBS
With so much of the focus going toward streaming and cable shows in recent years, it can be easy to forget that the traditional television networks still do have their own series — and good ones, too. In addition to legacy series like "Law & Order: SVU," "Saturday Night Live," "The Simpsons," et al, the five major broadcast television networks — ABC, NBC, CBS, Fox, and the CW — have all introduced new series in 2022 which prove that all of the creative forces in the industry haven't completely abandoned traditional television in lieu of online and or cable-based pastures.
To be clear, not all of the shows on this list have had the strongest ratings. In fact, some have either been confirmed as single-season one-offs or have been axed altogether. But that doesn't mean that they are bad shows, nor that they don't deserve to be discussed and praised when considering the best of the 2022 network television debuts. On the other side of the token, don't be surprised if a few of these become multi-season hits. Either way, this list represents the best of television networks' new additions to their respective 2022 lineups, even if some of them won't live to see 2023. 
Quantum Leap (NBC)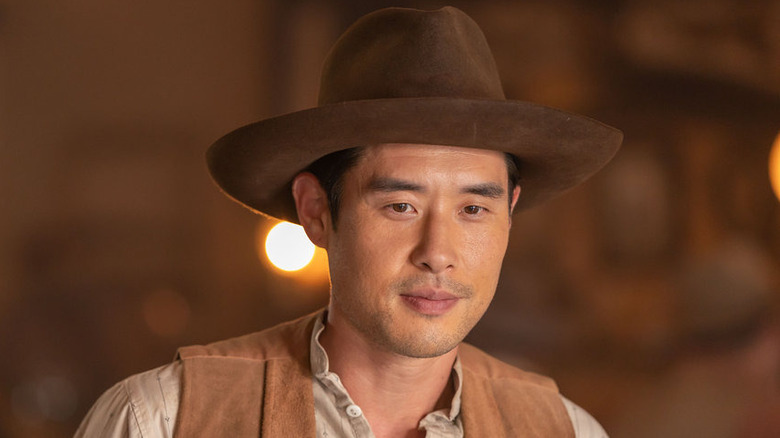 Ron Batzdorff/NBC
Revivals of classic television shows are always a tricky thing. Having that built-in legacy is a double-edged sword — the name recognition makes it easier to gain attention than a completely original show, but on the flip side, it can be extremely difficult to live up to people's nostalgia for the original. Taking place in the same universe as the original rather than being a complete reboot, NBC's 2022 "Quantum Leap" also has original creator Donald P. Bellisario back on board as creator and executive producer. 
Original lead Scott Bakula is out and replaced by Raymond Lee ("Kevin Can F**k Himself"), who is more than up to the task of bringing the necessary charisma to the role of a man who has to "leap" into other people's bodies and lives to solve some problem before moving on. Per Rotten Tomatoes, the general consensus is that the new "Quantum Leap" was a little unsure of itself in the beginning but has found confidence as it has gone on. Whether or not NBC gives it the chance to continue to improve is anyone's guess, but it seems to get better every week as it finds its groove and it has the potential to match its predecessor if given the time to grow. 
So Help Me Todd (CBS)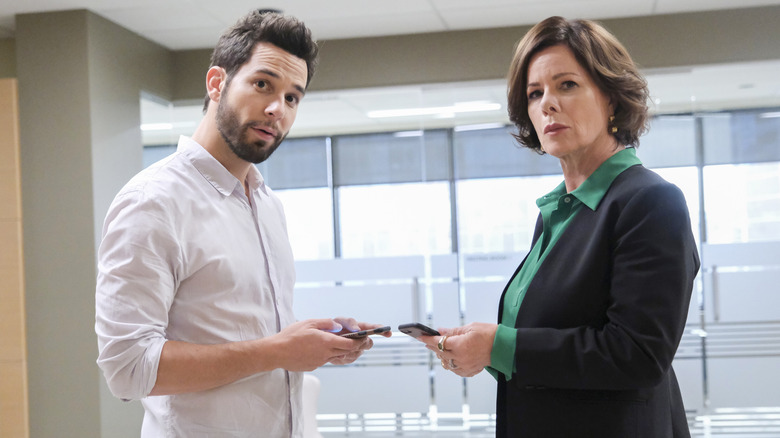 Bettina Strauss/CBS
Though the title might make it sound like a goofy sitcom or fake series that Troy McClure starred in, "So Help Me Todd" is actually a legal drama that debuted on CBS in late 2022. Needless to say, it's not a heavy or overly-serious one, like "Law & Order" for example, instead keeping the procedural elements somewhat light while focusing on the charming interplay between its two leads. 
Margaret (Marcia Gay Harden) is a stuffy, by-the-book defense attorney who convinces her private investigator son Todd (Skylar Astin) to work at her law firm. Todd is a bit aloof but is ultimately good at his job when he puts his mind to it, which is where Margaret's guidance comes in. However, Todd's tendency to play a bit fast and loose with the rules to get the job done doesn't mesh well with Margaret's strict adherence to laws and guidelines. The two actors have really great chemistry together and are the main reason to tune into "So Help Me Todd," helping it to stand out among the many other legal shows on the air right now.
Walker: Independence (The CW)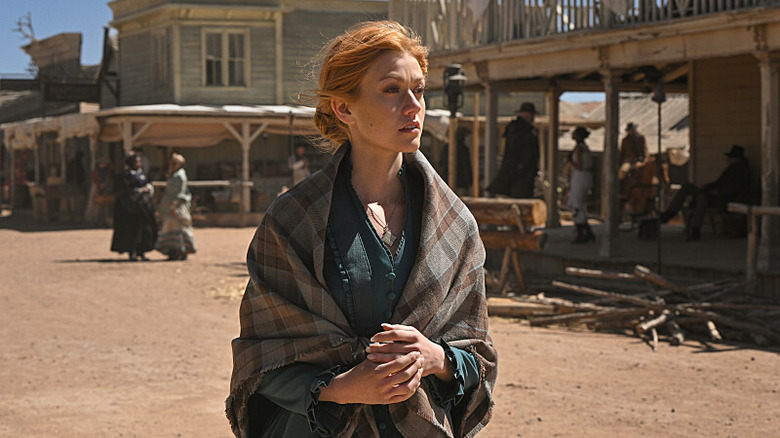 Anna Kooris/The CW
"Walker: Independence" is the prequel to the 2021 series "Walker," which itself is a reboot of the '90s Chuck Norris action drama, "Walker, Texas Ranger." However, despite the diminishing returns that often seem to come from a property being splintered off multiple times, "Walker: Independence" may very well be the best installment of the "Walker" meta franchise thus far. 
What sets "Independence" apart from the other two shows is that, rather than just being Western-themed but taking place in modern times, it rewinds back to the late-1800s. While television once had more Western shows than a 10-gallon hat could hold, they are more of a novelty these days, making "Independence" feel unique. Giving the show a female lead makes it even more special, with Katherine McNamara of "Shadowhunters" and the Arrowverse playing widow Abby Walker who is trying to find her husband's killer, while also uncovering the various other secrets of the citizens of the titular Texas town. 
Even if you've never seen — or have, and hated — the previous "Walker" shows, "Independence" is still worth a look for its refreshing take on one of television's oldest and dustiest genres.
Lopez vs. Lopez (NBC)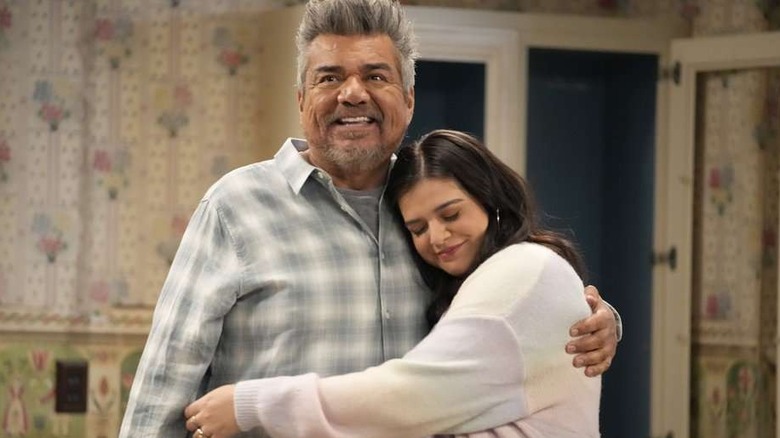 Casey Durkin/NBC
Comedian George Lopez was extremely bitter about the cancellation of his self-titled ABC sitcom that ran from 2002 to 2007 (per the Los Angeles Times), so it's not particularly surprising that he waited a decade and a half to rejoin the network television machine with another sitcom. But taking such a long break — trying his hand at hosting a late-night talk show for TBS in between — works in the favor of NBC's "Lopez vs. Lopez" in that it features a much older lead with a much different set of struggles, as well as triumphs.
Though he once again uses his own name, the George Lopez viewers see in "Lopez vs. Lopez" isn't the same character. This George is divorced from a different woman, Rosie (Selenis Levya), with whom he only had one child, Mayan, George's real-life daughter who is also playing a fictional version of herself. Much of the show deals with George and Mayan reconnecting after a period of estrangement that precedes the start of the show.
In fact, the premise is based on the pair's real-life relationship which was strained following George's divorce from Mayan's mother and led to them not getting along for years (per NBC News). It lends an authenticity to the show that definitely comes through on screen, elevating it a bit beyond the standard family sitcom. Given the time to grow, it could easily surpass George's previous sitcom. 
Good Sam (CBS)
It needs to immediately be pointed out that "Good Sam" only got 13 episodes before it was cancelled by CBS in mid-2022. And that's too bad, as the medical drama was off to a really strong start and definitely had the potential to be among the best of its genre if it had been given the chance to prove itself. Unfortunately, its an extremely tough genre to break into, as there is always one or two stalwart mainstays on the air at any given time — "E.R.," "Grey's Anatomy," etc. — that people would rather stick by than go through the effort of meeting a new team of doctors and nurses.
The unique wrinkle of "Good Sam" is that it is about a heart surgeon named Sam Griffith (Sophia Bush) who suddenly becomes chief when her famed heart surgeon father Rob Griffin (Jason Isaacs) falls into a coma. But Rob eventually comes out of it, and wants to get back to work — only now, his daughter is his boss rather than the other way around. The personal and professional power struggle between the two is fascinating to watch and would've been a solid foundation to build a long-running medical drama upon. 
As it stands, all we're seemingly ever going to get are the existing 13 episodes, which are still well worth a watch and represent some of the best medical-based drama on television in 2022 in any series. 
Welcome to Flatch (Fox)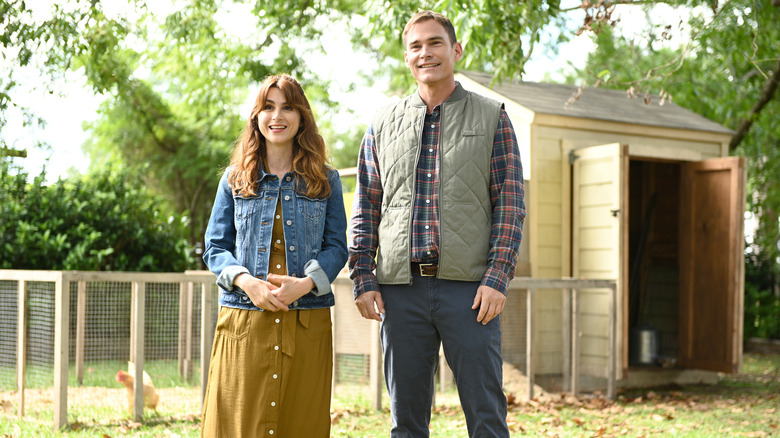 Brownie Harris/Fox
The success of "The Office" and "Modern Family" basically guaranteed that we were going to get a flood of mockumentary series — but as long as they are as fresh and funny as "Welcome to Flatch," it's definitely not a problem. Like "The Office," Fox's "Welcome to Flatch" is an American remake of a British mockumentary series called "This Country," which retains the basic premise and vibe of the original, while of course transplanting things from a small English town to an American one (per The Independent). 
The two main characters are cousins Kelly Mallet (Chelsea Holmes) and Lloyd Mallet (Sam Straley) who are part of a community full of equally eccentric and hilarious citizens. Much of the first two seasons — both of which aired in 2022 — follow Kelly and Lloyd as they attempt various misguided schemes to make money while crossing paths with their neighbors as they have their own goofy plans and scams running at the same time. 
"Welcome to Flatch" is the type of show that requires a commitment of several episodes before it starts to click, but once it does, you'll want to be with these characters for years to come. 
How We Roll (CBS)
Another promising show that has already been given the axe is the CBS sitcom "How We Roll." Starring comedian Pete Holmes as real-life pro bowler Tom Smallwood, "How We Roll" follows a recently laid off Tom as he has to make the choice between yet another unfulfilling auto plant job or taking the opportunity to finally realize his dreams of being a professional bowler. Considering the title and premise of the show, it's obvious what choice he makes.
It's possible that "How We Roll" struggled to find viewers because people thought they'd have to be bowling super fans to enjoy it or actually know who Tom Smallwood is. But neither of those things are true — all the show requires of its audience is a willingness to laugh at warm, family-friendly humor and to know what it's like to put yourself out there and chase your dreams in spite of the risks. 
One-season sitcoms tend to just disappear and don't really find another life in reruns or on streaming, but here's hoping "How We Roll" gets added to Paramount+ or some other service just so more people get to enjoy this light, fun show that deserved another season or two at least.
Alaska Daily (ABC)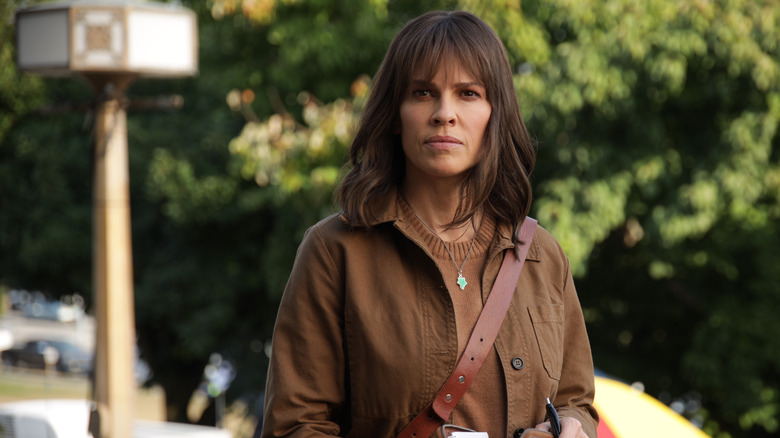 Jeff Petry/ABC
It was once seen as a sign of a career in its death throes when a movie actor made the switch to television — particularly network TV — but that's a stigma that has long since passed. Two-time Oscar winner Hilary Swank is among the latest examples of this, joining the cast of the 2022 ABC drama series, "Alaska Daily." 
Swank plays Eileen Fitzgerald, who trades in the fame and notoriety of being a big-shot New York City journalist for the more low-key setting of the local Anchorage, Alaska newspaper. It isn't long before she becomes involved in investigating an epidemic of Indigenous women being attacked and or going missing in the state — and with that, she sees a chance to go back to making a real difference and rediscover why she became a journalist in the first place. 
As noted by Rotten Tomatoes, various critics pointed out that "Alaska Daily" being on ABC means that it has to go easy on the grisly details of the crimes. While that does limit the show's potential impact a bit, most were still in agreement that it is a great celebration of how important local journalism still is.
The Winchesters (The CW)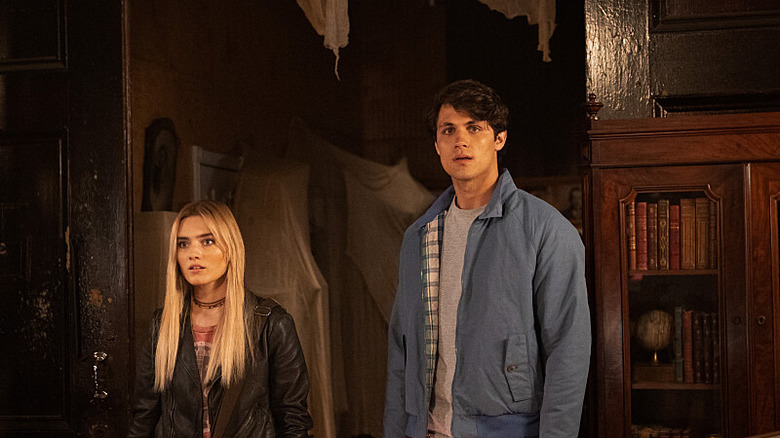 The CW
"Supernatural" is a show that felt like it was kind of always on the air, which makes sense, as it ran for an impressive 15 seasons between 2005 and 2020 and will likely live on in reruns for many years to come. But a show that popular, and with that deep of a universe, wasn't going to just end when "Supernatural" did. And sure enough, only two years later, comes spin-off "The Winchesters." 
There is a reason why "The Winchesters" actually got made and picked up by the CW after several other attempts at "Supernatural" spin-offs weren't so lucky (per Collider) — it follows the story of Dean and Sam's parents, how they met, and how they became involved in the monster-fighting business that they'd eventually pass onto their sons. While Jensen Ackles narrates as Dean, the show allows itself to fully exist in its own time and place (the '70s), which helps it to feel like something fresh and different from its parent show. 
Whether it runs as long as "Supernatural" did — or whether it even should – remains to be seen, but "The Winchesters" definitely has the potential to nicely flesh out the franchise's vast lore in a really fun and interesting way and is a no-brainer watch for fans of the original.
Naomi (The CW)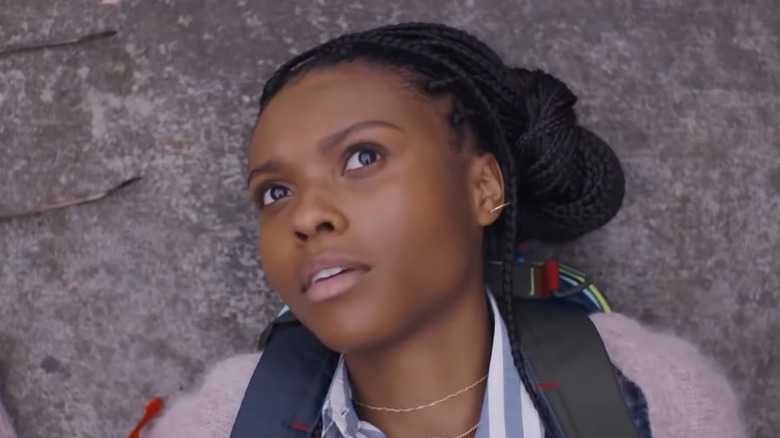 The CW/YouTube
As The CW's Arrowverse is winding down, at least compared to how many different recurring shows it used to encompass, it stands to reason that DC start to have more shows that don't connect to it in any way. Such is the case with 2022's "Naomi," which had absolutely no ties to the Arrowverse despite sharing a network with both "Superman & Lois" and "Stargirl."
It's no secret that it's been rough going for DC adaptations of late on both the big and small screen, seeing promising projects fall flat and unremarkable ones become big hits. "Naomi" falls into the former camp, a strong start for the titular character's screen debut (played by the perfectly-cast Kaci Walfall) that sadly just didn't have the ratings to inspire enough confidence in The CW to give it a second season. And that's really too bad, as the Rotten Tomatoes-certified fresh "Naomi" was one of the better first seasons of a comic book adaptation in recent years and really could've helped breathe some much-needed spunkiness and diversity into a genre that grows more tired and overcrowded by the month. 
Here's hoping Walfall gets to reprise her role in some future crossover TV or movie event, since she deserves to, but we won't hold our breath.
East New York (CBS)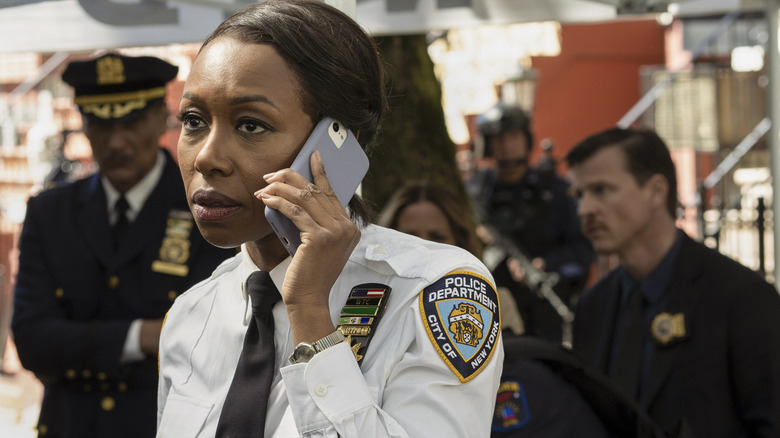 Scott McDermott/CBS
In his review of the pilot episode, Brian Lowry of CNN asks whether or not "East New York" can "bring the network cop show into the 21st century." There is no shortage of police procedurals on the air, and while many of them occasionally attempt to rethink how these shows all seem to worship law enforcement while rarely showing police officers as flawed human beings who sometimes make the wrong choice, most tend to only do so briefly before quickly settling back into that familiar, time-honored groove.
"East New York" seems to be an attempt to buck that trend, taking a more honest look at how the police have a complicated and often fractured relationship with people of certain races and social statuses. Having a black female lead in Amanda Warren goes a long way here, and her turn as Deputy Inspector Regina Haywood has the potential to be one of the deepest and most interesting police officers on television. 
It's too early to tell if "East New York" will challenge the status quo as much as it has so far — and if doing so will cause the bulk of the audience to go running back to comfort food like "Law & Order" and "NCIS" — but it has the potential to be one of the most fascinating and boundary-pushing police dramas on television.
Pivoting (Fox)
No, this isn't a "Friends" spin-off where Ross has started his own moving company. "Pivoting" is a short-lived Fox comedy about three women who are forced to rethink — in other words, pivot — the direction of their lives both together and individually after the sudden death of their friend. Eliza Coupe, Ginnifer Goodwin, and Maggie Q play the three leads, and critics were almost unanimous in praising their casting, performances, and chemistry together, per Rotten Tomatoes. 
So many great comedies had rocky first seasons in terms of ratings, including "Parks and Recreation" (per ScreenRant), so it's always disappointing when a network is so quick to pull the plug on a promising sitcom before it even has the chance to develop its fanbase. While there are more female-led shows on television than ever, such shows are still too few and far between, so it's sad when any of them go. But "Pivoting" in particular was extremely sweet and funny and deserved to see these ladies navigating life and friendship for years to come. If any show on this list deserves to be rescued by a streaming service and get a couple of extra seasons there, it's this one.
The Rookie: Feds (ABC)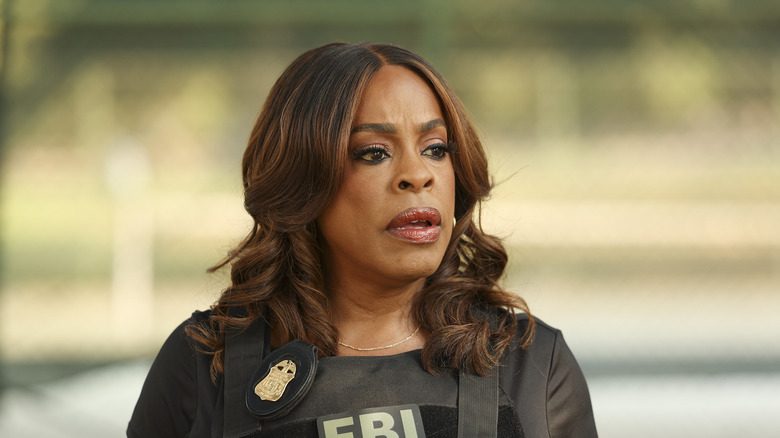 Raymond Liu/ABC
It seemed pretty obvious that Niecy Nash-Betts' two-episode stint as Simone Clark during Season 4 of "The Rookie" was setting her up to lead her own spin-off show. But while the idea of backdoor pilots often feels a little forced, nobody was complaining in this case — especially once they watched the first episode of "The Rookie: Feds." Whereas the anchor show relies heavily on the effortless charm of Nathan Fillion, "Feds" is very much the Niecy Nash-Betts show which isn't a bad thing in the slightest.
Nash-Betts' Special Agent Simone Clark is not the typical cop show lead or character at all, and that's a large part of why the show works. Nash-Betts might not be for everyone, but unless you absolutely just cannot stand her, she's fantastic here and carries the show extremely well. As Joshua Allen of Variety puts it, "As long as the producers keep relying on Nash-Betts' deep well of charm and character, 'Feds' has real potential."
Women of the Movement (ABC)
Originally intended to be an anthology show where each season focused on a different woman who played a major role in the civil rights movement, it seems that "Women of the Movement" is destined to remain a one-off miniseries (per Deadline). As disappointing as it is that we won't see more of this, what we got is an excellent six-part dramatization of the most pivotal events of the Jim Crow era: the murder of a boy named Emmitt Till and the movement it ultimately inspired.
Adrienne Warren plays Emmitt's mother, Mamie, whose fight for justice for her son is an incredibly important story and one that needs and deserves more than just a two or three-hour movie to properly tell it. If both Adrienne Warren and Cedric Joe (who plays Emmitt) don't receive nominations for their stellar work here, those will be snubs for the ages. It's still frustrating to think that we won't get more stories told in this format, but at least the one and only season of "Women of the Movement" made it count. 
Abbott Elementary (ABC)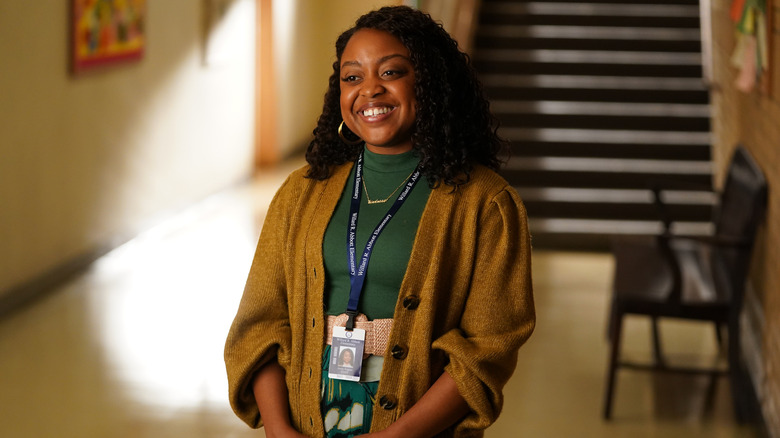 Gilles Mingasson/ABC
This one bends the rules of the list slightly as "Abbott Elementary" debuted as a midseason replacement back in December 2021. But 2022 was the show's year, and that's where most of the discussion and praise for one of the best shows on television has taken place. Mockumentaries are nothing new, nor are regular workplace comedies, or even workplace comedies that take place in a public school. But "Abbott Elementary" takes those familiar building blocks and turns them into one of the craftiest sitcoms in years, and proof that network television isn't done bringing its comedic A-game.
Obviously, the performances are most of what make "Abbott Elementary" shine – Quinta Brunson (also the creator), Tyler James Williams, Lisa Ann Walter, Janelle James, Chris Perfetti, and Sheryl Lee Ralph are an ensemble for the ages — but credit must be given to the sharp writing that sometimes avoids genre clichés, and other times attacks them head on specifically to turn them on their head. If networks are trying to find the next "The Office," ABC just might have found that in "Abbott Elementary."