Daniel Craig Confirms He Has No Regrets About Leaving James Bond Behind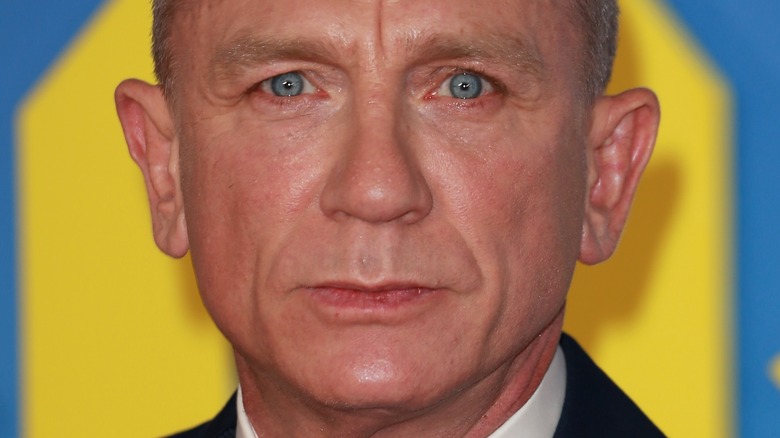 Fred Duval/Shutterstock
For many James Bond fans, Sean Connery has always been the comparison point. Some will eagerly point out that Timothy Dalton, who starred as James Bond twice, was hands-down the closest to Ian Fleming's description of Bond, but viewers were so used to the suave, joking style from previous incarnations, that Dalton's portrayal came as a jolt. When Pierce Brosnan took over the role beginning with 1995's "GoldenEye," fans were thrilled to see Bond return with his previous dry humor, along with the characteristics that made Roger Moore and Sean Connery so popular in the role.
Considering that Daniel Craig's interpretation of James Bond brought back much of the darkness and stoicism of Dalton's portrayal, it's surprising that his Bond became so popular. But now, when people discuss the best James Bond actors, Craig is always in that conversation (via Men's Journal). By the time 2006's "Casino Royale" came along, fans were clearly ready for a different Bond — one with vulnerabilities and flaws.
But after five films over the span of 15 years, Craig is done with Bond. Some fans find it hard to imagine anyone else playing the iconic super-spy, but Craig has no regrets about leaving it all behind.
Daniel Craig needed his Bond to die to move on
Tristan Fewings/Getty Images
While each actor moved on from the James Bond franchise when their time ended, no one has done it with such spectacular flair as Daniel Craig. He knew he needed the finality that came with his Bond's death in "No Time to Die," telling the Los Angeles Times that it was necessary, so the franchise could continue. He remembers telling co-producer Barbara Broccoli, "So let's kill my character off and go find another Bond and go find another story. Start at [age] 23, start at 25, start at 30."
But he also admits that he needed his character to die so that he, personally, could move on. "I don't want to go back," Craig said. "I suppose I should be so lucky if they were to ask me back, but the fact is I need to move on from it. The sacrifice that he makes in the movie was for love and there's no greater sacrifice. So it seemed like a good thing to end on."
Craig admits that he doesn't have a plan now that Bond is done, and the success of "Knives Out" was as much a surprise to him as it was to everyone else. But as a husband and father, he's excited to go forward choosing the roles that interest him the most. "I have a family that I need to be with most of the time until they hate me, and then I can go away and do some work," he said. "That's more important to me right now."