12 Indie Films Directed By Women To Watch After Women Talking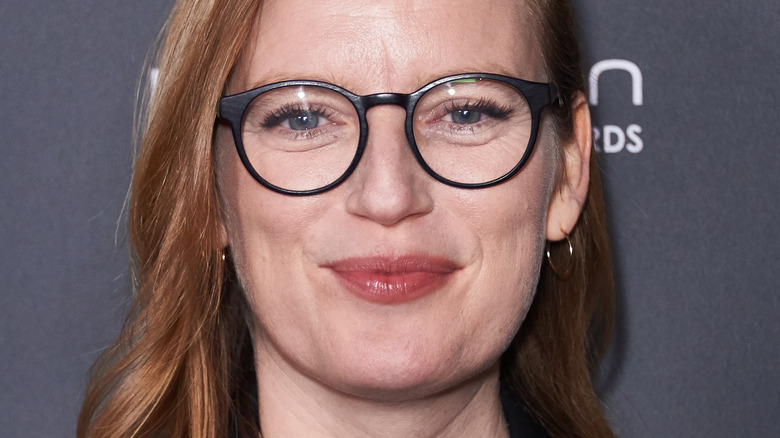 Unique Nicole/Getty Images
The following article includes references to abortion, miscarriages, substance abuse, sexual abuse, and physical abuse.
Sarah Polley's career in entertainment took off in front of the camera as a child acting in the Disney family film "One Magic Christmas." She then went on to work with auteurs like Terry Gilliam on "The Adventures of Baron Munchausen" and Atom Egoyan on "The Sweet Hereafter" before transitioning into the director's chair for her feature directorial debut, "Away from Her." Eleven years after the release of her last narrative feature, "Take This Waltz," and ten after her last film, the documentary "Stories We Tell," Polley returns with "Women Talking," the strongest film of her career.
Adapted from the novel by Miriam Toews of the same name, "Women Talking" centers on a multigenerational group of women living in a remote Mennonite colony. When Ona (Rooney Mara), Salome (Claire Foy), Mariche (Jessie Buckley), Agata (Judith Ivey), Scarface Janz (Frances McDormand), and Greta (Sheila McCarthy) discover that men in the colony have been drugging and raping the women and girls at night, they gather to decide how to respond: do nothing, leave the colony, or stay and fight. Polley is in complete command of her craft, taking what could have been a stagey adaptation to visceral, cinematic heights.
Earlier this year, Variety reported that only 17% of the top 250 highest-grossing movies of 2021 were directed by women. The industry has a long road ahead to achieve gender equity behind the camera, but there is no shortage of excellent female-directed movies to discover. Here are 12 indie films directed by women to watch after "Women Talking."
Never Rarely Sometimes Always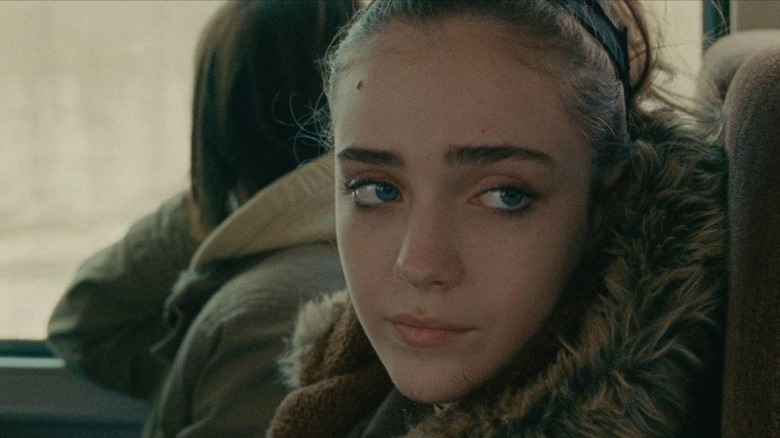 Focus Features
When 17-year-old Autumn (Sidney Flanigan) learns she is pregnant, she decides she wants to terminate the pregnancy. But she is unable to do so in her home state of Pennsylvania, where those under the age of 18 need parental consent to have an abortion, and Autumn's mother (Sharon Van Etten) would never condone it.
When Autumn is unable to induce a miscarriage herself, she enlists her Sylar (Talia Ryder) to accompany her to seek an abortion in New York City where she does not need parental approval. Sylar steals cash from the register at the supermarket where she works, and the two board a bus to New York City. At Planned Parenthood, Sylar learns her pregnancy is farther along than she was told and her abortion will be a two-day procedure, which forces the young women to spend all their money with no remaining funds to finance their trip back home. Writer-director Eliza Hittman's naturalistic drama "Never Rarely Sometimes Always" is an emotional knockout, and its story has grown even more relevant and timely since its release.
Clemency
Written and directed by Chinonye Chukwu, "Clemency" is a chilling character study about prison warden Bernadine Williams (Alfre Woodard) and the weight her job has taken on her facilitating death row executions. Bernadine radiates a poised steely reserve, but beneath the surface, she is struggling with drinking, insomnia, and her fraught marriage with her husband, Jonathan Williams (Wendell Pierce), who wants her to retire.
During inmate Victor's (Alex Castillo) execution, Bernadine permits the medical officer to use a femoral vein to deliver the lethal injection when he cannot find one in Victor's arm. This results in a botched procedure that leaves Victor convulsing until it finally kills him, leaving Bernadine's confidence rattled. Elsewhere, Bernadine is haunted by her inability to connect with death row inmate Anthony Woods (Aldis Hodge), who will not speak to her and insists he has been wrongfully accused as his execution date draws closer. "Clemency" is a challenging watch in its portrayal of the pitfalls of the criminal justice system, but Woodard's tremendous performance and Chukwu's sharp, unsentimental direction make it a must-see.
If you or anyone you know needs help with addiction issues, help is available. Visit the Substance Abuse and Mental Health Services Administration website or contact SAMHSA's National Helpline at 1-800-662-HELP (4357).
Can You Ever Forgive Me?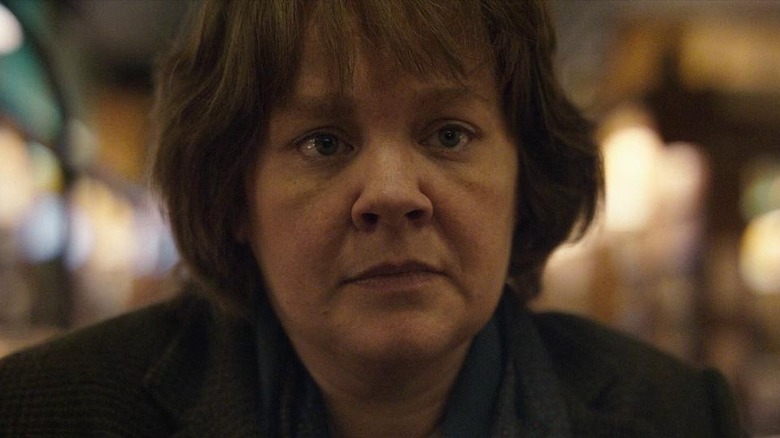 Fox Searchlight Pictures
Director Marielle Heller's dark comedy "Can You Ever Forgive Me?" is a biopic about writer Lee Israel (Oscar nominee Melissa McCarthy). Lee's bout of writer's block leads her to take drastic, illegal action to salvage her fledging career, bringing her toe-to-toe with the FBI. Once a revered celebrity biographer, Lee has recently fallen upon hard times when the 1990s New York City literary market loses interest in her writerly stylings, preferring more commercial authors. Her alcoholism sends her spiraling as her debts and bills mount.
Lee remains determined to pen a biography about comedian Fanny Brice, much to her agent Marjorie's (Jane Curtin) chagrin. When Lee's research leads her to discover two personal letters written by Brice, she takes them to bookseller and autograph dealer Anna (Dolly Wells) and sells them. Lee begins to write fake letters written by other deceased artists and sells them all over town, recruiting her eccentric friend and fellow loner Jack Hock (Oscar nominee Richard E. Grant) to help her. "Can You Ever Forgive Me?" is a charming tale of an offbeat friendship at the intersection of art and commerce.
If you or anyone you know needs help with addiction issues, help is available. Visit the Substance Abuse and Mental Health Services Administration website or contact SAMHSA's National Helpline at 1-800-662-HELP (4357).
Toni Erdmann
Writer-director Maren Ade's sprawling dark comedy "Toni Erdmann" is nothing short of a masterpiece. When German elementary school music teacher Winfried Conradi's (Peter Simonischek) dog passes away, he decides to get a change of scenery by taking an impromptu visit to see his estranged daughter, Ines (Sandra Hüller), who works as a business consultant in Bucharest. Winfried surprises Ines by waiting for her in her office lobby, much to Ines' displeasure, and she ignores him. Over the course of Winfried's visit, tensions rise between the father and daughter, and Ines lashes out at him, prompting him to leave.
But days later when Ines is out for drinks with friends, a man named Toni Erdmann, who is just a thinly disguised Winfried, approaches them and introduces himself as a life coach. Although Ines is initially furious, she begins to humor her father's appearances in her life as Toni, learning to take herself less seriously and embrace his upbeat optimism and joie de vivre. "Toni Erdmann" is a strikingly original film that constantly subverts expectations, finally arriving with a sublime, unforgettable ending.
We Need To Talk About Kevin
Based on the Lionel Shriver novel of the same name, writer-director Lynn Ramsay's "We Need To Talk About Kevin" is a harrowing rumination on motherhood and raising a child with a predilection for violence. The disturbing drama finds Eva Khatchadourian (a never-better Tilda Swinton) living a reclusive life alone in a small home that is incessantly vandalized by her hostile neighbors.
We quickly glean that, years prior, her son, Kevin Khatchadourian (Ezra Miller), savagely murdered nine of his classmates at school with a bow and arrow. Eva has since been plagued with guilt, reflecting on when she and her husband Franklin Plaskett (John C. Reilly) first had Kevin, who exhibited evil behavior and contempt toward her from his childhood. Kevin is every parent's worst nightmare realized. As he ages into his teenage years, he grows only even crueler, tormenting his parents and little sister, Celia (Ashley Gerasimovich), with psychological warfare. "We Need To Talk About Kevin" is a punishing watch, but Ramsay softens the blow with hyperstylized direction, a vivid color palette, and visually arresting framing.
Wanda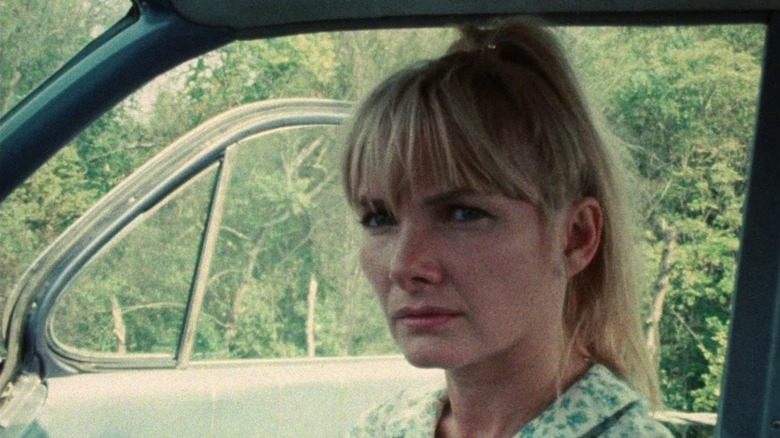 Bardene International Films
Written, directed, and produced by star Barbara Loden, "Wanda" is the tragic story of a nomadic woman whose life in a 1970s Pennsylvania coal mining town is in a state of stasis. Wanda desperately yearns for meaning, which she thought she would attain in her marriage or motherhood. But she is unhappy with her husband (Jerome Thier), and when they divorce, she rescinds her parental rights to him. Things only worsen for Wanda when she is fired from her job in a sewing factory, catapulting her into financial jeopardy as she spends the last of her earnings.
Wanda strikes out on the road, depending on the kindness of strangers as she passes through diners and bars and sleeps in movie theaters until she meets criminal Norman Dennis (Michael Higgins) in the middle of a crime. Norman takes Wanda on the run with him, but their adventure ends in tragedy. As the naive, fragile Wanda, Loden is completely devastating. "Wanda" was especially progressive for its time when it was released in 1971, showcasing a disenfranchised woman who, even if she is ostensibly free, still suffocates at the hands of patriarchal forces.
Fish Tank
Writer-director Andrea Arnold's "Fish Tank" focuses on 15-year-old Mia Williams (Katie Jarvis), a troubled aspiring dancer living in East London public housing with her abusive, alcoholic mother, Joanne Williams (Kierston Wareing), and little sister, Tyler Williams (Rebecca Griffiths).
Mia and her mother are always at each other's throats, particularly after she becomes a social pariah among her peers after a dramatic falling out with her best friend Keeley (Sarah Bayes). She is in desperate need of an outlet and finds it when she starts drinking and practicing hip-hop dance in an abandoned apartment. When Joanna brings home her latest boyfriend, Conor O'Reily (Michael Fassbender), Mia experiences something of a sexual awakening that she does not know how to process. Conor only further confuses Mia as he openly flirts with her and things grow physical to any cognizant bystander, drawing ire and jealousy from Joanne. "Fish Tank" is an elevated kitchen-sink drama that is admirable for its refusal to indulge in sentimentality. Thanks to the unflinching honesty in Arnold's writing and her almost documentary-like direction, it is one of the rawest, most engrossing coming-of-age stories in recent memory.
If you or anyone you know needs help with addiction issues, help is available. Visit the Substance Abuse and Mental Health Services Administration website or contact SAMHSA's National Helpline at 1-800-662-HELP (4357).
Madeline's Madeline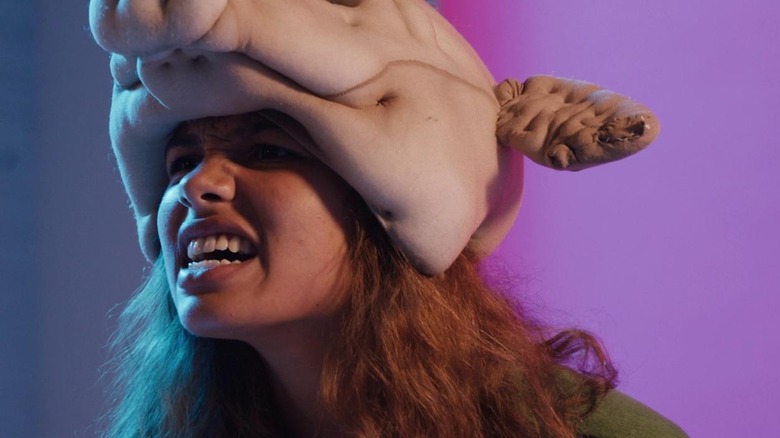 Oscilloscope Laboratories
Josephine Decker's experimental drama "Madeline's Madeline" centers on socially withdrawn teenager Madeline (Helena Howard), whose mental health is starting to deteriorate. While she does not connect with many people — especially not her well-meaning but doting, smothering mother, Regina (Miranda July) — she feels most at home performing in a renowned New York City theater troupe led by director Evangeline (Molly Parker).
While the troupe mounts a staging of the fable "The Three Little Pigs" fable, Madeline grows closer to Evangeline, who encourages her to start incorporating elements of her home life and the rage she holds for her mother into her performance. Madeline quickly becomes Evangeline's star pupil as she pours all of herself into her performance and bestows upon the show a rich specificity. But it begins to blur the lines between art and reality and Madeline's patience is tested when Evangeline crosses a line and encourages Regina to become a part of the performance. "Madeline's Madeline" is an unnerving Rorschach test of a film that interrogates the notion of artistic authenticity and how it can sometimes toe the line between celebration and appropriation.
If you or someone you know needs help with mental health, please contact the Crisis Text Line by texting HOME to 741741, call the National Alliance on Mental Illness helpline at 1-800-950-NAMI (6264), or visit the National Institute of Mental Health website.
Private Life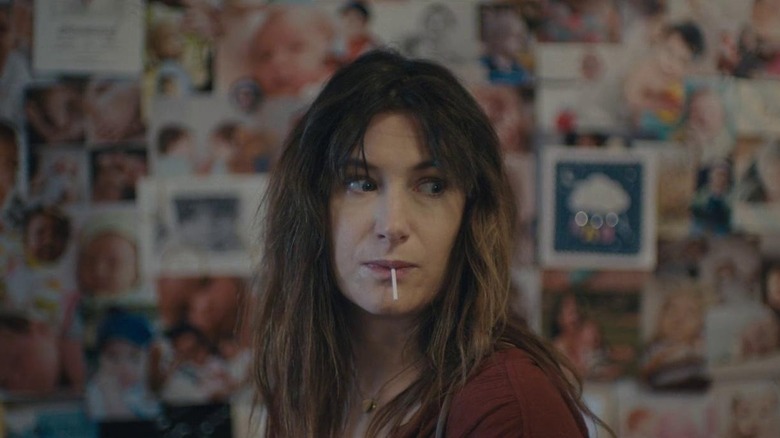 Netflix
Writer-director Tamara Jenkins' "Private Life" is a bittersweet dramedy about married couple Rachel Biegler (Kathryn Hahn) and Richard Grimes (Paul Giamatti), two New York City artists who want nothing more than a child. When natural efforts prove unfruitful, they try several rounds of artificial insemination treatments, but to no avail. The couple perseveres through their disappointment about their seemingly never-ending setbacks by pursuing some leads on the adoption front. Yet again, they are met with nothing but dead ends.
The worst blow to the couple arrives when they learned that the costly in vitro fertilization efforts have failed, leaving them with one final option: have a donor egg implanted in Rachel. When Richard and Rachel's daffy, wayward niece Sadie (Kayli Carter) comes to live with them after quitting college, they pitch her the idea of donating her egg, to which she agrees. The decision yields controversial reactions from Kayli's parents, Charlie (John Carroll Lynch) and especially Cynthia (Molly Shannon). "Private Life" is equal parts heartbreaking and hilarious, but it never strays from being brutally honest in its depiction of fertility struggles and the ensuing emotional and economic tolls.
Kajillionaire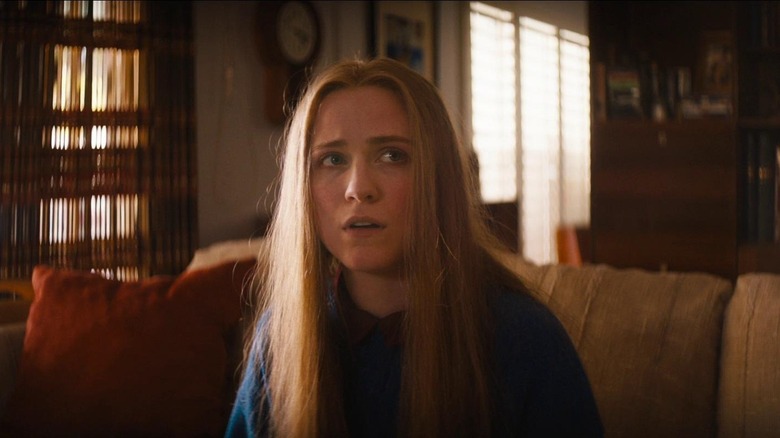 Focus Features
Writer-director Miranda July is an undeniably divisive filmmaker among critics and audiences alike. From her hit debut film "Me and You and Everyone We Know," to her gloomier follow-up "The Future," which is narrated by a cat whom she voices, July is not shy to dabble in quirks. In her third, largest, and most accessible feature, "Kajillionaire," we follow the Los Angeles con artist Dyne family, Robert (Richard Jenkins), Theresa (Debra Winger), and their 26-year-old daughter Old Dolio Dyne (Evan Rachel Wood).
The Dyne clan needs to drum up cash quickly, as they are behind in rent on their home, an office space neighboring a soap factory that makes the walls leak with foamy bubbles. When Robert and Theresa meet bubbly grifter Melanie Whitacre (Gina Rodriguez) on a flight, they grow closer and collaborate on a scam to steal from the elderly. As Melanie assimilates into the family, she attracts the sexual attention of Old Dolio, Robert, and Theresa, which threatens to unravel their plans. "Kajillionaire" has all of July's signature creative, aesthetic embellishments, but Old Dolio's journey from arrested development to liberation is some of her most affecting work yet.
Certain Women
Adapted from three short stories by Maile Meloy, Kelly Reichardt's austere drama "Certain Women" finds the auteur departing the beloved Oregon setting where she shot all her prior films, "Old Joy," "Wendy and Lucy," and "Meek's Cuttoff," for the plains of Montana. The first segment follows lawyer Laura Wells (Laura Dern) as is forced to deal with increasingly unwell client William "Will" Fuller (Jared Harris), who is determined to sue his former employee for wrongful termination despite Laura's insistence that he has no case.
The second chapter centers on married couple Gina Lewis (Michelle Williams) and Ryan Lewis (James LeGros), who struggle with communication issues while negotiating the sale of sandstone for their new home. The third and best segment focuses on Jamie (Lily Gladstone), a ranch hand who takes a course taught by law student Elizabeth Travis (Kristen Stewart), and the two strike up a friendship that could become something more. "Certain Women" features three separate stories that do not intersect, but they are all defined by female protagonists standing their ground and Reichardt's gentle, quietly moving storytelling.
High Life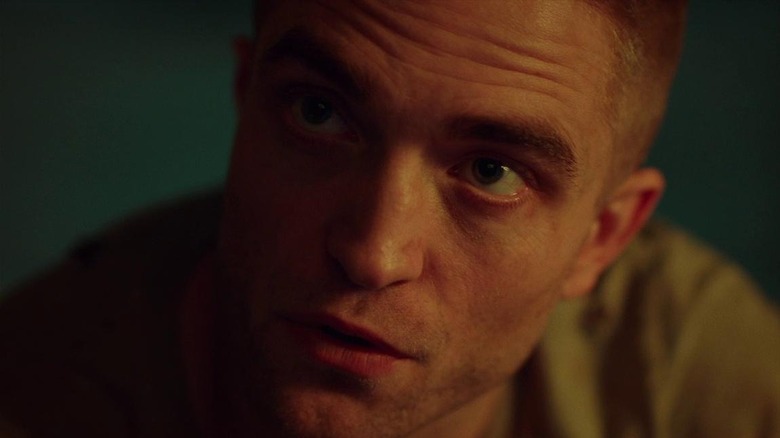 A24
Claire Denis' beguiling "High Life" marks the French auteur's first English-language feature of her illustrious three-decade-long career. The science-fiction drama is set in space aboard a ship upon which Monte (Robert Pattinson) and his infant daughter are the sole survivors of a horrific incident. Monte must figure out a way to redirect the ship, as it headed straight toward a black hole.
"High Life" unfolds in a nonlinear structure, slowly revealing the mystery of the mission Monte partook in which ethically dubious Dr. Dibs (Juliette Binoche in a true no-holds-barred performance) leads a high-risk mission to mine alternative energy from a black hole on the edge of the galaxy. Dibs is joined aboard the ship by Monte, Tcherny (André Benjamin), Boyse (Mia Goth), Nansen (Agata Buzek), and Chandra (Lars Eidinger), all convicted criminals serving life sentences. The criminals are controlled by Dibs, who performs tests and procedures on them in her efforts to create life aboard the ship via artificial insemination. "High Life" is a bleak puzzle that requires a strong stomach, but it rewards the patient viewer.