Oh Fudge: Peter Billingsley Has A Dirtier Hallmark-Style Christmas Movie On Deck With Vince Vaughn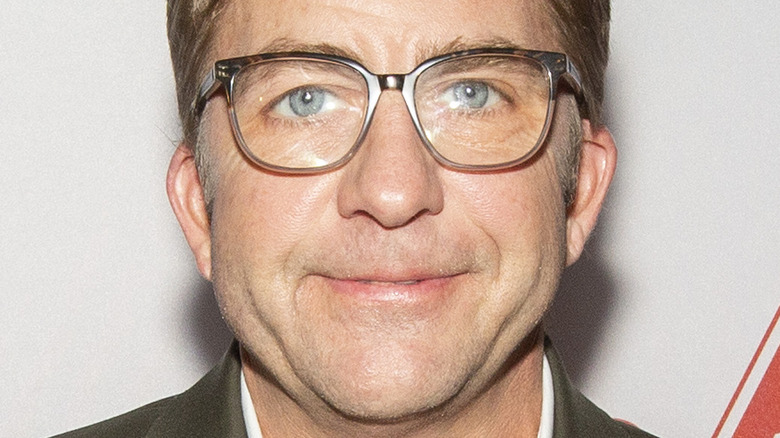 Barry Brecheisen/Getty Images
Peter Billingsley began his career in Hollywood as a child actor, and his first role was as a kid at a Christmas party in "If Ever I See You Again." Fans are probably more familiar with his later work, which includes acting roles in "Elf," "Iron Man," and "Spider-Man: Far From Home," but Billingsley will always be known as the foul-mouthed seeker of the Red Ryder BB gun, Ralph Parker, in "A Christmas Story." However, unlike Ralphie, 12-year-old Billingsley's favorite gift growing up was a motorcycle, according to an interview with Bobbie Wygant (via YouTube).
Based on a chapter of Jean Shepard's novel, "In God We Trust: All Others Pay Cash," filmmaker Bob Clark's adaptation is now a 24-hour holiday movie marathon ritual at Christmas time. A pair of movies did follow after "A Christmas Story," which furthered the adventures of the Parker clan. The first was 1988's made-for-television film, "Ollie Hopnoodle's Haven of Bliss" and the second was 1994's "My Summer Story," aka "It Runs in the Family," but, sadly, neither featured Billingsley. 
And when "A Christmas Story 2" came out in 2012, Billingsley was again noticeably absent. However, after nearly 40 years, Billingsley returns to the role he is best known for in HBO Max's "A Christmas Story Christmas." But did you know Billingsley has teamed up with his old friend Vince Vaughn for an even more adult-themed Hallmark-style holiday film?
Billingsley teams with Vaughn for a dirtier Christmas movie
Vince Vaughn has teamed up with Barbara Kymlicka and Dan Lagana to write "Christmas with the Campbells," which stars Justin Long and Brittany Snow. The story revolves around Snow's character, Jesse, whose boyfriend dumps her before the holidays (via People). The romantic comedy will feature a much more explicit kind of adult humor than Hallmark movies are typically associated with, and Peter Billingsley joins Vaughn and the creative team as one of the film's producers. "Well, I mean, I can say this is an idea that Vince has had for a long time," Billingsley said in an interview with Collider. "So, he's always talked about this idea of doing a Hallmark holiday romance, but with rated-R dialogue and actually really, really funny."
Vaughn and Billingsley knew they'd need a seasoned Hallmark writer onboard the project, and that's why Kymlicka was hired to pen the script. "She wrote a great script, and then once she completed it, we shared the idea with her," Vaughn said in the same interview. The idea was to take Kymlicka's narrative and toy around with the dialogue to make the characters much more adult and to give the story more R-rated language without drastically changing the scenes or sequences. "Thankfully, she was super excited and on board," Vaughn revealed.
"Christmas with the Campbells" will be in theaters and streaming on AMC+ on December 2.