A Christmas Story Christmas - Everything You Need To Know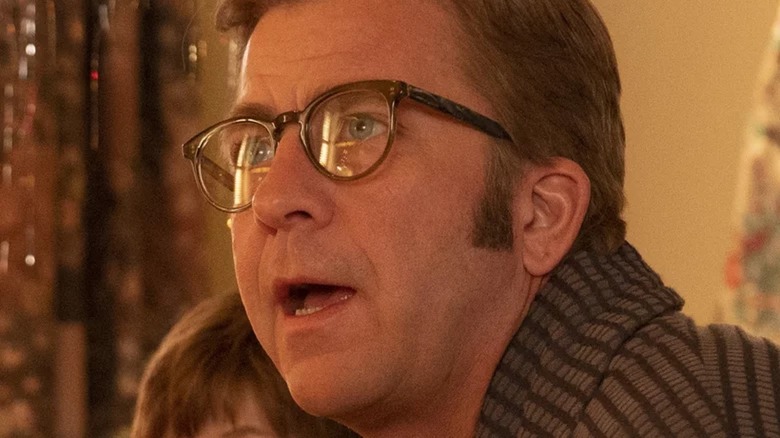 HBO Max
We may receive a commission on purchases made from links.
One of the all-time great holiday films, "A Christmas Story" hit theaters in 1983, telling the story of young Ralphie Parker and one particularly memorable Christmas. Narrated by his older reminiscing self, the story is both hilariously overdramatized and incredibly nostalgic. After all, even as an adult, Ralphie's perception of the story is from the lens of his own youth.
The resulting film is one filled with Red Ryder BB guns, horrible bunny pajamas, a none-too-friendly Santa, and perhaps the most iconic lamp in cinematic history. But then, nearly 40 years later, fans of the original were treated to a sequel, which hit HBO Max on November 17, 2022, just in time for the holiday season. While obviously paying quite a bit of homage to the '80s classic, the new film charts its own course and tells its own touching story. If you want to know more about this holly jolly sequel, read on for everything you need to know about "A Christmas Story Christmas."
What is the plot of A Christmas Story Christmas?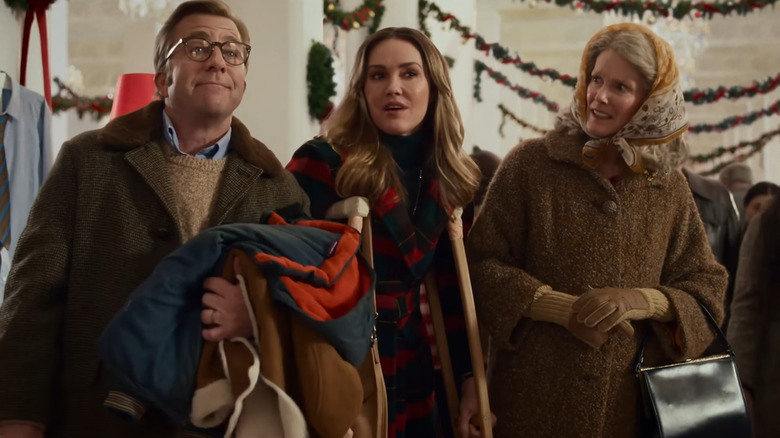 HBO Max
"A Christmas Story Christmas" finds Ralphie Parker living in Chicago with his wife, Sandy, and two kids, Mark and Julie. While Ralphie loves his family, there is indeed trouble in paradise. Ralphie is a struggling writer, dreaming of becoming a novelist but finding no success. Things take an even sadder turn when Ralphie learns that his dad, the Old Man, has passed away.
After Ralphie and his family return to his hometown to be with his mom, Mrs. Parker asks her son to tackle two important challenges — write the Old Man's obituary and make their Christmas magical. Needless to say, Ralphie struggles with both of these goals. He can't figure out how to sum up his dad's life in a few paragraphs, and when it comes to decking the halls, Ralphie feels stuck in his father's shadow, unable to live up to the glorious Christmases of yesteryear.
As the film progresses, we watch Ralphie reunite with his old friend, Flick and Schwartz, while dealing with a Christmas tree that's way too tall, an ice-skating adventure that doesn't end well, and plenty of drama about holiday decorations. Along the way, Ralphie learns more about himself as a husband, father, and son, and while we won't spoil the ending, we will say that while Ralphie learns he isn't his dad, he also discovers that's okay, and he manages to make the best of December 25 for his family.
Who stars in A Christmas Story Christmas?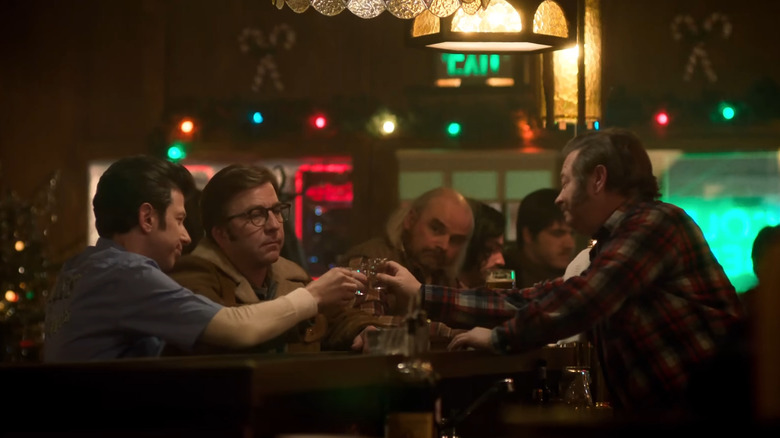 HBO Max
"A Christmas Story Christmas" features a handful of the original actors, including Peter Billingsley, who returns to star as Ralphie Parker, and Ian Petrella, who returns to portray his younger brother, Randy. According to Deadline, this is Petrella's first film since the original "A Christmas Story," almost 40 years ago. Scott Schwartz and R. D. Robb return to portray Ralphie's best friends, Flick and Schwartz, respectively. 
In addition to the actors playing Ralphie's buddies, Zack Ward returns to play Scut Farkus, the school bully. True to form, the bully has grown up to become a cop, and he has a big surprise in store for Ralphie when they reunite. As for Ralphie's mom, Melinda Dillon has been replaced by Julie Hagerty, best known for her role in the "Airplane!" movies.
As for the rest of the cast, Erinn Hayes stars as Sandy, Ralphie's wife. Hayes is known for her work on "Bill & Ted Face the Music" and "Children's Hospital." Finally, Julianna Layne and River Drosche portray Julia and Mark, Ralphie's children. 
Who directed A Christmas Story Christmas?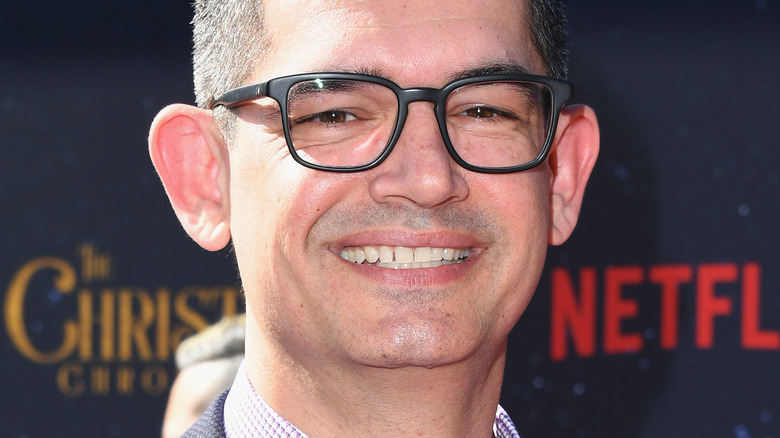 Jon Kopaloff/Getty Images
"A Christmas Story Christmas" is directed by Clay Kaytis, a man who's no stranger to Christmas content or family content, for that matter. Kaytis worked with Disney for approximately 20 years as an animator, where he compiled a lengthy list of credits which include "The Hunchback of Notre Dame," "Mulan," "Hercules," "Tarzan," "Tangled," and "Frozen." So yeah, you could say he's got plenty of experience when it comes to producing quality content for the whole family.
On the holiday side of things, Kaytis directed "The Christmas Chronicles" for Netflix. That's the 2018 film starring Kurt Russell as the world's jazziest Santa Claus. He also directed "The Angry Birds Movie," which wasn't exactly a critical darling but did pull an impressive sum of money at the box office. Regardless of your feelings about the latter film, it's easy to see why Kaytis was picked to direct "A Christmas Story Christmas." As a man who helped shape Disney's animated renaissance, his resume is basically tailored around perfecting magical movies for families.
Where to watch the Christmas Story movies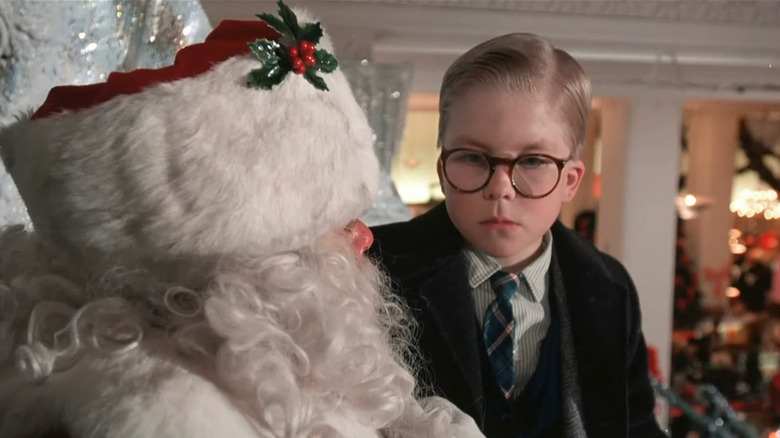 MGM
If you're looking to jump straight into the sequel, "A Christmas Story Christmas" can be streamed on HBO Max. As for the original Christmas classic, "A Christmas Story" has become an indelible part of pop culture — from the leg lamp to the pink bunny pajamas to the expression "you'll shoot your eye out." The movie is such a holiday treat that the one and only Roger Ebert actually included the film in his "Great Movies" collection. 
So if you want to revisit the first film — or if you want to check it out for the very first time — you can find the Bob Clark-directed film on HBO Max. It's also available to stream on TNT, TBS, DIRECTV, and TruTV. Or if you've got some extra change to spare, you can rent "A Christmas Story" for $3.99 on services like Apple iTunes, Amazon Video, Google Play, Vudu, and YouTube.
How are critics and audiences responding to A Christmas Story Christmas?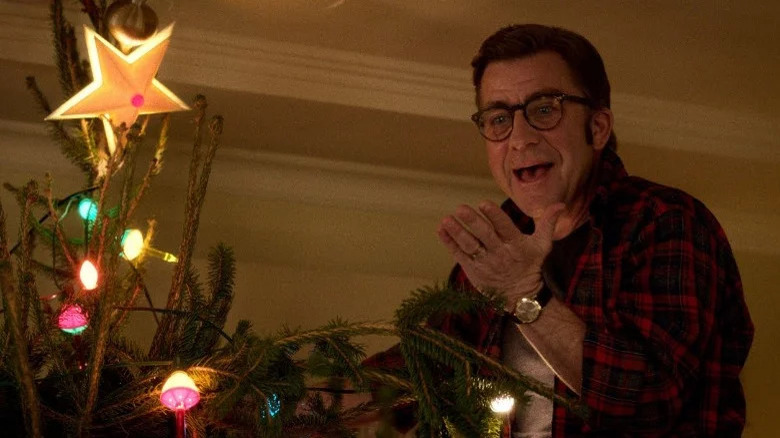 HBO Max
When word first dropped that "A Christmas Story" was getting a sequel, a lot of people probably wondered if the film was even necessary. Was it going to be a cheap cash grab? Would it tarnish the legacy of the first film?
Well, while no one is saying it compares to the 1983 original, both critics and audience members seem to enjoy the HBO Max movie. Based on 33 reviews, the movie boasts a 79% critical score on Rotten Tomatoes. While some reviewers had negative takes — Kate Erbland of IndieWire wrote, "It's not a sequel; it's a replica. And while that might bring some comfort and joy during the holiday season, wouldn't you rather savor the real thing?" — the general consensus was more upbeat. For example, Richard Roeper of the Chicago Sun-Times wrote, "It'll make for a warm double helping of Christmas nostalgia."
On the audience side of things, the movie has an 83% rating, based on 100+ reviews at the time of this writing. So if you were dreading a movie that did a disservice to the first film, no need to fear. While it's definitely a lesser effort, most people seem to think "A Christmas Story Christmas" is a perfectly fine present for the holiday season.
What is A Christmas Story Christmas rated?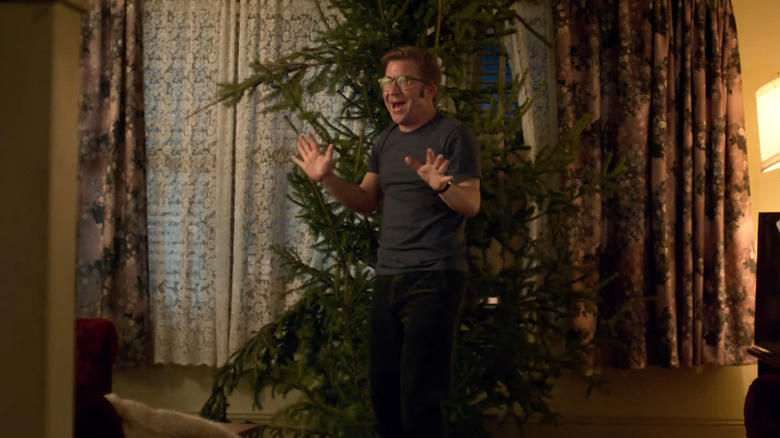 HBO Max
It will probably come as no surprise that "A Christmas Story Christmas" is rated PG for "language and some rude material/behavior." According to Common Sense Media, there are a handful of curse words throughout the film, accompanied by some broken limbs, a snowball fight that ends with a trip to the hospital, and some bullies making life hard for Ralphie's kids. In short, the material is basically in line with the content of the original film, complete with petty quarrels, some PG-rated suggestive material (a boy gets his hands on a lingerie catalogue), and over-the-top pratfalls, done for comic effect.