The Goldbergs' Season 10 Thanksgiving Episode Is Already A Fan-Favorite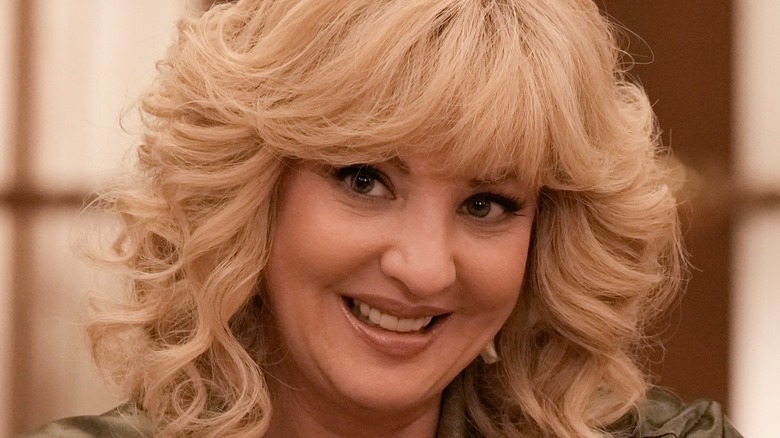 ABC/Scott Everett White
Holiday episodes, and particularly Thanksgiving episodes, are a staple of "The Goldbergs." With the show currently in its tenth season, they have had eight Thanksgiving episodes. There are certain traditions to keep up, like Uncle Marvin (Dan Fogler) arriving with a new and even more ridiculous car than the previous year and the family fighting at the dinner table.
In an interview with New York's ABC 7 about the Season 4 Thanksgiving episode "Ho-ly K.I.T.T.," Wendi McLendon-Covey — who plays the family matriarch Beverly Goldberg — was asked if it's challenging to do the holiday episodes. "It's hard. It's really not easy. The thing that makes it difficult is that directing a family dinner scene is just as hard as sitting at the table for a family dinner. Being in the middle of that whole mele, it's very difficult and, when you've got that many personalities, everybody wants to be heard and all that. Well that's great, but we only have a finite time to deal with all this stuff. That's one thing you don't see on our show a whole lot, except for our holiday episodes, is us sitting around the table because it's just so hard to film." Lea Thompson, who directed the episode, interjected by joking about how the actors have to keep eating the same mashed potatoes through the whole filming process, which takes quite a while.
But, as difficult as they are to film, they're popular enough that they keep happening. And in the most recent episode, "Another Turkey in the Trot," "The Goldbergs" manage to find that Thanksgiving magic once again.
A traditional Goldberg family Thanksgiving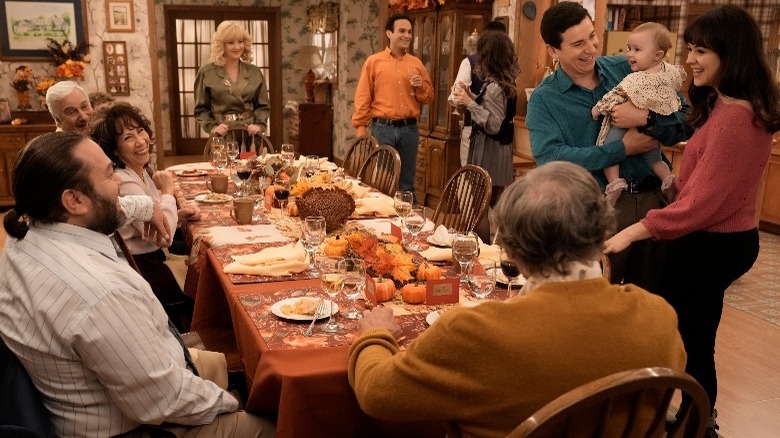 ABC/Scott Everett White
In the latest Thanksgiving episode of "The Goldbergs," Beverly isn't planning to make Thanksgiving dinner for the family this year because of all she's been through lately, including the death of her husband Murray (Jeff Garlin), but Barry (Troy Gentile) and Adam (Sean Giambrone) are so disappointed that she decides to make the dinner anyway. 
But there are conflicts brewing in the family, like how Uncle Marvin is trying to impress his father Ben (Judd Hirsch) or Erica (Hayley Orrantia) is upset that her husband Geoff (Sam Lerner) is more focused on his hobby of running than helping her with their baby. Adam and Barry don't want their mother to stop doing Thanksgiving dinners, so they set out to resolve the family's quarrels, only to make them worse. The episode ends with a tumultuous Thanksgiving dinner full of yelling and recriminations, which Beverly finds to be exactly what she wanted out of Thanksgiving because it's what their Thanksgivings are always like.
Fan reaction to the episode was very positive, with many ranking it amongst the best of the show's Turkey Day episodes. "I Was Speechless During that Thanksgiving Dinner Table Scene " tweeted @withonea. "Literally One of the Greatest Written Thanksgiving Goldberg Episodes." Another Twitter user talked about the scenes with Erica breastfeeding. "[I] Appreciate the accurate portrayal of new motherhood in #TheGoldbergs!" wrote @AngiBelle. "I remember those days well. You really do feel like a milkcow." User @sdaviss12 expressed similar praise about Erica's scenes. "[W]hat a great episode! I loved the running gag of Erica and her brothers being weirded out ... And of course Lou and Marvin crack me up!" So it certainly looks like "The Goldbergs" has pulled off another one of their classic Thanksgiving episodes.