Why Tim Burton Laughed At Jenna Ortega Before Her Wednesday Audition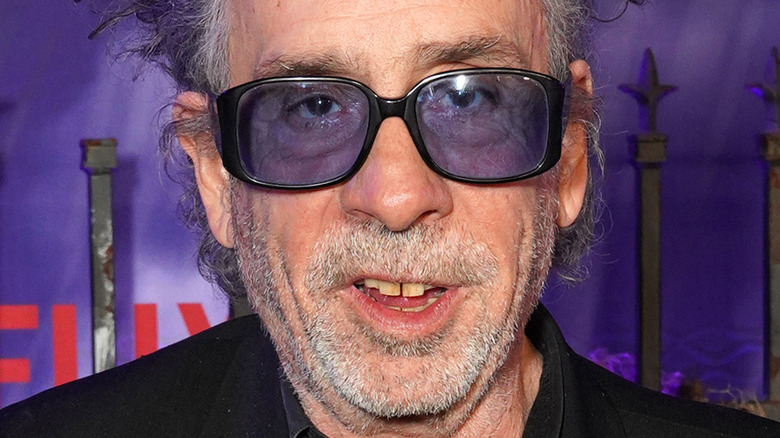 Presley Ann/Getty Images
Tim Burton makes his first jump into TV with Netflix's upcoming series, "Wednesday." Based on "The Addams Family," "Wednesday" follows the Addams' teen daughter as she navigates high school and solves mysteries while finding her own individuality along the way. Tim Burton was actually supposed to direct 1991's "The Addams Family" movie, but rights disputes led him to direct "Batman Returns" instead (via Den of Geek). Now, Burton finally has his hand in telling an "Addams" story.
Jenna Ortega plays the titular character in the series. Ortega got her start starring in several Disney projects but has gone on to become quite the Scream Queen. After starring in Netflix's "The Babysitter: Killer Queen," Ortega went on to appear in such genre films as "Scream," "Studio 666," and "X." While she seems perfectly suited for the role of Wednesday Addams with her horror pedigree, Ortega had a moment of panic over taking on such an iconic role.
She first got the invite to audition while working on "X." In the Ti West-directed film, Ortega plays Lorraine, a prudish girl who wants to shed her image by participating in the adult film the characters are making, much to the chagrin of her crew member boyfriend. Lorraine is put through the wringer throughout the film, and when the body count starts adding up, she has the scars to prove it. Amid all the chaos of "X," Ortega had to audition for "Wednesday," which led to a hilarious interaction with Tim Burton.
Jenna Ortega auditioning in her X makeup cracked Tim Burton up
In an interview with Wired, Jenna Ortega talked about getting the call to play Wednesday Addams in the new Netflix show simply titled "Wednesday." When director Tim Burton reached out to her to audition for the show, she had to do so virtually, over Zoom, while filming the horror movie "X." The audition came after filming her death scene which required her to have prosthetic wound makeup all over her face. She just finished filming a scene in which she is a corpse when she had to hop on a call with Burton.
Ortega said, "I had stage blood and glycerin sweat in my hair, and a massive cut on my face and had been up for over 24 hours. I got on the Zoom and he actually laughed. It made me laugh ... I thought it was endearing." Obviously, Burton, a master of the macabre, thought it was endearing as well, with the typically stoic director laughing, and ensuring her role in the series.
Ortega noted to Teen Vogue that in everyday real life she has always gotten comparisons to Wednesday Addams so this role seemed very fitting for her. She said she received these comparisons because sometimes people can't tell if she's being serious or sarcastic. She even befuddled Burton on set while filming the show. She said, "I didn't think it was that bad until we were on set sometimes, and Tim might say, 'Oh, that was dark.'" It seems Burton may have met his match in the young Scream Queen, as having the famed director note something as "dark" really means something.