Wednesday's Jenna Ortega Had A Moment Of Panic Over Taking On Such An Iconic Role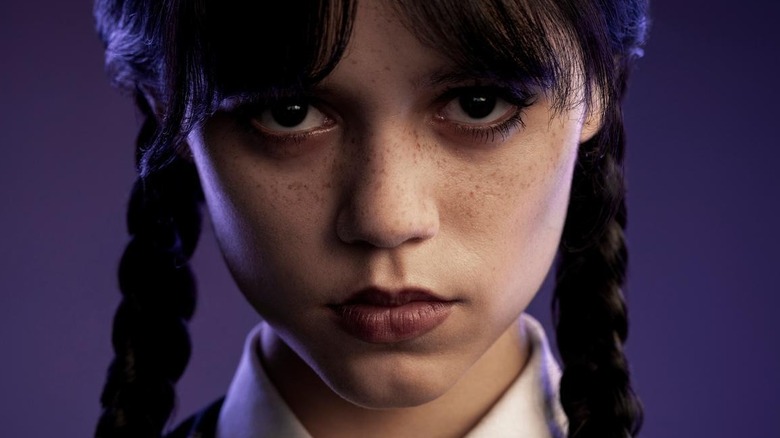 Matthias Clamer/Netflix
"The Addams Family" has been a part of American pop culture since Charles Addams first created them as a comic strip for The New Yorker (via The Smithsonian). Though they didn't hit the big time until a 1960s television show made the family a household name, Addams' spooky, often aloof family of macabre oddballs has been around for over 80 years, with several major iterations.
Notably, Barry Sonnenfeld directed two hit comedies about the family in the '90s. In "The Addams Family" and "Addams Family Values," Christina Ricci rose to fame as the dour and dangerous Wednesday Addams, a role that has since become iconic. Over the years, Wednesday Addams has become so popular that a Netflix spin-off following an older version of the character has been one of the most buzzworthy projects of the fall season. Jenna Ortega has been cast as Wednesday Addams in the new series, and while there is plenty of buzz around the project, the actor recently revealed that she had a moment of crisis when she realized how big of a deal the part was.
Jenna Ortega got a little bit freaked out by portraying Wednesday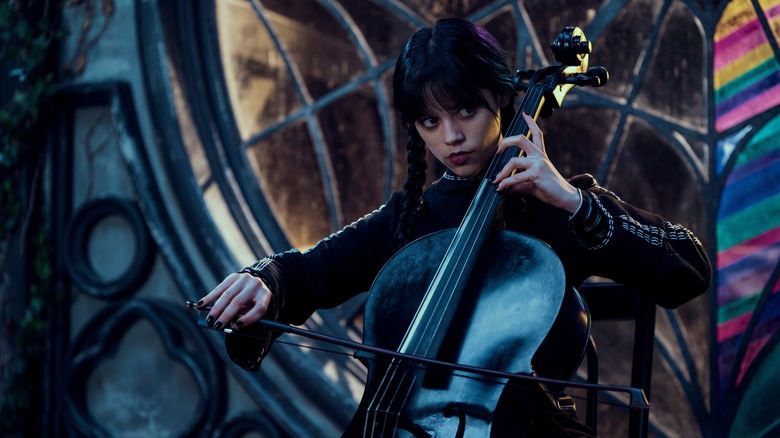 Vlad Cioplea/Netflix
Jenna Ortega sat down with Teen Vogue to talk about taking on the once-in-a-lifetime role of Wednesday Addams for the new series "Wednesday," and she revealed that there was a moment that really overwhelmed her when she suddenly realized what a big deal the character really is.
"When I first got offered the role, I did not consider [the] fanbase. I didn't consider it until we were shooting," Ortega recalled. "I started having conversations with Netflix, and they were talking about things like Comic Con and Funko Pops. I think that's when it really started to settle in."
Though Ortega has been a rising star for years, it's easy to see how suddenly taking on a beloved character with millions of adoring fans would be a major shift for her as an actor. In fact, it sounds like there was even a wave of dread for her when the realization finally struck. "The internal panic I faced, the pressure of 'oh, people live for this character, people tattoo this character on their bodies.'" Ortega explained. "I still panic about her." 
Well, if the overwhelmingly positive reactions to the trailers for the series and early praise for Ortega in the role from Christina Ricci herself are any indication (via Variety), she needn't have worried quite so much about taking on the character.