Pixar's Elemental Is Giving Fans Middle School Coolmath Games Flashbacks
If you were a middle schooler with access to a computer at some point in the 21st century, there's a good chance you've paid a visit or two to Coolmath Games. For those unfamiliar with that name, don't let the educational-sounding title fool you. This plucky little website actually has very little to do with math, offering up a host of free browser games for kids to play. The site has built up a reputation among schoolchildren for being a go-to option when they want to mess around in class, with the inconspicuous name offering ample cover should any teacher grow suspicious.
While Coolmath Games is still operational and school-age kids are still playing it today, it's also become a nostalgic reminder of school-days-gone-by for many millennials and older members of Gen Z. For some, those distant memories were brought back to the forefront when Pixar unveiled its new film "Elemental." As many an avid Coolmath Games player may tell you, the designs of the movie's two leads bear an uncanny resemblance to the main characters from one of the site's most iconic classic games.
Fireboy and Watergirl, meet Firegirl and Waterboy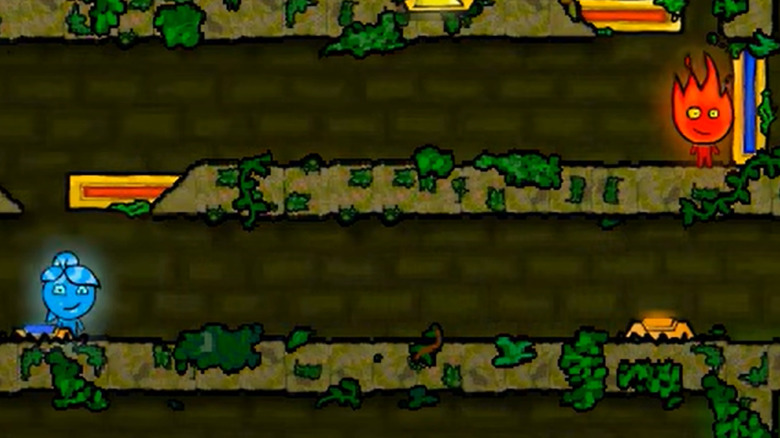 Coolmath Games
Pixar's "Elemental" centers upon an unlikely dynamic duo of elemental beings: the fire elemental Ember and the water elemental Wade. After concept art of the pair was unveiled, some Coolmath Games fans noticed that their designs are an inverted reflection of the titular protagonists of "Fireboy and Watergirl in the Forest Temple." "Wasn't this a game on cool math or something like that?" Reddit user u/dyltheaxeman commented in response to the reveal, garnering over 900 upvotes.
Even Coolmath Games itself noted the similarity between the two properties. The company quote-retweeted an early look at "Elementals" with the caption: "Familiar yet strange." The site also noted that they had posted an image of the two characters from "Fireboy and Watergirl" with swapped elements in 2021, showcasing a female fire elemental and a male water elemental roughly a year before Ember and Wade were unveiled. "Y'all can't tell me at least ONE person on that staff never played FBWG on coolmath games dot com," the company tweeted.
Of course, the concept of opposite elemental characters interacting with one another isn't so specific that there's no chance the connection is a coincidence. Early details on "Elemental" also had "Avatar: The Last Airbender" fans raising their eyebrows, for instance. Coolmath Games doesn't seem to be alleging any serious claims of plagiarism either, instead simply poking fun at the situation. Regardless, the undeniable similarities have served as an amusing blast from the past for many nostalgic internet gamers.