Netflix Has Dropped The New Trailer For Dead To Me Season 3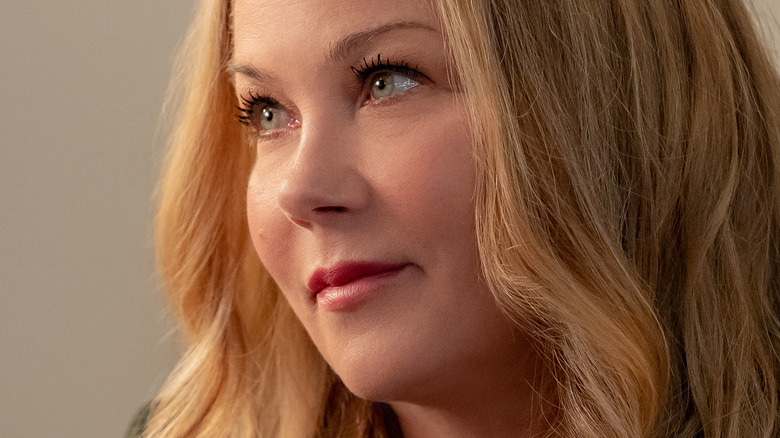 Saeed Adyani / © 2021 Netflix, Inc.
It's been a long time coming, but the end is finally nigh for "Dead to Me" duo Jen Harding (Christina Applegate) and Judy Hale (Linda Cardellini). In fact, we're just a couple of weeks away from Netflix dropping the third and final season of the hit dark comedy. And those who've been following the murderous hijinks of Jen and Judy since the first season of "Dead to Me" have no doubt been waiting with bated breath to see how things turn out for the pair.
That wait was, of course, a little longer than even the series' stars might've anticipated due to Applegate being diagnosed with Multiple Sclerosis early in the third season's production (per The New York Times). Unwilling to walk away from "Dead to Me" despite the complications caused by the disease (the actor now walks with a cane), Applegate resolved to come back and give her character, the show, and its loyal fans the fond farewell they've all so richly earned.
That goodbye is set to arrive on Netflix on November 17, 2022. The streamer has just released the official trailer for Season 3 of "Dead to Me" to celebrate. And things are clearly going to get crazier for Jen and Judy in the final run of episodes.
Fans are finally set to see how things shake out in the final season of Dead to Me
As a quick refresher, Jen Harding and Judy Hale met in Season 1 of "Dead to Me" at a grief counseling meeting, with Judy failing to mention she's the reason for Jen's grieving as she inadvertently killed her new pal's husband in a hit and run. That tricky tidbit eventually comes out, driving a stake between the two. But by season's end, Jen has actually killed Judy's vile ex-hubby Steve Hale (James Marsden) as well, so there's that. The friendship is rekindled in Season 2 as they try to cover up that death and maintain their status quo as moderately upright citizens and moms. 
Jen and Judy almost get away clean in Season 2, but a pair of finale twists leaves their fate very much uncertain. Per the new trailer, Season 3 will pick up where its predecessor left off, with the fiery femmes on the mend in the hospital. Quippy, Jen and Judy-style banter ensues before we're off on a quick-cutting ride to see where things stand on the ol' murder front.
Turns out, they're not great with local detectives, Steve's brother, Greek mafiosos, and an ace FBI agent now on the case, and all starting to connect the dots as to Jen's and Judy's involvement. The pair is ready to fight for their survival, however, and may even be willing to kill again to ensure their safety. In doing so, they ensure "Dead to Me" will undoubtedly go out with a pulse-pounding, and no doubt hilarious, bang. And fans will surely be celebrating that fact later this month.