Jenna Ortega's Lifelong Comparisons To Wednesday Addams Make Her Even More Perfect For The Role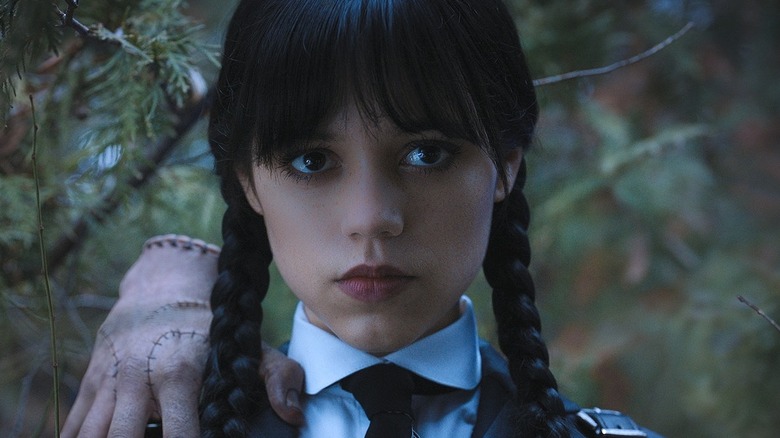 Netflix
Visionary director Tim Burton will be making his first foray into directing for the television format with Netflix's "Addams Family" adaptation "Wednesday." In a full-circle moment, Tim Burton was initially brought in to direct 1991's "The Addams Family" film adaptation, but after chaos involving who owned the rights to the characters, Burton left the project to direct "Batman Returns" instead (via Den of Geek).
"Wednesday" follows Wednesday Addams as she navigates high school and solves supernatural mysteries, all while trying to find herself along the way. Inhabiting the role of the beloved titular character will be Jenna Ortega, Disney star turned full-blown movie A-lister.
Jenna Ortega got her start working on shows for the Disney Channel. She starred in the sitcom "Stuck in the Middle" and voiced a lead role in the animated "Elena of Avalor" (via IMDb). When her career really took off she appeared in the films "The Babysitter: Killer Queen," "Scream," and "X" cementing her as a modern-day scream queen. With that pedigree, Ortega seemed like the perfect fit for the role of Wednesday Addams. Ortega believes she was born to play the role due to lifelong comparisons to the character as well.
Jenna Ortega thought taking the role made sense since she was often compared to Wednesday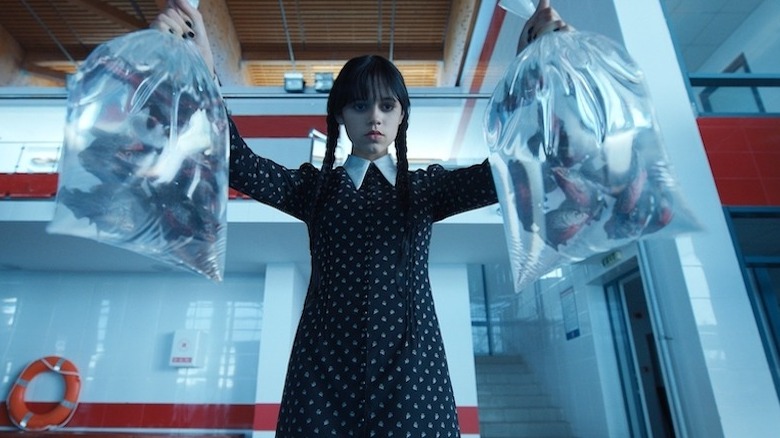 Netflix
In an interview with Teen Vogue, Jenna Ortega said that she's always gotten comparisons to Wednesday Addams in real life. She says the comparisons come from her being "very dry" and that people can't generally tell when she's being serious or when she's being sarcastic. She said, "I didn't think it was that bad until we were on set sometimes, and Tim might say, 'Oh, that was dark.'" Having Tim Burton tell you something you said was dark seems like the highest praise you can get.
Ortega said while the role totally made sense for her due to these comparisons, she was astounded when she got an email saying Tim Burton wanted to meet with her for the role. She was surprised Burton knew who she was. So she thought someone may be playing a prank on her. Alas, that was not the case, and Ortega would meet the daunting task of portraying Wednesday Addams.
Jenna Ortega admits that the pressure made the shoot somewhat difficult for her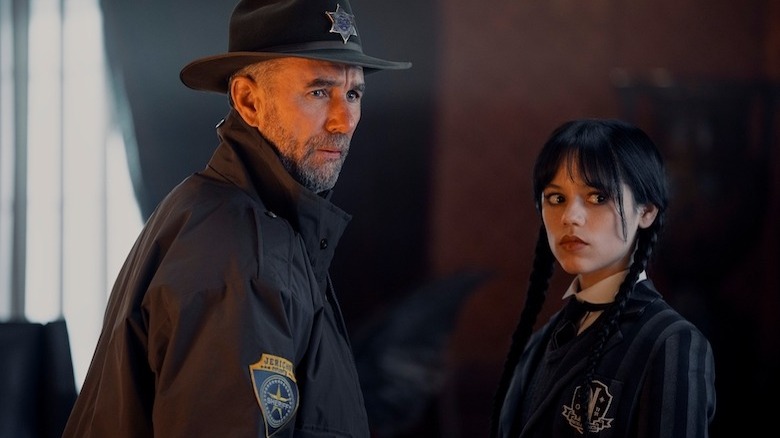 Netflix
Jenna Ortega took inhabiting the role of Wednesday very seriously. She told The Hollywood Reporter, "I think it's probably the most physical transformation I've ever done; I cut my hair, and it's black, and mannerism-wise, speaking cadence-wise, expression-wise, I'm trying to pull from a different toolbox this time around. I think it's a surprise to the audience, but myself as well."
That's not to say it was easy for Ortega, despite the comparisons to her real-life self. Ortega admitted there were difficulties in navigating the character. She told Deadline that taking the job was very stressful for her. "I was completely lost and confused," she said. Ultimately, she said it was Tim Burton who made her feel comfortable on the set and with the character. She continued, "When you have supportive collaborators like Tim, it makes it a lot easier. There were a couple people like that on set who were my rocks, for sure."
"Wednesday" debuts on Netflix on (quite fittingly) Wednesday, November 23.