Jackie's Return In That '90s Show Was Especially Daunting For Mila Kunis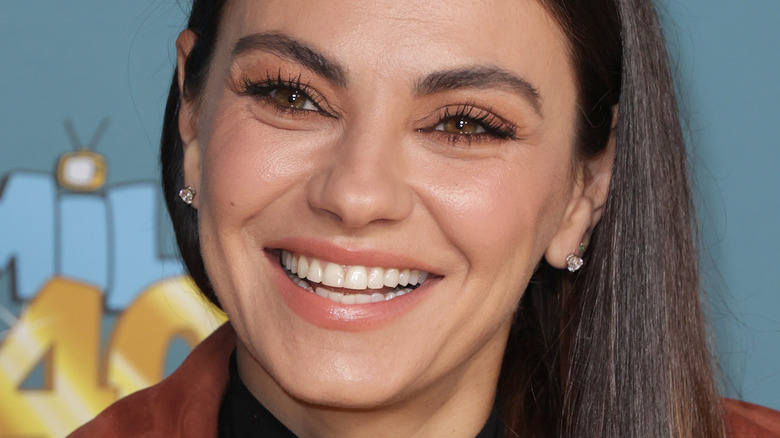 Momodu Mansaray/Getty Images
"That '70s Show" — the Fox sitcom created by Bonnie Turner, Terry Turner, and Mark Brazill — ran for eight seasons from 1998 to 2006. The popular sitcom follows a group of teens — nerdy Eric Forman (Topher Grace), intelligent girl-next-door Donna Pinciotti (Laura Prepon), spoiled popular girl Jackie Burkhart (Mila Kunis), dim-witted Michael Kelso (Ashton Kutcher), anti-establishment-minded Steven Hyde (Danny Masterson) and foreign exchange student Fez (Wilmer Valderrama) — as they navigate their everyday lives within the small town of Point Place, Wisconsin in the '70s. Notably, one of their main activities is getting high in Eric's basement and avoiding getting caught by Eric's parents, Kitty (Debra Jo Rupp) and Red (Kurtwood Smith).
As the series launched the careers of its young cast, it makes sense that almost the entire cast is set to make guest appearances in the upcoming spin-off series, "That '90s Show," on Netflix (via Entertainment Weekly). The new series is set again in the Forman house and centers on Eric and Donna's teen daughter, Leia (Callie Haverda), who is staying with her grandparents.
It would be an odd experience for the actors to return to the same set they spent several years making "That '70s Show." As for Kunis specifically, she found the experience a bit daunting.
Kunis was nervous to work with her real life husband Kutcher
Not only did "That '70s Show" launch the careers of several actors who are now quite well known, but it's also notable for being the show where Mila Kunis and Ashton Kutcher — who are now married — met. Their characters dated for some of the show but didn't end up together. In real life, the two were friends for years before getting together in 2012 (via People). In the new series, art reflects life: Jackie and Kelso are now a married couple. And, as it turns out, acting on screen with her husband made her a bit nervous.
During an interview with Today, Kunis revealed, "It was weird to shoot together, I will tell you. It made me super nervous. Oh, my God, I was more nervous doing that than anything else in my career ... It made me so uncomfortable." One of the reasons she felt so uneasy is because of how familiar she is with her husband, outside of their acting. She continued, "I would look at my husband while we were doing a scene or rehearsing, and I'd be like, 'Oh, my God, that's what you look like when you act.'"
Further, the whole experience had an uncanny feeling because she and Kutcher were returning to the same set where they met all those years ago. Kunis said, "We walked on set, and I was like, 'Oh, this is weird.'"
Kutcher also thinks the experience was bizarre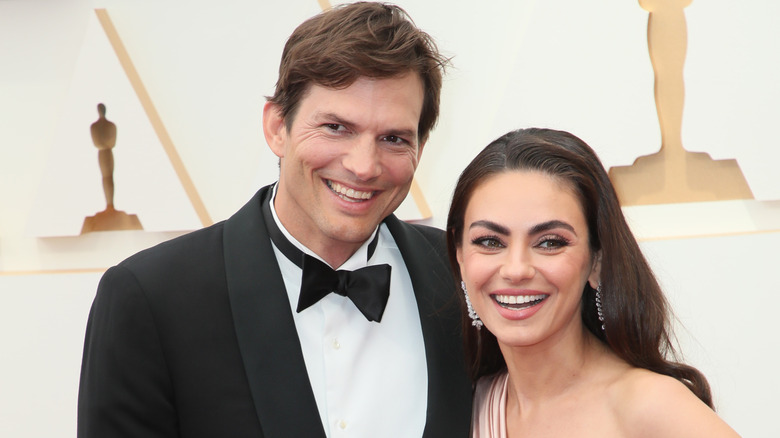 David Livingston/Getty Images
Ashton Kutcher has not spoken explicitly about what it was like to act alongside his wife once again. Still, he has spoken about his overall experience in returning to the set of "That '70s Show." Kutcher told Variety, "It was really nostalgic to be back on the set. It's all the same folks that made 'That '70s Show,' so it was pretty bizarre."
The actor also revealed that he and Mila Kunis had to spend some time thinking about whether or not they should reprise their roles in "That '90s Show." However, ultimately, they realized it was the right move. Kutcher said, "We thought, 'Listen, we're only in the position that we're in because of that show, so let's just go back and do this. We just went back and had fun for a week. It was so random and fun." Kutcher is likely referring to the fact that their relationship developed after meeting on the show and that it helped launch their careers.
Kutcher also had nothing but praise for the upcoming new show, saying, "It's really funny. The new cast is phenomenal."