Brendan Fraser Thought His Bout With COVID Would Get Him Fired From The Whale
At this point, it's no secret that Darron Aronofsky's "The Whale" has become something of a film festival darling over the past few months, receiving an enormous amount of critical acclaim as fans prepare for its theatrical release on December 9. More and more of that praise has been directed towards the performance of lead actor Brendan Fraser, who plays the film's leading character – a 600-pound man named Charlie who is trying to reconnect with his estranged daughter, Ellie (Sadie Sink).
Although Fraser is still well-known for his leading role in the massively successful "The Mummy" franchise, his acting career took a nosedive following the release of "The Mummy: Tomb of the Dragon" — and since then, his film roles have been few and far between. As such, the immense amount of acclaim that Fraser has received for his performance in "The Whale" has been truly remarkable, and some have even suggested that this role has finally resurrected his career as an actor (via Variety).
Considering the immense impact his performance in "The Whale" has made on Brendan Fraser's career, it might surprise some fans that he was worried about losing the job almost immediately after he was first cast — since he contracted COVID-19 right before filming.
Brendan Fraser got COVID right before filming and thought he would lose his job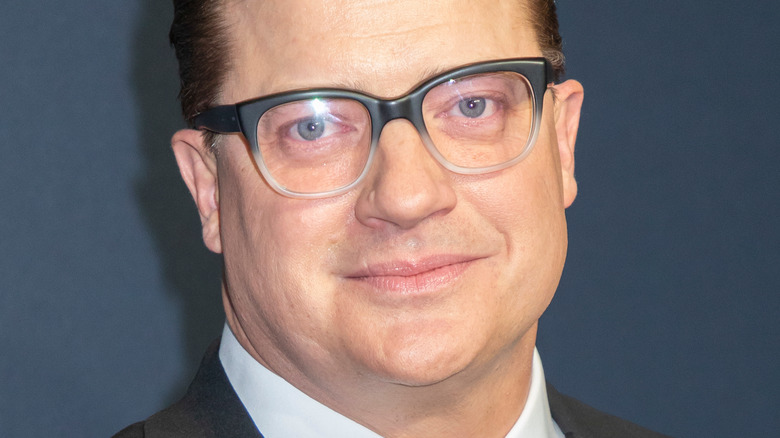 Sam Aronov/Shutterstock
While speaking to GQ about the way in which "The Whale" had revitalized his career as an actor and brought him back into the public spotlight, Brendan Fraser revealed that he caught COVID-19 right before he was set to shoot the film and feared that Darron Aronofsky would fire and replace him.
"I thought I was gonna lose my job. I thought I was gonna f****** die too," admitted Fraser. "But I thought, I know how these things go.' The bonding company will go ooh and back out. Or I won't pass an insurance checkup." Indeed, what made this ordeal all the more frightening was that vaccines were not highly prevalent at the time that Fraser became sick, heightening his anxiety throughout this illness.
Thankfully, none of Fraser's worries came to pass, and instead, Aronofsky sent him a care package and kept him in the role. Considering the monumental amount of praise that Fraser has received for his performance thus far, it would appear that Aronofsky made the correct decision. In fact, many are already suggesting he could become the favorite for Best Actor at this year's Academy Awards. In any case, it's fortunate that Brendan Fraser's brief illness did not derail his career any further, as "The Whale" has certainly provided him with some long-overdue appreciation.