Mr. Terrific Played A Big Role In The CW's Arrow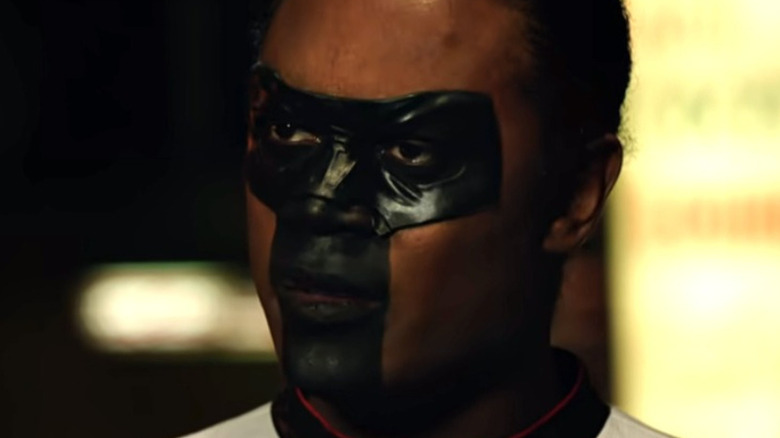 CW
Since the initial announcement of James Gunn and Peter Safran heading Warner Bros. Film and TV Division last month, it finally appears that we're at least getting a more concrete idea about the future of the DC Universe (via Deadline). Things started moving once it was revealed that Gunn and Safran were making a DC Universe Story Bible with one central story explored through different mediums. In addition, the Justice Society of America, introduced in "Black Adam," may be getting more of the spotlight with one of its known superheroes from the comics. Gunn recently had DC fans buzzing, thanks to a tweet that teased the hero Mr. Terrific.
In the comics, Mr. Terrific is a hero who more than lives up to his nickname because of his genius intellect and Olympian physique. In addition, in the comics, he's also known as a significant member of the JSA. A movie project featuring the hero would certainly feel terrific. However, it technically wouldn't be the first time the character has leaped beyond comic pages. In fact, the CW got a chance with the character first, as Mr. Terrific played a big role in "Arrow."
Mr. Terrific fought alongside Oliver Queen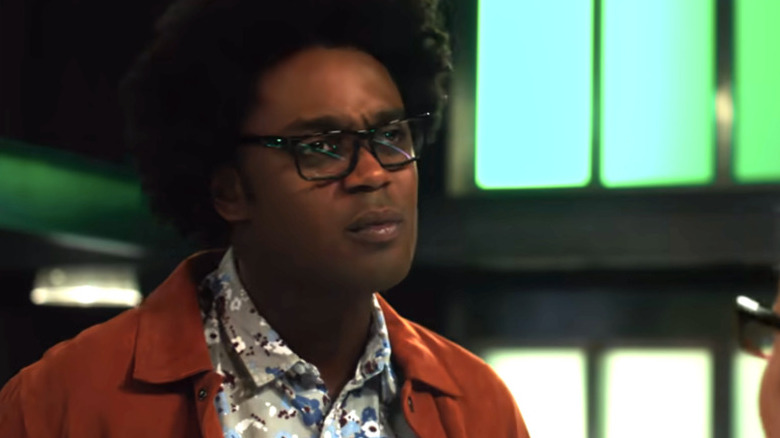 CW
Season 4 of CW's "Arrow" introduces Curtis Holt (Echo Kellum), a character who starts as a co-worker of Felicity Smoak (Emily Bett Rickards) at Palmer Technologies. However, it's not long before this status changes, and Curtis becomes an integral part of the Green Arrow team. According to the Arrowverse Wiki, after discovering Oliver Queen's (Stephen Amell) secret identity and his hideout, Curtis uses his IT skills first to help the team behind a computer. But this changes after he gets attacked by thugs. With some training from Oliver, Curtis officially suits up as the hero Mr. Terrific.
Curtis learns hand-to-hand fighting skills and becomes a formidable vigilante in the streets. Fortunately, that's partially due to his physical status. It turns out Curtis exercised his body about as much as his mind growing up. In the episode "Shifting Allegiances," he remarks he's an Olympic decathlon medalist. Until the series' conclusion in Season 7, Curtis usually helps Oliver and his team, although not always as his heroic alter ego. For instance, during the Season 7 Episode, "You Have Saved This City," Curtis has already moved away from Star City and works in Washington D.C. By the series end, he still helps out the Arrow team from time to time, but for the most part, he's given up on the vigilante life.
There are a few differences between Arrow's Mr. Terrific compared to the comic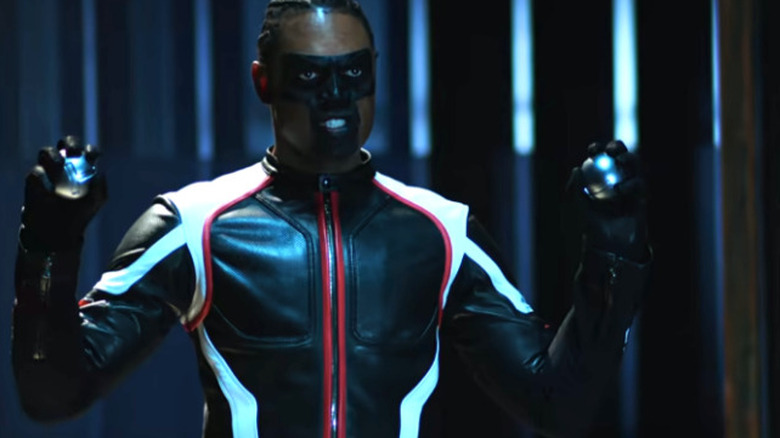 CW
Mostly, the "Arrow" series' depiction of Mr. Terrific pulls heavily from his comic book counterpart. The suit featured in the series for the hero is very similar to its original comic designs, all the way to the t-shaped mask. And like his comic origins, the character of Mr. Terrific is brilliant within the fields of detective work and engineering, as well as being able to fight. The Arrowverse's Mr. Terrific even uses his signature T-sphere drone devices. And like his comic book counterpart, Curtis Holt also got his nickname from a man named Terry Sloane.
However, the show also decided to throw in a few differences. For one, the names of their civilian identities are different, as instead of Curtis Holt, in the comics, Mr. Terrific is known as Michael Holt (via DC.Com). In "Arrow," Curtis also identifies as a gay man, while Michael in the comics is straight. Curtis actually makes a subtle reference to this difference between him and the comic version of Mr. Terrific in the Season 5 Episode "Who Are You?" when he wonders about his possible Earth-2 doppelganger. But another notable difference between Curtis and Michael is their chosen teams. In the comics, Mr. Terrific is known more for his allegiance with the Justice Society of America instead of Green Arrow's Star City-based team. A new movie version of the character looks to align him more with the JSA this time. But just remember, Green Arrow teamed up with him onscreen first.