Here's How Quentin Tarantino Feels About The Awards He Hasn't Won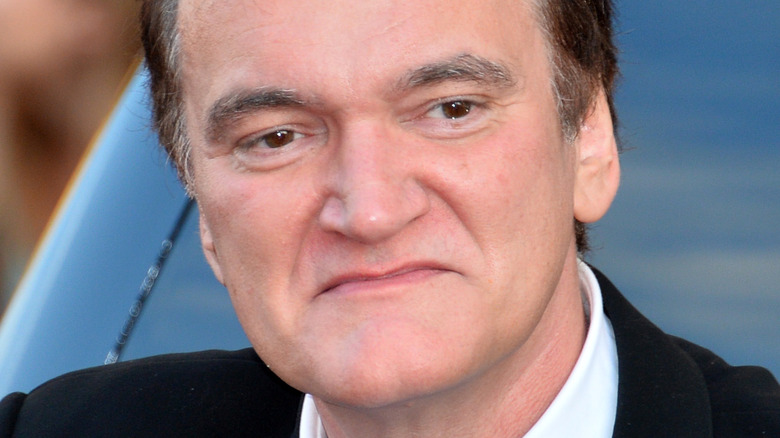 Featureflash Photo Agency/Shutterstock
Quentin Tarantino is one of the few filmmakers whose name is put front and center when his movies are being promoted. With classics like "Pulp Fiction" and "Reservoir Dogs" in his filmography, it may be a surprise that Tarantino only has two Oscar wins. He won Best Original Screenplay in 1995 for "Pulp Fiction" and received the same award in 2013 for "Django Unchained" (per IMDb).
On top of being one of the most in-demand filmmakers around, Tarantino has never been one to mince words. The unapologetic movie buff has always been open about his opinions about his own films and works from others, even co-hosting a podcast breaking down his opinions on classic films with the Video Archives podcast. It's a glimpse into his future post-film as Tarantino has repeatedly promised he's only stepping behind the camera for one more movie. On top of his podcast, Tarantino has also taken to becoming a published author, penning a "Once Upon a Time in Hollywood" novelization and the recently-released non-fiction work "Cinema Speculation."
In a recent interview with Howard Stern, Tarantino opened up about the awards he's lost out on while discussing his overall career. Fans may be interested to know there's only really one he takes issue with.
Quentin Tarantino thinks he should have won for Once Upon a Time in Hollywood
Quentin Tarantino thinks he should have won the Best Original Screenplay for 2019's "Once Upon a Time in Hollywood." Tarantino was nominated but lost that award to Bong Joon Ho and Han Jin-won for "Parasite."
Speaking to Howard Stern, Tarantino insisted he's satisfied with his career, but he feels he's only lost in the screenplay category when a particular film comes along and sweeps multiple awards, including "Parasite" and "The Hurt Locker." The director lost the Best Original Screenplay Academy Award to the latter's Mark Boal when he was nominated for "Inglorious Basterds." While Tarantino feels he should have won both times, it was "Once Upon a Time in Hollywood" that really stuck in his craw. If he had won for "Once Upon a Time in Hollywood," Tarantino could have tied Woody Allen for the most Original Screenplay wins, a significant feat especially considering Allen releases a movie nearly every year while Tarantino has been far more selective.
"That would have been a nice record because I specialize in doing original scripts, and the only person to have won three Original Screenplay Oscars is Woody Allen. So I would have tied with Woody Allen on my thing, what I do. That would have been a nice marker," the director said.