Santa Clarita Diet Gets Return Date On Netflix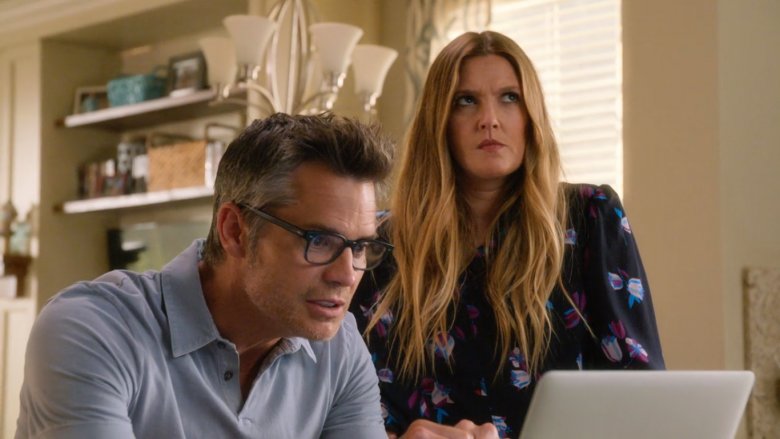 The lean season is finally nearing its end, and soon it will be time to feed.
Netflix has announced a return date for its dark zombie suburban satire series Santa Clarita Diet, revealing that California's most thoroughly average realtors/burgeoning murderers will return for a new season on March 23, according to a report by Deadline. 
In addition to almost certainly including plenty of fresh kills, the new ten-episode season will include some fresh faces, with Maggie Lawson and new-friend-to-Netflix Joel McHale both joining the cast for its latest chapter.
Lawson and McHale will play Christa and Chris, a married pair of rival realtors to Timothy Olyphant's Joel and Drew Barrymore's Sheila. As we'll learn, Joel and Chris have had a longstanding feud going back to their high school days, a set of circumstances which surely won't put more pressure on an already tense situation in a way that leads to Chris getting his throat ripped out. 
According to a description released by Netflix, "Chris and Joel have been competitive since high school, when Chris — a quarterback like Joel — beat Joel in a championship game. The couples have never liked each other and are not shy about it. Theirs is not a model relationship for how adults should behave." You could say that about every single human in the show.
Other cast members joining the new season include Zachary Knighton as a chill pursuer of the undead and Gerald McRaney as an intimidating retired army colonel named Thune. On top of Sheila's advancing zombification, it sounds like the new season will have more than enough for Joel to get amiably freaked out and emasculated about. 
Liv Hewson and Skyler Gisondo will also return as Joel and Sheila's daughter Abby and their weird, meek neighbor Eric, respectively. 
No word yet on how our heroes are going to escape the jams that the first season finale left them in, with Sheila locked in the basement in self-imposed exile and Joel on his way to the loony bin. Hopefully it all gets wrapped up very quickly so the couple can get back to what they do worst — killing their unwitting neighbors.